Review: The Santaland Diaries by Zach Theatre
by Justin M. West
As a young boy, Christmas to me meant anticipation. Excitement. The joy of wadded up wrapping paper being stuffed by my parents into a plastic bag as I eagerly tried to figure out how to connect my spiffy new Nintendo Entertainment System to the TV. Yes, we used plastic bags. Plastic! Egregious of my family, I know. Free range, homeopathic, kale-infused garbage bags didn't exist back then. I'm sure that shit is busy still not decomposing in a dump somewhere in the deep piney woods of East Texas.
As an adult, my views on the holiday are best summarized by a Christmas album curated by none other than John Waters. Featured on the album, and still my favorite Christmas song to this day, is John Prescott's immortal, "Here Comes Fatty With His Sack of Shit." Google it. Chuckle. And maybe weep a little bit when that Visa bill comes in.
Adult cynicism towards the holiday isn't lost on David Sedaris, whose essay Santaland Diaries first made an appearance on NPR back before the internet was really a thing. Based upon supposedly true stories of Sedaris' time as an elf in a department store Santa setup, the essay would be adapted by Joe Mantello as a one-man-show of the same name, which can currently be seen during its most recent annual run over at Zach Scott's Whisenhunt theatre.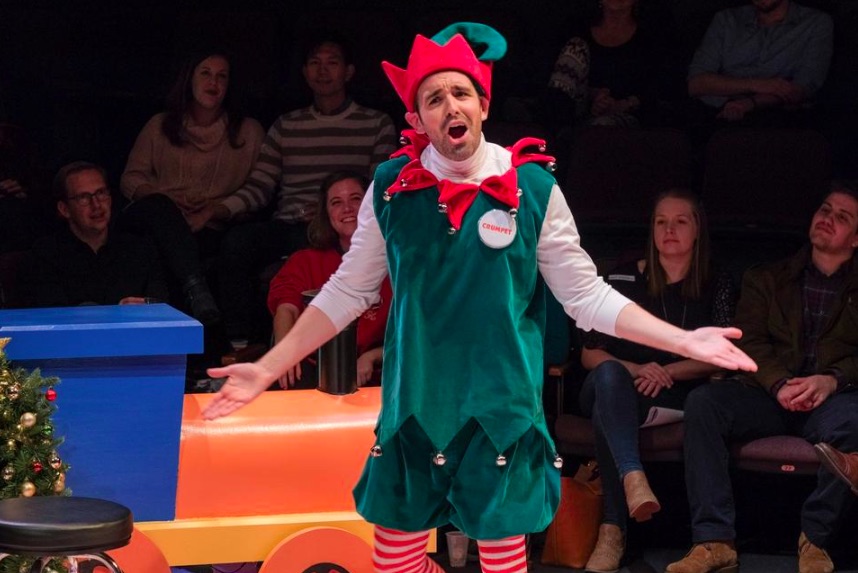 It's a premise worthy of exploration, really. I mean, let's be real. There's no way these folks prancing around in green garb with plastered smiles akin to a Soundgarden music video can be anything other than inwardly tortured, given all the shit they must deal with. Screaming children who may or may not be discharging an unseemly liquid of one kind or another; entitled parents whose haircuts encourage the proactive nudging of a supervisor; grown-ass men who are coming through the line to see Santa for a second time... with no children of their own in sight. Phil Collins. And that's just one evening.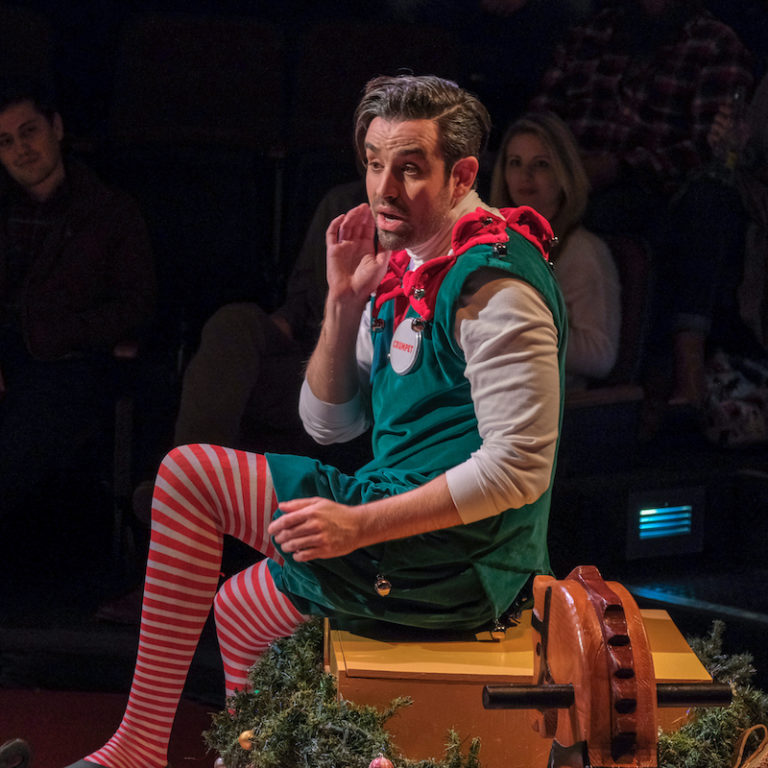 In The Santaland Diaries, Jimmy Moore plays Crumpet, a would-be actor keenly aware of just how low he's stooped in going up for a job as a department store elf. Despite his certainty of getting passed over in favor of individuals who are, shall we say, more genetically appropriate for the role, Crumpet gets the nod. With the enthusiasm of any actor, Crumpet gives his all, desperately clinging to his soul as needy children and cartoonish coworkers try to tear it from his grasp.
Moore's energy in The Santaland Diaries is infectious, and his storytelling paints broad, hilarious strokes. The slow depletion of Crumpet's supply of fucks to give is subtle, charming, and exceedingly witty. Moore's got a hell of a voice, to boot, which is heard briefly throughout the show. Musical interludes are never more than a tease, though, as it seems clear that the show's director, Nat Miller, is keenly aware we're all a little fed up with holiday music. What's here is hilarious, and I won't spoil the fun.
A high degree of audience participation is on display. And by participation, I mean Moore will roast a good portion of those in attendance before the night is over. It's all in good fun, and Moore's crowd work is stellar. Audience members in my showing seemed to take this as an invitation to heckle, and Moore should get a hell of a lot of credit for being able to roll with it, keep it funny, and get the show going again without missing a beat.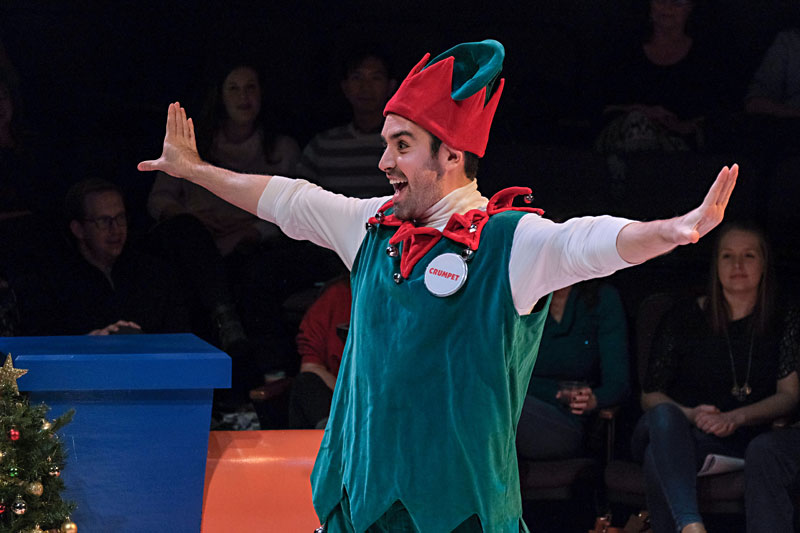 The staging of the show makes the relatively small venue feel much larger. Cheri Prough Devol's lights add depth to the stage, and J. Aaron Bell's scene design makes effective use of the entire venue, creating space and movement, cleverly hiding a few surprises. K. Eliiot Haynes' sound design is equally on point, and the sound alone gets a lot of the laughs. Miller's direction brings all these elements together for quite the memorable performance.
If you're looking for a holiday themed show to check out, and you're willing to expand your horizons beyond a bland retreading of a "holiday classic" featured shoed hands crunching gravel next to a microphone, this is your best bet. There's a hell of a lot of fun to be had in commiseration.
---
The Santaland Diaries
by David Sedaris
Zach Theatre
Wednesdays-Sundays,
December 05 - December 30, 2018
Information available at www.zachtheatre.org.