Review: Atlantis, a puppet opera by Vortex Repertory Theatre
by David Glen Robinson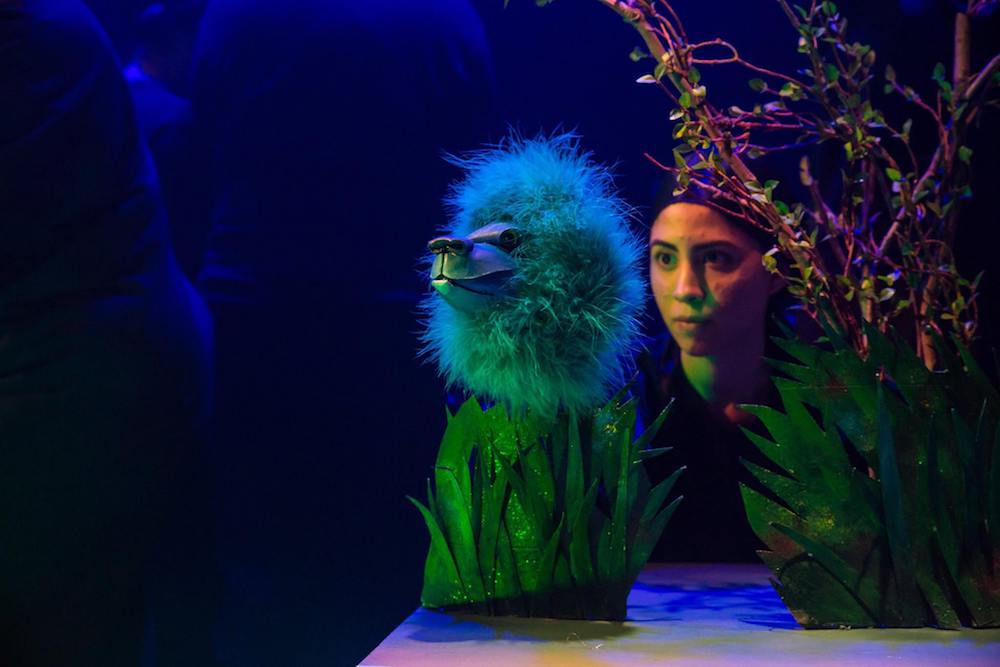 Things that are unique are hard to describe because there is nothing else for comparison.The best approach to Atlantis: A Puppet Opera, now playing at The Vortex on Manor Road, is to call it a composite uniqueness and merely describe the parts. The Ethos-created show was premiered at The Vortex in 2016, and its return has been eagerly awaited. As before, the show is directed to perfection by Bonnie Cullum.
In Atlantis puppets are able to sing an hour-long opera because their puppeteer manipulators are the best opera singers in the region. And they sing live, no voiceovers. People who think puppet shows are shallow entertainments for kids would dismiss this as ridiculous and return to their reality TV shows. But this reviewer knows the combination of puppets and any kind of music is sublime and believes firmly that watching animated constructions enacting stories harmonizes and in some ways tones our perceptual cortex. It's probably self-hypnotic therapy invented long ago by human beings watching cave art animated by flickering firelight as shamans told their stories.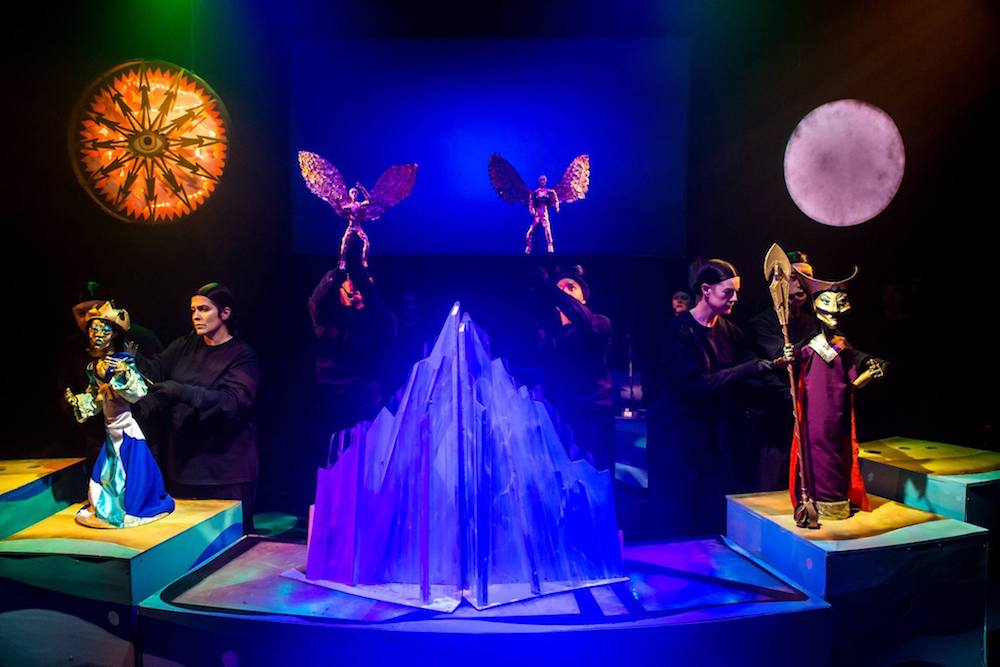 Few operas but those of Ethos are written for electronic music.Chad Salvata's score is well-balanced musically and coordinates and builds the dramatic currents in the story. The advanced sound system in The Vortex supports the music superbly, rendering the music and lyrics clearly. Salvata is the embodiment of Ethos, responsible for the music, libretto, production design and instrumentation of Atlantis.
There are no other operas about Atlantis and Lemuria. The philosopher Plato, who was said to have received his information from Egypt via earlier visits by Solon to Egyptian temple priests, described Atlantis for Western civilization as a continent in the Atlantic Ocean. Lemuria, however, was not posited as an ancient civilization until very late in the 19th century by writers and academics Augustus Le Plongeon and James Churchward. More frequently termed Mu, the continent has variously been placed in the Indian Ocean or in Polynesia. Recently, oceanographers have identified an area of unstable, shallow seafloor northwest of New Zealand in the South Pacific. The zone is bounded on one side by the New Caledonia archipelago, which would have been a towering mountain range if the surrounding seafloor had ever risen above sea level. The finding lacks any follow-on investigations, and no cultural remains have been dredged up.
Whatever the location or reality of the sunken continents, one can vouchsafe that no operas were written and performed on the subject of a destructive war between them. Not, that is, until Atlantis, a Puppet Opera. The story is that the Lemurian magician/empress Chandra has killed the Emperor of Atlantis. The emperor's son, the proud Helios, beats the drums of war for revenge. Both sides arm up, Atlantis with an overwhelming battleship, the Invictus, Lemuria with a vast aerial ship, The Dragon.Both are powered by exotic energies that ultimately cannot be controlled.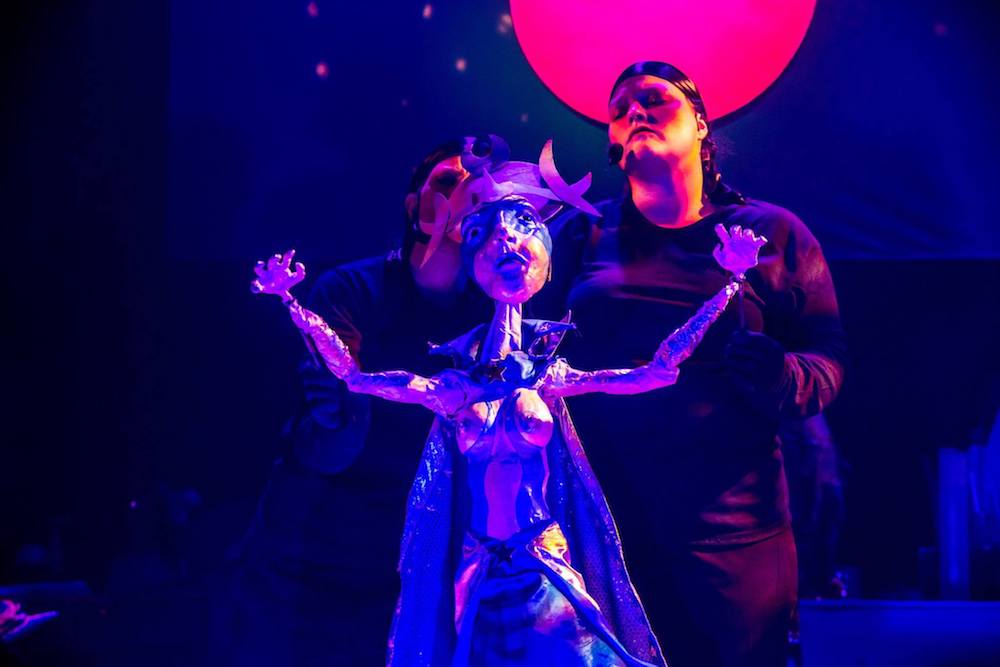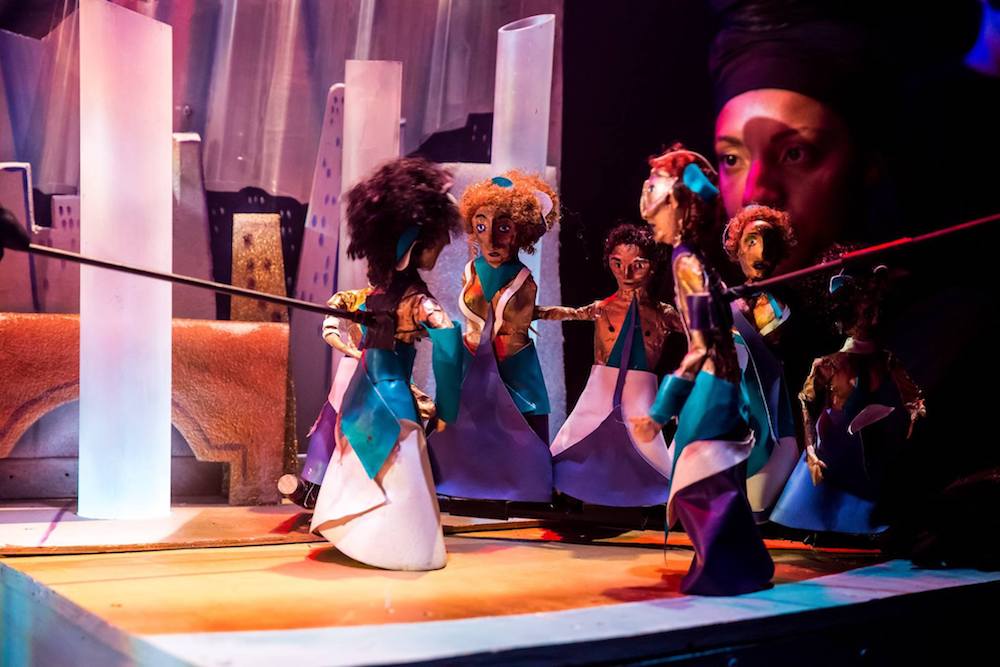 At this point, uniqueness departs and the opera becomes a combination of adventure tale and Greek tragedy. Indeed, the tropes go back to classical forms, especially the destructive effects of hubris, overweening pride. Dire oracular prophecies, blood sacrifices, mass murder and operant curses color the action and deflect the plot. Classical Greek audiences would have understood the opera in its entertainment layers, but they probably would not have appreciated the unfamiliar music. Atlantis, a Puppet Opera is a dire cyberpunk-oracular retrodictive prophecy explaining the fall of Atlantis. Plato would feel vindicated.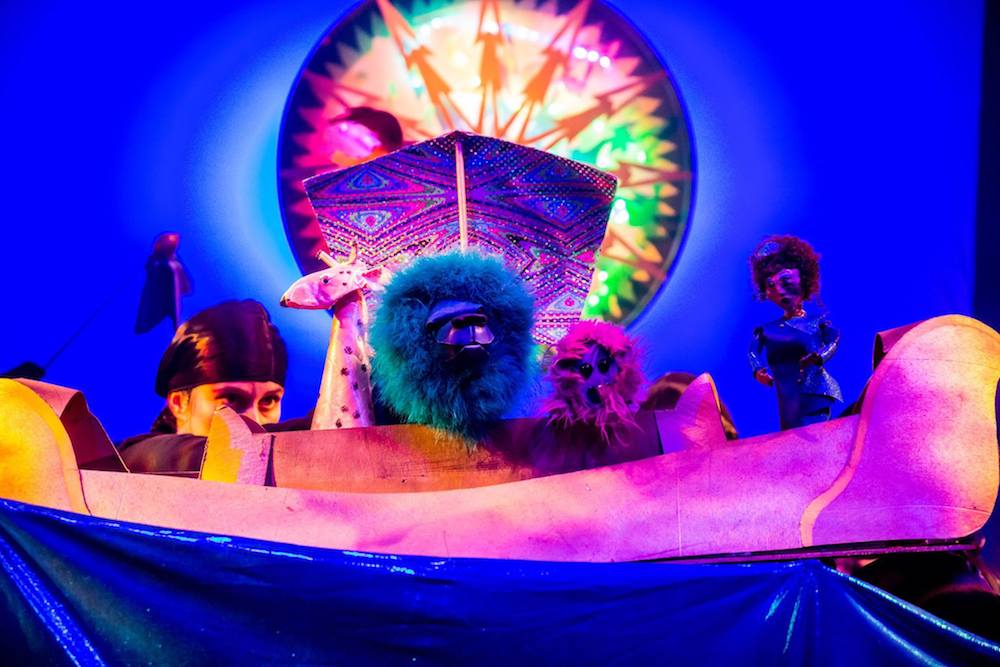 The vivid, unrelenting imagery is largely the product of Ann Marie Gordon, a profoundly gifted creative. She assisted Melissa Vogt, lead puppet constructor, in fabricating the puppets large and small. The giant Kracken, for example, has five manipulators. Lighting designer Jason Amato returns to give the opera fantastic lights, from glittering sunbeams to ruby laser blasts, shimmering underwater seascapes, and the glowing red eye of the Kracken.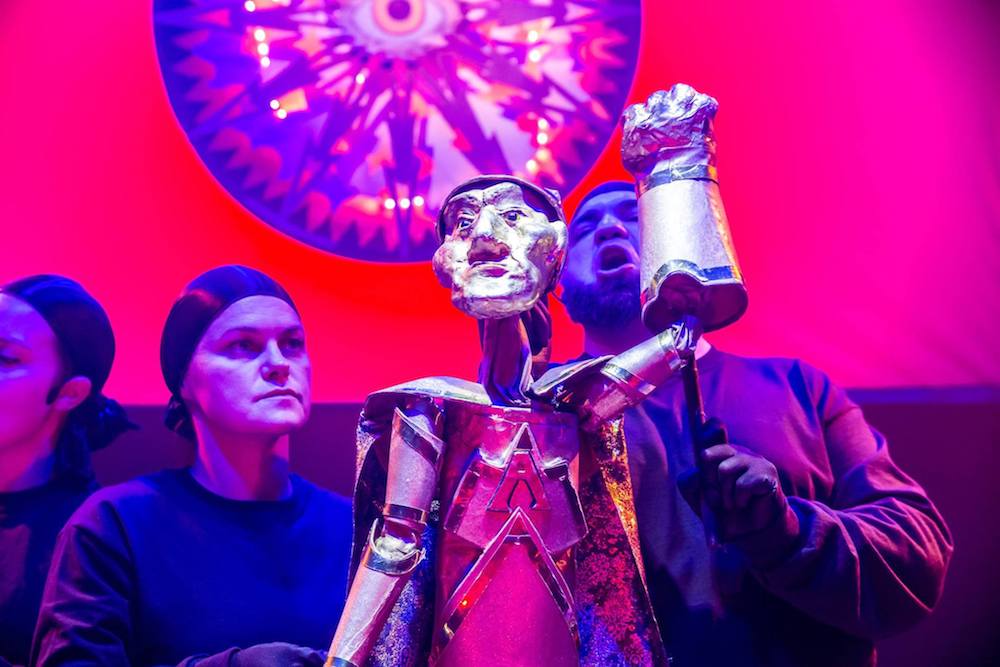 Long-time Vortex member Anderson Dear is the musical director and master of the vocal arrangements. She lent her amazing voice to Merra, Queen of Mermaidia and to supplemental chorus and ensemble singing. Dear is an incomparable talent resource for The Vortex.
The lead opera singer of the production is Michelle Haché, the voice, heart, and soul of Solstra, Queen of Atlantis. Haché is a singer with national credentials, including a graduate degree from Juilliard. She is primus inter pares in this rare assemblage of singers and actors, including (but not limited to) Melissa Vogt, Jonathan Itchon, Justin La Vergne, and Kristin de Groot. Itchon in particular distinguishes himself in the wistful and mournful sonorities of Magus' rite of the dying, "Metamorphosis." De Groot gives us a delicate soprano benediction as Elpis in the ark over the Ocean Blue in "Angels of Atlantis." These are just some of the high points in the opera.
Whether one thinks of Atlantis, a Puppet Opera as a loose fantasia or a scrying of a history before history, most will agree that the show offers an evening of soaring, magnificent operatic song, enjoyable by families and all.
Atlantis, A Puppet Opera runs until September 29, 2018 at the Vortex, 2309 Manor Road, east Austin.
---
Atlantis, a puppet opera
by Chad Salvata
Vortex Repertory Theatre
Thursdays-Sundays,
September 01 - September 29, 2018
Tickets $15 - $35, available online HERE.
Radical Rush Free Tickets: Limited free tickets for each performance in the spirit of sustainability, accessibility, and the gift economy. Radical Rush tickets released at 7 pm each night-in-person only.
Blue Star Theatre: Discounts for Military, Veterans, and their families
2-for-1 admission: Thursday and Sunday with donation of 2 cans for SAFE Austin.