Review #2 of 2: LANDSCAPE MECHANICAL by Sarah Loucks, Mouth Radio
by David Glen Robinson
Sarah Loucks and Mouthradio have just presented Landscape Mechanical, a worthy successor to 2017's Crave Blue. This production is outdoors, not in some magnificent setting, but in a gravel parking lot amid old warehouses. The setting is apt because Landscape Mechanical presents a car lot's worth of stories of those whose careers have pitched them into such settings, the very shoals and reefs and backwaters of life. Loucks' writing and the skilled performers' offer of empathic connection ("I've been there before") elevate the show into an Everyman's lament, with buckets of laughs thrown over the audience to soften the blows of memory.
The spare set was comprised of three junky vehicles and a table set with a microphone and sound effects props for a radio show. The major stage pieces are out of context with each other and almost eerily like the highlight objects in a dream. The vehicles and table were accents for the action that took place around them. Tim Mateer enacted the radio show segments, taking voiceover calls from listeners from faraway prairie and western states, with New Jersey thrown in for good measure. Call-in radio shows are becoming tired as a stage trope, but playwright Loucks rejuvenates the form by using it to widen the scope of her show and bring in more vivid slice-of-life stories. Mateer's direct speech on rebuilding a truck that later broke down in far, far, Sydney, Nebraska sounded very much like a true-to-life account from Mateer's life, but such a credit was not reported in the show program. Tim Mateer possesses Austin theatrical credits going back thirty years as an actor and notable storyteller.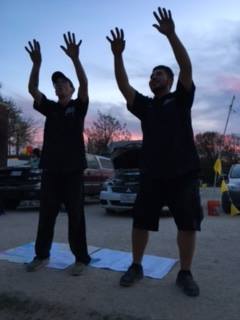 The immediate action of Landscape Mechanical began with Zac Crofford's salesman, dressed in mismatched suit separates, and a constant look of powderkeg anger. His first two lines are explosive obscenities, as he tries and largely fails to inflate balloons for adorning the used car lot. His stumbling, frustrated efforts are unabashed slapstick comedy woven through the repair sequences by the mechanics (Jose Lerma and Matt Spain) and voiceover readings of repair manuals by Hayley Armstrong. The mechanic-induced lurchings of the wheezing, spavined Pontiac (Buick?) around the gravel lot, the bizarre vocalizations of owners describing their vehicle problems "it sounded like …," and the repair demonstration that ended with yet another explosive obscenity were all enough to reduce the audience laughingly to grease puddles under their chairs.

And we must not forget the P.O.S. vehicle song by the ensemble and voiceovers, the faux-Chippendale's dancing, the sound and light show by the three vehicles themselves, and the pantomimed oily and feckless sales pitches to voiceover auto shoppers, the kind that make you go home and take a long shower.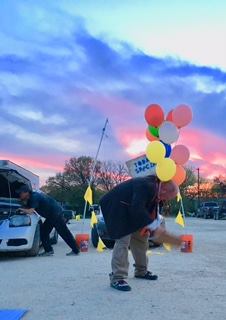 The culmination of the show kicked off with the salesman's grand entrance, his tacky garb surmounted by a regal ruff of floating balloons. With a spectacular but quickly faded sunset as background (hot pink and fuchsia sky strips between steel blue-gray cloud masses—and exquisitely well-timed), the salesman told his ur-story. As expected, he was innocent of higher education, but he did have a mentor in his teen years who taught him the keys to selling, but sadly not everything. In the intensity of closing every deal (ABC—Always Be Closing), a tiny piece of the salesman's soul was given up. With every sale. Now, reduced to gravel lots, wrecks sold only by deception, and dilapidated warehouses, the salesman had no soul left. On cue, the mechanics approached him and released his balloons one by one, each to float away in the darkening evening.
No spoiler alert is necessary, because Landscape Mechanical is gone in the flash of two performances only. No worries, Sarah Loucks and her merry band of collaborators produce her extremely well-written stories with high frequency, tender heart, and clever imaginations. Mouthradio is the name of her company, look for it soon to present more gems of Austin theatre.
---
Landscape Mechanical
by Sarah Loucks
Mouth Radio
Saturday-Sunday,
March 10 - March 11, 2018
One weekend only!
Saturday March 10th, 2018 6:00 pm
Sunday March 11th 4:00 pm & 6:00 pm
Tickets: Available from February 18th at www.sarahloucks.space or 515-520-7632. Tickets are $5-$20 on a sliding scale. Reserve tickets here: www.sarahloucks.space
Where: Gravel Lot 3600 Lyons Rd, Austin, TX 78702
Performance is outside. Please dress appropriately. Parking in gravel lot and on street.
Run Time: 45 minutes. 20 chairs are available. Feel free to bring your own.