Review #1 of 2: LANDSCAPE MECHANICAL by Sarah Louks, Mouth Radio
by Justin M. West
Author's Note: This review contains spoilers. Since this is an original work, I would highly encourage you to avoid reading this review until after you see the show. I understand this might defeat the purpose of reading it, entirely, but I believe the element of surprise is worth more than my blathering, at least in this case. If your heart simply aches for a review beforehand, I would just say – go see this show! If you read on, you have been warned!
The term "experimental theatre" is a touchy one. A bit of a gamble. It can dredge up traumatic memories of aimless, head-tilting devised "theatre" you'd rather leave in the dust bin of history, but it can also evoke the memory of and senses from a performance that created a truly unique, exhilarating experience.
Often, "experimental" is a broad label used to define what a company or production isn't more than what it is. A company or production that calls itself experimental, for example, is guaranteed to provide an experience starkly different than what you'll get at "Yet Another Performance of 'As You Like It' (By the Same Troupe That Did It Last Year)." In general, experimental theatre is the very soul of the medium, itself. It is what has always pushed theatre forward, pulling it kicking and screaming towards its own evolution. It isn't an afterthought, it's a necessity. To that end, the genre's quizzical failures are to be applauded just as much as its powerful successes. That doesn't mean I particularly enjoy the failures, of course, which is why I was so pleased this evening to find that Landscape Mechanical, the latest work from Austin playwright, Sarah Loucks, falls into the latter category of powerful successes.
In the dusty, mountainous parking lot in front of the Museum of Human Achievement, a small canopy covered a hodgepodge of assorted and misaligned chairs. Checking in and taking our seat, we held our palms against the setting sun, sipping our water and trying to figure out just what the hell was going on.
A single strand of yellow flags drooped towards a row of cars, suggesting a sea of automobiles. A few lonely balloons floated nearby, and old Chevy radio adverts provided the soundtrack to our pre-show conversations. All of it confirmed where we were. All that was missing was the inflatable tube Michelin man somewhere nearby and a man in an ill-fitting sport coat and a clipboard. But, wait. Of course. I had just failed to notice the man in the sport coat, as he soon emerged onto the "stage," clipboard and all, and began the show.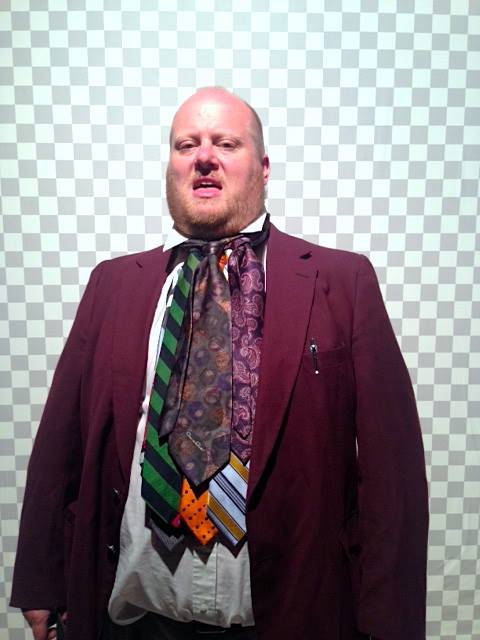 Over the course of an hour, Landscape Mechanical challenges its audiences in surprising ways. Our intelligence is trusted, and our trust, itself is tested. Early on, an old Mitsubishi screams into the parking lot, nearly taking out the Salesman (Zac Crofford) in the process. Later, two mechanics, Jose (Jose Lerma) and Matt (Matt Spain), take the car out to investigate suspicious noises reported by the car's owner. The scene that ensues, which leaves the open-mouthed audience watching with horror as the Mitsubishi performs donuts in the dirt and careens about with seeming disregard to its operators' lives (or freedom), is utterly terrifying. Our worst fears as car owners play out before our eyes, and our own sense of safety as an audience is stripped from us. To write and stage this scene, and to evoke the sense of urgency and vulnerability that it inspires, is a courageous and highly effective choice by the play's writer Sarah Loucks and director Ann Marie Dorr. I can only guess, but there must have been conversations along the lines of, "Is this really a good idea?" (Side note: If you're asking that during the creation of a show, you're on to something.)
The play's perfectly-cast protagonist, a hapless and hopeless prototype of a used car salesman played with feeling by Zac Crofford, quickly earns both laughter and our pity. Here's a man, we think, who is so terrible at his job that he doesn't realize he's the laughing stock of his own employees. Later, that pity turns inward as we realize he's just a man doing the best he can, and we realize that we are no different, ourselves. And, we begin to ask, are we not just as guilty of taking our jobs so seriously that our very lives become intertwined with them? Zac's performance hits all the right notes, and we're sitting sidecar on his hopeless journey to sell one of these crap cars, failing time and again with us rooting for him all the while.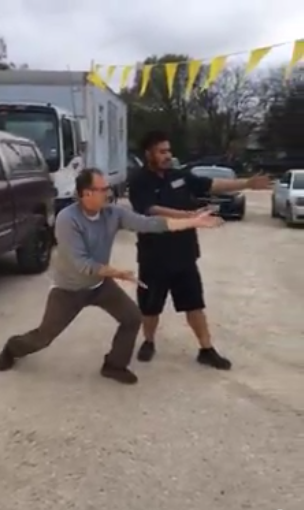 Jose Lerma and Matt Spain are what we see in our minds' eye when we imagine mechanics. Capable but aloof, the two of them are at once expert and indifferent. Bored but ambitious. Voiceovers give us glimpses into their existential inner monologues, and we ask the same questions of ourselves in turn. We're even invited over to watch them perform some routine maintenance on the car that nearly killed the Salesman, after which the car fails to start. So, even here in the dirt and under the hood of an old Mitsubishi, theatre "magic" is worked through the nuanced performances and expertise of both Lerma and Spain, and the excellent choices made by Loucks and Dorr.
When not acting as a Foley artist for the mostly-pantomimed show, Tim Mateer interludes the play's events as Sal, the Sunday morning car-talk show host you've skipped over a thousand times. Both Sal and his callers are, at first, dull, but we are at one point taken along with Sal on a trip down memory lane. Sal vividly recalls a rite of passage as a young man that any of us can echo, and we want to call and tell him our own version of that story. Mateer's lively, spontaneously hilarious performance keeps the show dynamic and soulful, and his energy amplifies all the events playing out on stage.
Sound plays an important role in this show, with well-acted voiceover work (Haley Armstrong, Alexander Setzko, Kedian Keohan, Benjamin Michael Friedstein, Jessica Almasy, and Mary Catherine) drawing us deeper into the universe of... well, wherever this car lot is. It takes a moment to sink in, for example, that while Jose and Matt and Salesman are going about their "work," we're listening to genuine automotive maintenance manuals. It suggests that the lives playing out before us are, in a way, scripted. Wrote. Not exactly aimless, but utilitarian and not all that satisfying. Yet.
Landscape Mechanical is an expert example of immersive theatre at its best. The play follows the sun, so the passage of time feels very real. We feel tired with the characters at the end of the day. Despite a lack of much dialogue, what is here feels very real, and we see ourselves in the characters. We feel vulnerable, and as the characters seek meaning in their pasts and presents, so do we. I wanted desperately for the Salesman to make that sale. Does he? Well… As I write this, there's one performance left. Go find out for yourself.
This show has courage to take risks, and it trusts us as an audience to follow where we're led, often inward. We're left wanting more, and questioning things we took for granted before we sat down. That isn't "experimental." That's theatre.
---
Landscape Mechanical
by Sarah Loucks
Mouth Radio
Saturday-Sunday,
March 10 - March 11, 2018
One weekend only!
Saturday March 10th, 2018 6:00 pm
Sunday March 11th 4:00 pm & 6:00 pm
Tickets: Available from February 18th at www.sarahloucks.space or 515-520-7632. Tickets are $5-$20 on a sliding scale. Reserve tickets here: www.sarahloucks.space
Where: Gravel Lot 3600 Lyons Rd, Austin, TX 78702
Performance is outside. Please dress appropriately. Parking in gravel lot and on street.
Run Time: 45 minutes. 20 chairs are available. Feel free to bring your own.