Review: School of Rock by touring company
by Brian Paul Scipione

"It's called growing up, you should try it." So, says Patty to Dewey Finn, an out of work rock and roll singer and guitarist. Dewey's just been fired from his last band and has been sponging of Patty's boyfriend Ned Schneebly, his old, loyal friend and former bandmate. Dewey is at rock bottom, so he does what's only natural for him: he tries to find a way to sink lower. This he does by stealing Ned's identity and dream job, impersonating him at the prestigious Horace Green Preparatory school. Unable to teach the normal curriculum, Dewey (as Ned) does the only thing he can do. He teaches the 5th graders to become rock stars.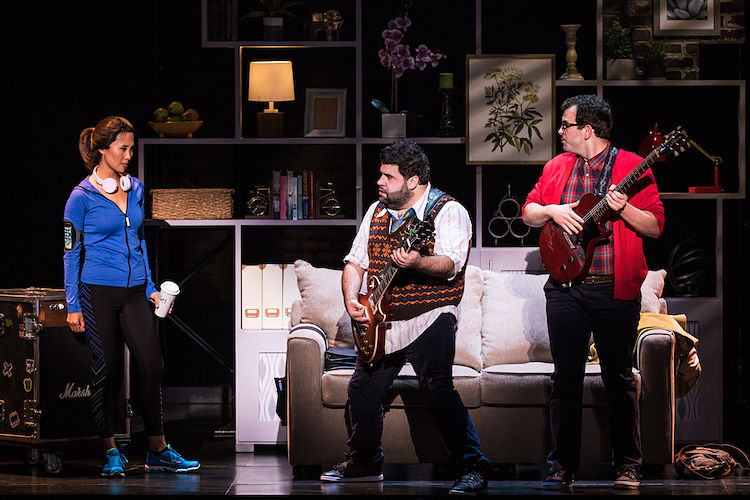 This plot will be very familiar to anyone who saw the enormously successful Richard Linklater film School of Rock from 2003, starring Jack Black. School of Rock was the highest grossing musical comedy film for more than ten years. In 2014 Andrew Lloyd Webber announced that he'd bought the rights for a stage musical version. It debuted on Broadway in December 2015, later going on National tour in 2017, making its way to Austin in 2018 with the original touring cast. Rob Colletti is Dewey Finn and Lexie Dorsett Sharp is Rosalie, the stern principal of Horace Green prep with a secret past that includes loving rock and roll.
"It's called growing up…" but that is the heart of this production. Deep down, no one wants to grow up, including the children of Horace Green who are already acting like adults. They are shocked that their newest teacher wants to give them recess all the time, and Dewey is just as shocked that they don't want to have recess all the time. When he finds out they are musically talented he offers to teach them, but one student responds primly that they are not good at "your kind of music." At another point, an introverted boy tells him, "I shouldn't be in the band because I'm not cool." Now Dewey is doubly challenged: in order to teach them to rock he has to first teach them to believe in themselves. Without missing a beat he promises the student, "You're going to be king cool of all you survey."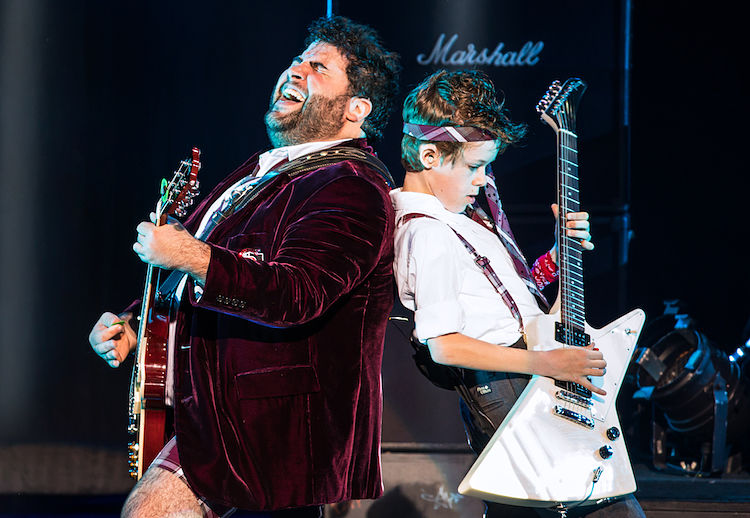 Rob Colletti brings an infectious level of enthusiasm to the role of Dewey Finn, prancing, jumping, tumbling over desks and sliding across the stage on his knees. He shouts, sings, belts out, scats and unleashes the fury of his voice at every possible point. Very easy to see how such a big personality with a hell-bent life of the party streak can win over not only the repressed student body but also the most stalwart members of the faculty. He is a delight to watch. He gives the role everything he's got and really embodies the rebellious spirit of rock and roll.
Lexie Dorsett Sharp as Rosalie undergoes a very believable transformation right before the audience's eyes. At the beginning she is shouting at the students not to run in the halls, but by the end she is thrilled to see them race around on stage like Amish youth enjoying Rumspringa. The key moment of her conversion is the song, "Where Did the Rock Go," an amazing ballad that laments the dissapearance of her youthful impetuosity. Sharp's voice is nothing short of gorgeous, and she embeds her singing with deep heartfelt emotion.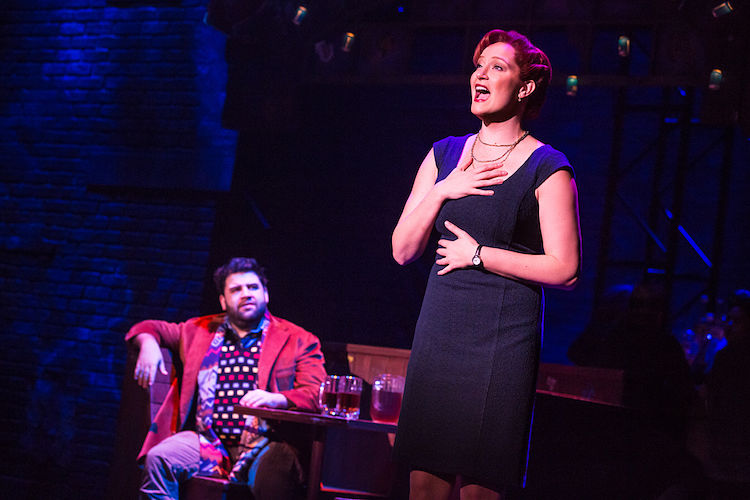 Unsurprisingly, the children of Mr. Schneebly's class are, indeed, true rock stars. No one has to direct them to jump for joy; they are up there truly jumping for joy with the electric energy of their youth. Before the show begins, an announcement crackles out of the auditorium speakers to assure us that yes, indeed, all the children are really playing their own instruments. And they do so with the technical skill of professional musicians. Phoenix Schuman as lead guitar-player Zack gets mad props for his solos and the ability to duck-walk and play guitar at the same time (à la Chuck Berry). Gianna Harris as shy Tomika has a wonderful and incredibly powerful voice. And finally, Theodora Silverman as the bass-playing Katie is a wellspring of playful energy and real rock-and-roll mischief. School of Rock is cast pitch perfect, and it's a refreshing break to see a show that is all about having fun and sticking it to the man.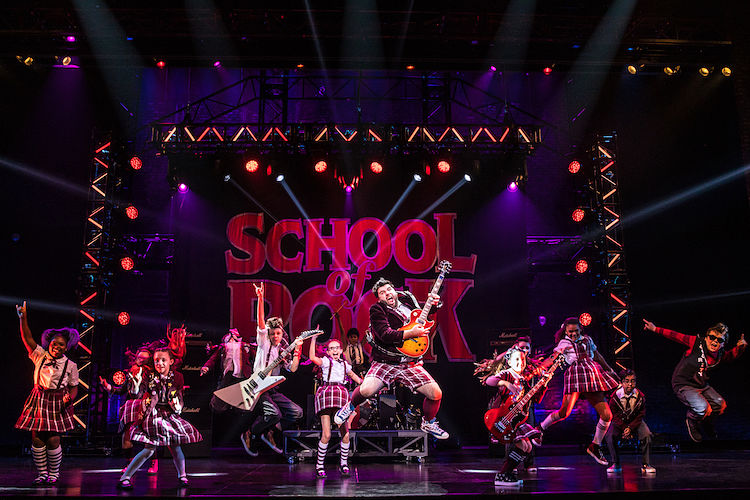 ---
School of Rock
by Andrew Lloyd Webber, lyrics by Glenn Slater, book by Julian Fellowes.
touring company
Tuesday-Sunday,
February 13 - February 18, 2018
See Texas Performing Arts.