Review: When We Are Married by Different Stages
by Michael Meigs
Different Stages' announcement of When We Are Married set up a bothersome tugging on my memory. Hadn't they done this piece before? An English comedy - on the theme of marriage - set in the very early 20th century - by J.B. Priestly? I've climbed aboard artistic director Norman Blumensaadt's literary-artistic time machine so often -- 32 times to date -- that I couldn't be sure. So of course I went checking.
And in fact, the first Different Stages production I saw and reviewed, way back in November of 2008, was George Bernard Shaw's Getting Married, set in the same time period. Visiting that review was a bit of a jolt, in part because only four months into what has since become a ten-year project I was trying so hard. A total of 1600 words of comment, history and pondering, all of it appropriate, whereas since then I've tended to deliver about half as many. I particularly savored one quote in Shaw's dialogue:
LEO. Then it's a mistake to get married.

THE BISHOP. It is, my dear; but it's a much bigger mistake not to get married.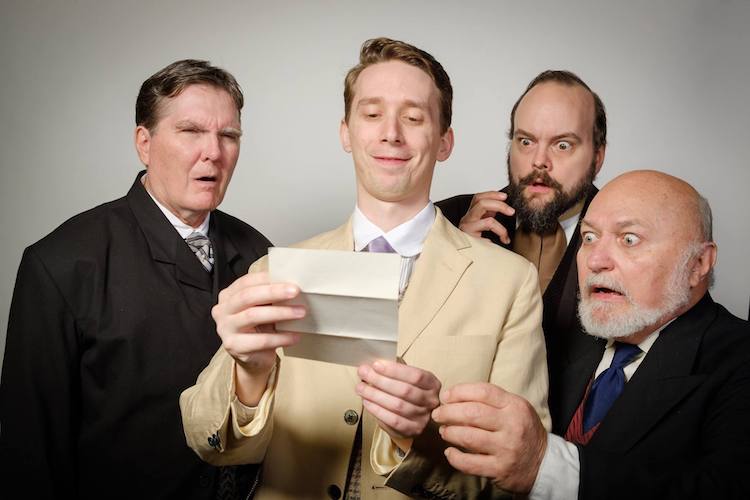 That's not an exact motif for Priestly's When We Are Married, but it comes pretty close. Priestly, a Yorkshireman himself, situates his gentle comedy in West Riding, Yorkshire, in 1908, and he has fun poking at the pretensions and the mild hypocrisies of the north country white-collar class of merchants and officials. Three self-satisfied petty gentlemen are somewhat put out with the "la-di-dah!" young music master at church, mostly because he's from the south of England but also because he's been seen in the evening in the company of a young woman (who, of course, will eventually turn out to be a relative of one of them). Will Douglas is mischievously respectful as Gerald the musician and Katherine Wehler is happily demure as his beloved; their function in the play is that Gerald knows an odd secret about the local curate who married these three older couples exactly twenty-five years before: the parson's papers hadn't been approved, so he wasn't authorized to marry them.
There's plenty of huffing, puffing and posturing as the gentlemen seek to comprehend the situation (and to contain it, for they foresee public derision and scorn). When the ladies do eventually find out, they take the upper hand. Propriety has constrained them for two and a half decades, but now they've got some stinging truths to tell.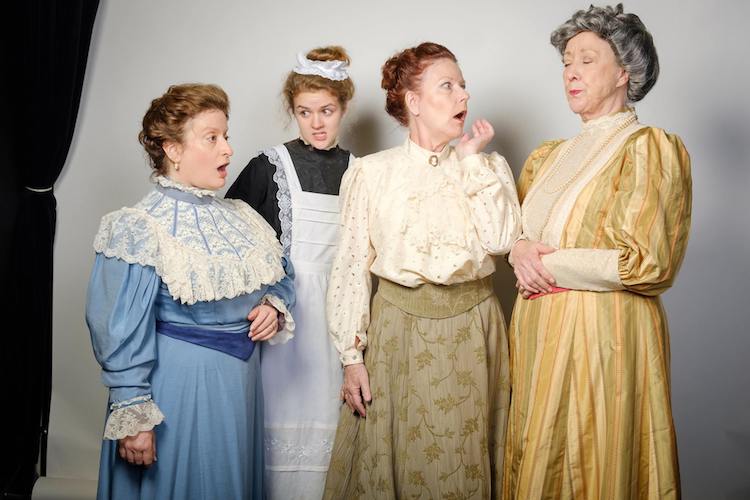 Priestly trots on a menagerie of familiar secondary characters: Shonagh Smith as the pert, amused maid; Janet Vincent Lee as the mean-minded, moralistic and quite Victorian lower-class housekeeper; Derek Webster as the ancient vaudevillian photographer for the local paper; Mindy Rast-Keenan as the tart in the red dress who intends to claim one of these bourgeois gentlemen for having promised so often that he'd marry her if only he could; and even dog-collared Chris Casey, who flickers across the set as the current Anglican priest representing upright morallity.
It was all a lot of fun. Blumensaadt deftly matched the six principal characters to actors he's worked with before. All played nicely in their Edwardian fustian (both of Ann Ford's costume design and of the comic slurry of Yorkshire accents coached by Ev Lunning, Jr.). Though the situation is one of comic exaggeration, the comedy was achieved by maintaining sincerity of tone even as desperation mounted (secondary characters were generally exempt from such rigor).
Because it's a well-made play, a resolution is required in which propriety is restored. And that's almost a shame, for the sharp truth-telling of comedy is covered over when the marriage papers are discovered to have been adequately handled after all. One might wish for the Parker couple that Miriam Rubin's decisive dismissal of the ridiculous and boring attitude of Ian King as her somewhat dim city councilman husband could work a transformation; or that for the Helliwells the revelations of Mick Darcy's excessive familiarity with Rast as the trollop could liberate Peggy Shroeder from continuing as the long-suffering wife. There is some promise, however, for the Soppits. Stephen Fay's transformaton from cowed husband to mouse that dares roar and tame his formerly exigent wife played by Susan Roberts just might be lasting.
EXTRA
Click to view the Different Stages program for When We Are Married
---
When We Are Married
by J.B. Priestly
Different Stages
Thursdays-Sundays,
January 12 - February 02, 2018
Trinity Street Players
Black Box Theatre, 4th floor, First Baptist Church
901 Trinity Street
Austin, TX, 78701
Performances are Thursdays through Saturdays at 7:30 p.m. and Sundays at 3:00 p.m. Please note that When We Are Married closes on Friday February 2.
Tickets are: $15 Thursday, and pick your price $20, $25 or $30 on Friday, Saturday and Sunday.
For tickets go to https://www.differentstagestheatre.org
For Information call 512-926-6747