Review: The King and I by touring company
by Brian Paul Scipione
The stage is set, the fog rolls in, the lights fade up from murky to dim to sensual and then the music explodes. Music that can be best described as cinematic and powerful. The mood has been crystalized: it's like a black and white film come to life. A lone ship crosses the sea, seemingly sneaking into the harbor like a cat owning a midnight alley. We can feel the passengers' tension almost as thick as the ever-pervasive fog, as they are encountering a new life in an exotic land: the unknown and mysterious is now the norm. Will they be accepted? Will they be successful? Will they even survive? The thematic music vamps like a crescendo of fireworks, and it is too late to turn back.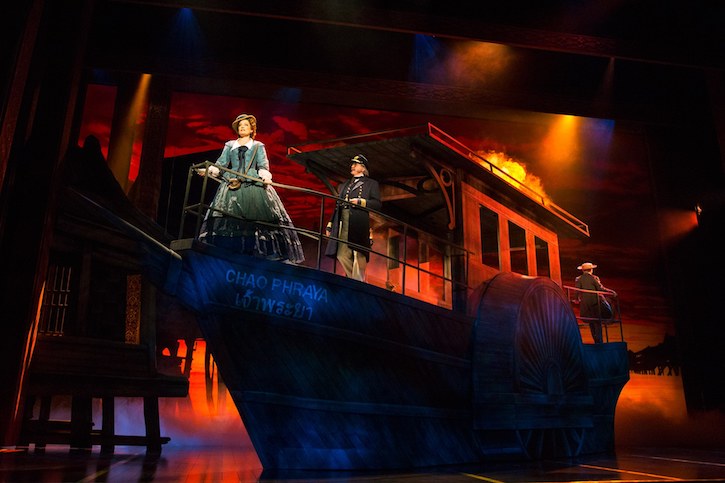 The story of The King and I is as classic as they come, a stranger in a strange land struggling to maintain the identity of the homeland and yet adapt enough to be accepted. Anna Leonowens is a British schoolteacher hired to instruct the children of the King of Siam. The setting is Bangkok in the 1860s and the idea of modernizing the nation is on everyone's mind. This is the first of many opposing forces that constitute the story's myriad themes. Monogamy versus polygamy. Civilization versus barbarism. Christianity versus Buddhism. Colonization versus political autonomy. And, of course, true love versus cultural traditions. These complexities all stem from one cause: the story takes place in a monarchy. What the King says is absolute. At one point the King attempts to solve a dispute by stating, "I'll do the remembering" making even reality subject to his whims. The play's tension, therefore, is built on the hope that the King will decide to forgo his royal privilege in the name of social progress.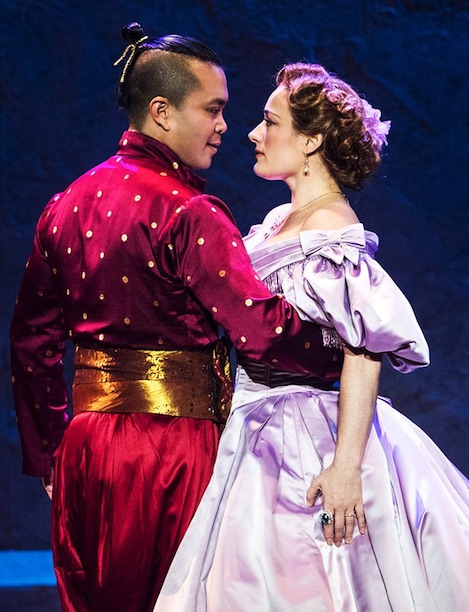 Director Bartlett Sher has been nominated for a Tony award seven times, winning in 2008 for the revival of South Pacific. He delivers a masterful night of theatre with this production supported by the leads Laura Michelle Kelly and José Llana who play the Anna and the King. The foremost accomplishment is the hypnotic mood that is created. The audience is whisked not only across the globe but deep into the past. The characters' passions and challenges feel very much alive and current. Kelly and Llana make great foils battling over unkept promises, modern education and their very different concepts of love and marriage.
José Llana is most engaging and a delight to watch. His voice is strong and fervent, losing no clarity despite the heavy Thai accent he affects. In many scenes, he seemed to be channeling the comic stylings of Steve Martin. The King is flustered and enraged with Anna, and he vents these feelings with gleeful zeal. When he refers to monogamy as a sickness, you believe him but somehow don't begrudge him that. He uses the small moments in the performance to convey his love for Anna, and this gives us the feeling that he is almost imprisoned by his time and place. He longs for her as she is, and so he does not want to change her. Yet he too cannot budge on any of his own cultural mores. To him Siam is the biggest country in the world, a man should have many wives, and the subjects should genuflect without a moment's hesitation. To him this is all as plain as the sky is blue and water is wet, and yet there is something niggling at him that grows inside so determinedly that it may turn out to be fatal. Llana's comic genius showcases the internal struggle, but it his impassioned singing that illustrates his characters love.
Laura Michelle Kelly shines brilliantly during all the classic songs: "I Whistle a Happy Tune," "Shall I Tell You What I Think?" and "Shall We Dance?" Famous for the title role in Mary Poppins, among others, Kelly is the ideal English governess. Her voice is lilting and lyrical, as pleasant as a sunlit dappled morn enriched by the twittering of song birds. She counters Llana's energetic and devilish King with a stern yet loving beneficence. She does not relent on any point and will do everything in her power to pull him into the present day. While not shy about telling him when his views or actions are archaic, she does not overstep her bounds. Kelly's portrayal is seamless and enchanting, and the audience is also enrapt with her struggle to hide the love she feels.
The ending of the show is powerful. Don't worry, I'm not going to reveal anything here in case, like myself, you are new to this amazing bit of musical history. The final scene was both languorous and mysterious. At first it was a bit confounding but upon reflection I realized it was metaphorically entirely apropos. This production is just under three hours long, but one doesn't even notice. Every moment is engaging on some level. The ballet segment alone makes this an unsurpassed night of theater. On a limited run in Austin, December 12 - 17. Don't miss your chance to see this extraordinary cast.
---
The King and I
by Rodgers and Hammerstein
touring company
Tuesday-Sunday,
December 12 - December 17, 2017
December 12 - 17, 2017
Tuesday – Friday at 8 p.m.; Saturday at 2 p.m. & 8 p.m.; Sunday at 1 p.m. & 7 p.m.
Bass Concert Hall | 2350 Robert Dedman Drive | Austin, TX 78712
TICKETS Start at $30.Tickets are available at BroadwayinAustin.com, texasperformingarts.org, the Bass Concert Hall ticket office, all Texas Box Office Outlets, by phone at (512) 477-6060. For groups of 10 or more, call (877) 275-3804 or email Austin.groups@broadwayacrossamerica.com