Review: A Member of the Wedding by Different Stages
by Michael Meigs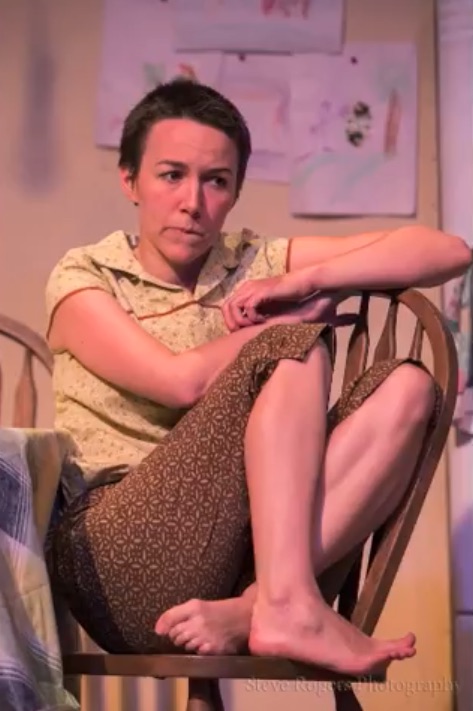 This is a land with which we're familiar: the small-town South of the first half of the twentieth century, where life was predictable, stratified and oh so boring for smart children. That was before television, mass culture, globalization and the Internet struck their intrusive noses under the tent. Truman Capote captured that world; so did Flannery O'Connor; likewise with Carson McCullers. William Faulkner did, too, though he dived far deeper and built a world beyond time.

Frankie Adams is twelve, full of energy and about to explode with the anguish of impending adolescence. She's not there yet, but her mind is going a hundred miles a minute with not very much to work upon. She's still a child, motherless, confined most of the time to the kitchen world of the family's colored cook Bernice along with her much younger cousin John Henry, who lives next door.
Taylor Flanagan quite literally throws herself into the role. She's a bit taller than the twelve-year-olds I've known, but her vibrant energy, ever-changing moods and emotive expressions sweep away any doubts. Frankie is the title character of A Member of the Wedding, and it's a three-act, three-character play with a twelve-person cast.
A Member of the Wedding, adapted by McCullers from her novel, is not a coming of age play, for the guillotine of adolescence never descends. Instead it's a portrait of a child-woman tense with confused potential and clutching for emotional reassurance. In the opening scene Frankie's much older brother Jarvis is back from army service in Alaska — the novel was finished in 1946, but although Jarvis wears army khaki, there's not a word about the war. Frankie's disappointed that he never wrote back to answer her questions about Alaska. Big brother Jarvis is soon to be married to his sweetheart Janice. That's a tremendous event in the unchanging world of Frankie's life in a small Southern town, and she falls in love with the very idea. In fact, as she enthusiastically informs Bernice and John Henry, she's in love with the couple; she identifies so completely with J and J that she declares she's taking a new name to match: "F. Jasmine Adams."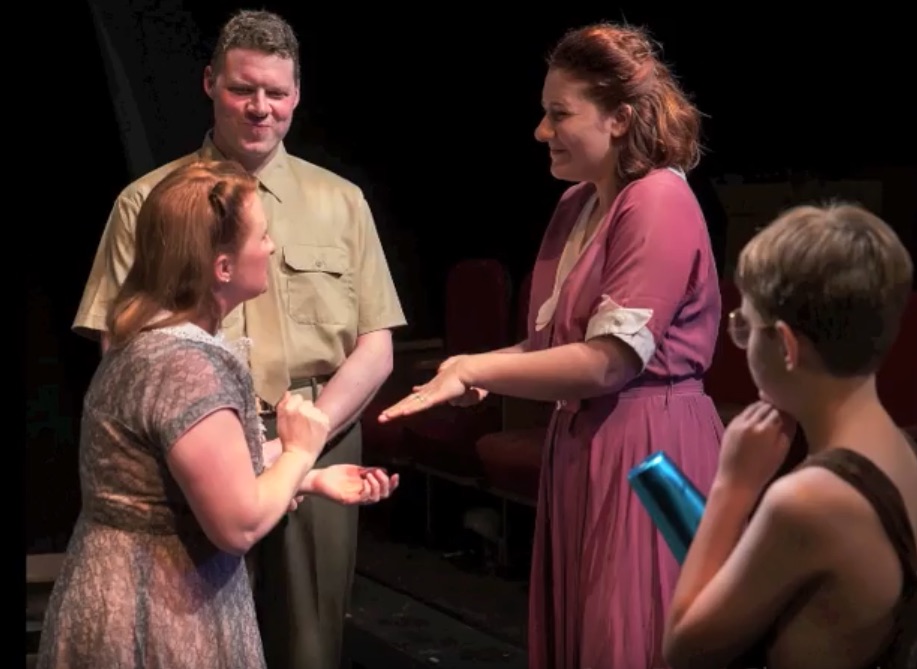 The message delivered throughout the play is that this bright and enthusiastic child has been left to grow up unattended by her family. Her mother died giving birth to her; her father the shopkeeper pays her little heed. Cousin John Henry (the solemnly attentive Jago Mystiek) is half her age, an audience for Frankie's enthusiasms but still just a kid. Bernice the cook, played with warmth and humor by Chelsea Manasseri, provides support familiar in such a Southern world: a mature African-American woman hired as a housekeeper whose role is somewhere between those of big sister and mother.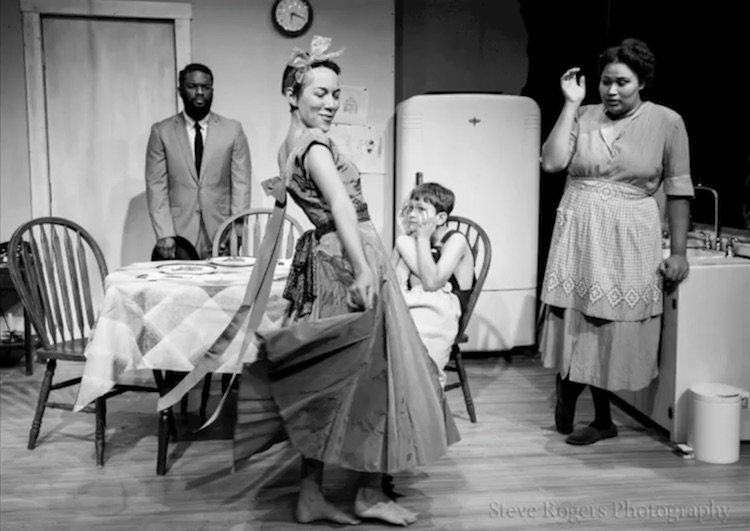 The trust and tenderness between Frankie and Bernice is nestled in the safe space of the kitchen. McCullers makes us aware of Bernice's people, subservient to the whites and forced to yield their dignity. Bernice's beau T.T. tiptoes around the Adams family, while her relative Honey Camden Brown, dreamer, trumpet player and uppity defender of his own honor, is in his own way just as adrift as Frankie is.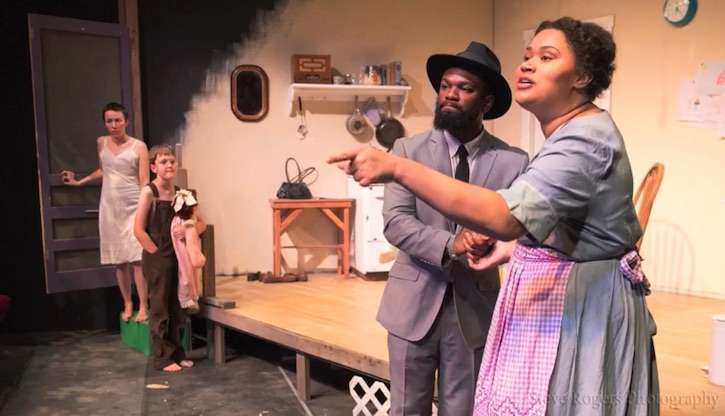 There's a lot of motion in the Adams kitchen as Frankie speculates, pouts, plays and proclaims, but the movement of A Member of the Wedding is gradual, deliberate and limited. Act I features the announcement of the wedding; Act II takes place while Jarvis and Janet are away; Act III is the kitchen-eye view of the wedding, pushed to a climax by the conflict between Frankie's confused determination to go away with the newly married couple and her inability to articulate that desire to them. Peripheral to that central movement are two plot developments late in the action that result in deaths, altering the perception of this small-town world as eternal and unchanging.
Director Karen Jambon has recruited a cast of such qualified actors that it seemed almost a shame to put some of them onstage for such short scenes. I had particular jolts of recognition for Nate Dunaway as the amiable but inattentive brother Jarvis and Regan Goins as his fiancée. Jeremy Rashad Brown as T.T. and Paul Bowie as Honey Camden Brown lent depth to the story in their brief appearances. Nikki Zook's considerable ability was barely glimpsed in her walk-on as John Henry's mother. One is led to speculate that these talents accepted the roles out of loyalty to director Jambon, to McCullers' vivid, hectic and often poetic story, and to the Different Stages ethic of revisiting major but neglected works of the twentieth century stage.
EXTRA
Click to view the Different Stages program for A Member of the Wedding
---
A Member of the Wedding
by Carson McCullers
Different Stages
Fridays-Sundays,
November 17 - December 09, 2017
Friday, November 17 - Saturday, December 9, 2017
no performance Thursday, November 23
added performance Wednesday, December 6
The Vortex, 2307 Manor Road