Review: ANON(ymous) by Mary Moody Northen Theatre
by Michael Meigs
There's a curious two-dimensionality to Naomi Iizuki's Anon(ymous). It's billed as a modern take on The Odyssey, and the rough correspondences aren't too hard to make out: a central character who's washed up ashore when a ship goes down and an episodic structure in which he's rescued and held by a nymph, later encounters and defeats a cyclops, and receives occasional visitations from a goddess; there's even a woman forestalling a suitor by night unraveliing her weaving. There's certainly no one-on-one correspondence, and who can object in our globally conscious times to the presentation of a parable about anonymous refugees struggling toward their destinies?
Episodes, confrontations and dilemmas are abundant. What bothered me was the shallowness of the characters. None of them engages in much reflection, but they all have good hearts in their adversity. And the wickedness of those lurking along their way is unrelenting. If we read this as a portrait of immigrants, refugees and asylum seekers in these United States, it's a flashy portrait of an ugly Trumpian world. I'd started to say it was in 'comic book' style, but in truth much of the graphic art of our day is far more subtle and sophisticated; the simplicity of the episodic style of Anon(ymous) is essentially 'coloring book' style.
This distrubed me enough to look into the background of the piece. After all, considering that this script was done by the University of Texas in Austin in September, is on at St. Ed's this month, and will be offered a staged reading by Teatro Audaz in January at the cellar theatre of San Antonio's Playhouse, there must be more here than met my eye. Indeed, there was: Iizuki wrote this piece for the Children's Theatre of Minneapolis in 2006. The entire playscript of Anon(ymous) was published by American Theatre magazine the following year.
The simplicity of the sometimes gruesome action and the lack of reflection of the characters are due to the fact that Anon(ymous) was written for children. And now, ten years later, the media fascination with the battering of refugees and the xenophobic outcry of swathes of the American public have made its one-sided message that much more revelant. The by no means complete listing of productions at Playscripts, Inc. notes only two professional stagings; the rest of the 230 have mostly been at educational institutions. And that suggests an irony: the Actors Equity candidates at St. Edward's University performing in Anon(ymous), all undergraduates, were grade-schoolers when it was written, and so at that time were firmly in the audience the play sought to teach.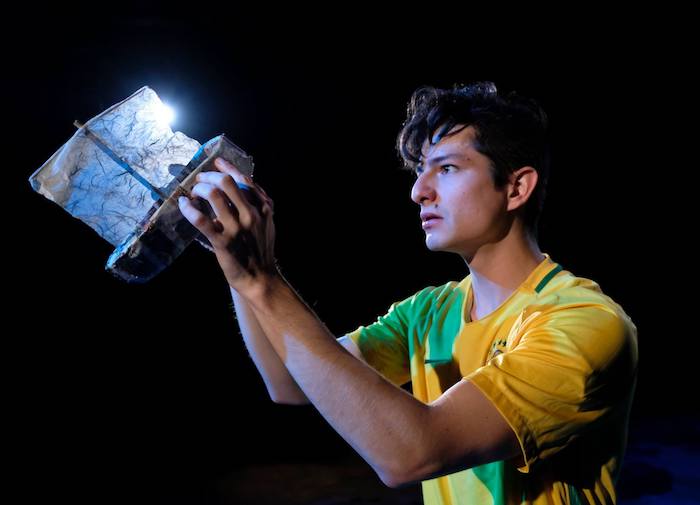 I was 'over-thinking' it instead of letting myself be carried along on Anon's quest for safety, security, a home and rediscovery of the mother from whom the shipwreck had separated him. But I'd lived almost twenty years in Africa and Latin America, and I've been translating and interpreting for refugees and asylum seekers for another six. And now that I understand the genesis of Iizuki's Anon(ymous), I'm grateful for its message of humanity despite her use of stereotypes both noble and wicked.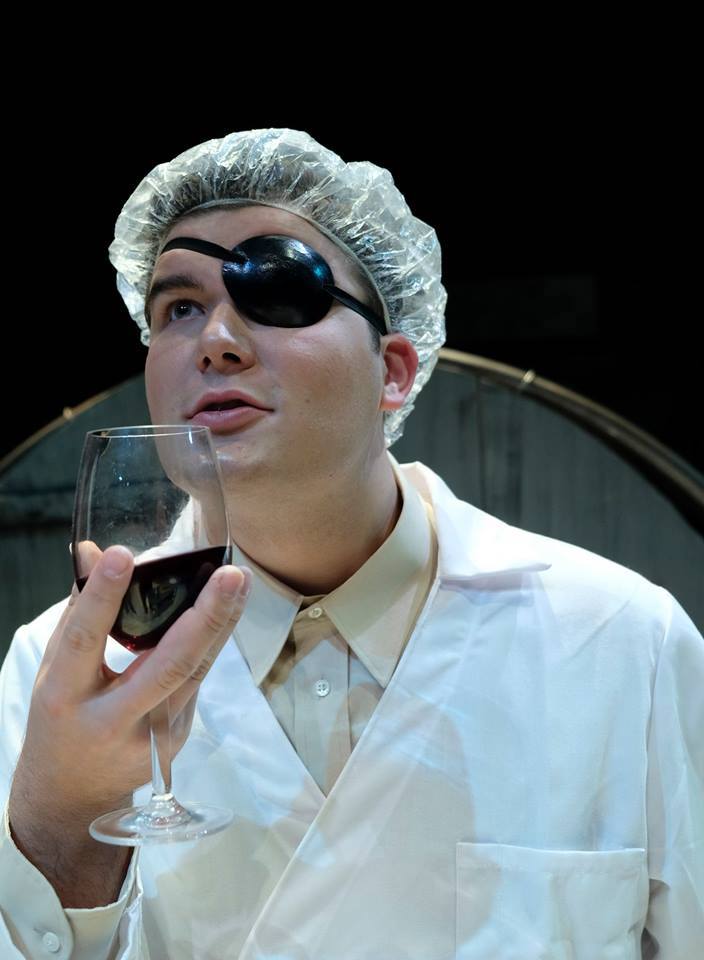 Josean Rodriguez returns to his alma mater from New York, where he has been pursuing an Equity career, and he's joined for a few short scenes by Actors Equity member Patrick Gathron. Gathron, an Actors Equity member from Dallas, has had a run of juicy roles in Austin at Austin Playhouse, the Hyde Park Theatre and Spectrum Theatre company. Both men are assured and convincing, Rodriguez as the title character thrust into one plight after another, and Gathron as a companion who meets a grisly fate -- offstage but amply illustrated by the wide smears of blood across the white coat of the Cyclops butcher Mr. Zyclo (Jackson Pant). Carla Nickerson is the Penelope figure, slaving in a sweatshop where the owner, played by Eric Bradley, crudely pressures her to marry him. Nickerson is serene but determined; Bradley is an all-purpose bad guy in this staging, privileged toward the end of the action to whip out an incongruous but entirely deadly broadsword for a fight with Anon.
The multiple scenes offer some lovely bit parts for members of the ensemble. Shelby Thompson as Calista (Calypso) is a bouncy, pouting, insistent young thing who wants to hold on to Anon and warns him that her father (never seen) is "very, very important!" Grace Riggs is solemnly clueless as a well-off American woman trying to manifest sympathy and offer consolation. Luxy Banner comes coasting out from time to time as Naja (Athena), Anon's all knowing guardian goddess. De'ja White as Serza (Circe) stalks about the pig-snorting clientele of her night club.
The most artful performance of all is that of Adriana Fontánez as the Cyclops' pet bird. The costume design by Susan Branch Towne and that cockaded wig designed and built by Tara Cooper are enough to make her memorable, but Fontánez's beady-eyed attention, calculated strut and utter concentration are such that she dominates the scene without uttering a word.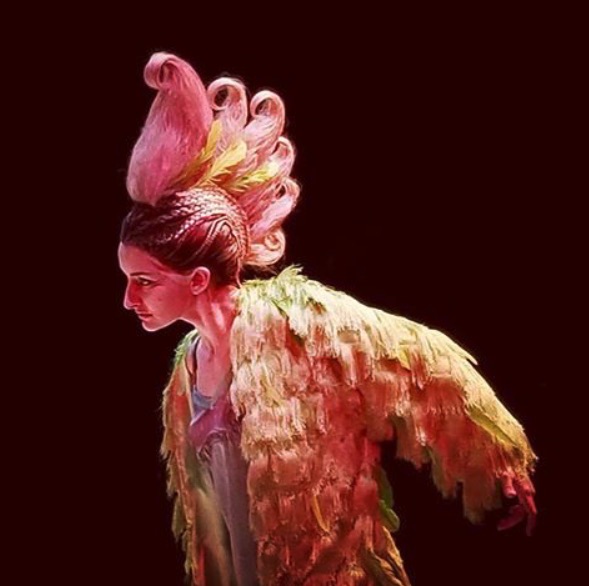 The happy ending and family reunion at the end are welcome but they're faint reassurance. We've seen murder strongly suggested, deaths of smuggled immigrants by drowning, stifling and road accident, human trafficking hinting at sexual coercion, and cannibalism via sausage grinding. Scenes make it clear that even surviving refugees remain in a purgatory of sorts, separated from family and the familiar.
Anon(ymous) is strong medicine. Perhaps it has to be. And it should be presented in a child-proof container, as director Michelle Polgar and the cast have done.
EXTRA
Click to view the Mary Moody Northen Theatre program for Anon(ymous).
---
ANON(ymous)
by Naomi Iizuka
Mary Moody Northen Theatre
Thursdays-Sundays,
November 09 - November 19, 2017
Nov. 9 – 19, 2017
7:30 p.m. Thursday – Saturday , 2 p.m. Sunday
Mary Moody Northen Theatre
St. Edward's University
3001 S. Congress Ave.
Austin, TX 78704
Campus map: https://stedwards.app.box.com/v/campusparkingmap
TICKETS: $25 Adult ($18 Students, Seniors, St. Edward's community)
MMNT Box Office: 512-448-8484
Online: www.stedwards.edu/theatre
Box Office Hours are 1 - 5 p.m. Monday – Friday
Student discount nights: November 10 and November 16: $10 ticket
with any Student ID
[poster illustration by Yu Kuyong Kim]