The Mastrogeorge Theatre is incredibly hard to find, but finding it conveys a sense of accomplishment. The place is one of those multispaces in a repurposed warehouse near the corner of Pedernales and Cesar Chaves streets.Small space, high rent, and this phrase describes unfortunately one of the few survival strategies left to the east Austin theatre community.
But Heaven bless the few and the new. Crave Blue, a new play by Sarah Loucks of Mouth Radio Theatre, has just opened at the Mastrogeorge after development partly in Austin and partly in NYC, with additional nurturing by Scriptworks in Austin.The show vacillates among the worlds of fantasy, magic, and realistic social and environmental commentary. As expected, the audience walks into a spare, squarish, high-ceilinged warehouse segment with risers along one wall. The opposite wall has a blue backdrop formed of strips of blue tarpaulin such as sold at Home Depot and Lowe's. Beyond the backdrop strips we glimpse blue on blue layers.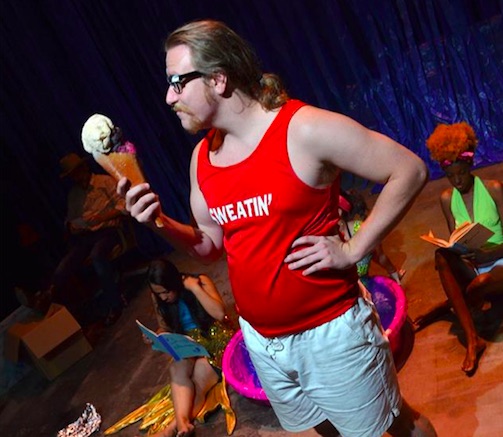 The play's characters are onstage in a pre-show-within-a-show state, slouching, reading, smoking cigarettes, and, yes, drinking beer. An ice-cream salesman attempts to sell cones directly to the audience and compose poetry on the spot, while a cowboy carny barker holds up a sign lit with cosmetic mirror lights and invites us to come see the show: living mermaids! We have made our entrance into an unnamed West Texas town near a lake.The town, drying up socially, is the metaphor for the drying up, polluted lake.Or perhaps the town and lake are metaphors for each other.
So who are the fish? The slouchy mermaids are attired in tacky West Texas Modern—running shorts, yoga pants, halters, one-piece tops, tennis visors, and neckerchiefs. Additionally, mermaid Fintasia (played by Chelsea Rodriguez) wears a kind of dress sheath on her lower half that extends well onto the floor as fish tail fins.Her top is seemingly office wear with a blue vest.The mermaids present all this mismatched apparel to the public in their performances as living mermaids, apparently about four shows a day if an audience can be found.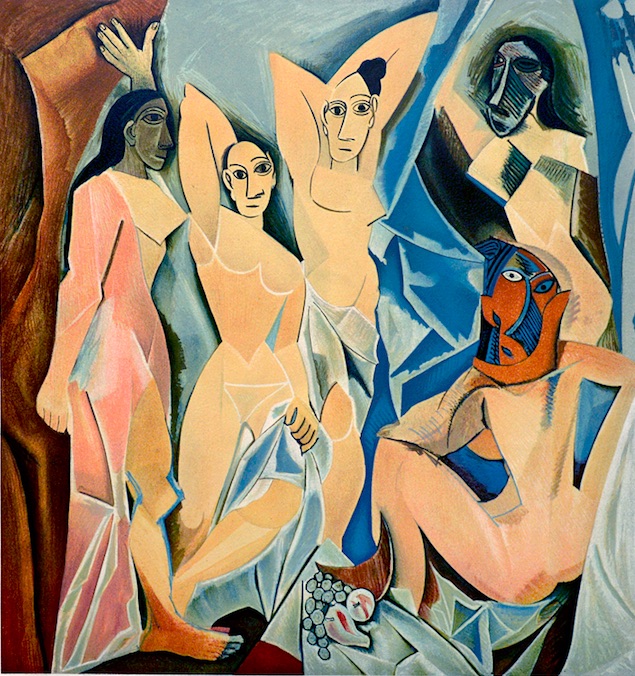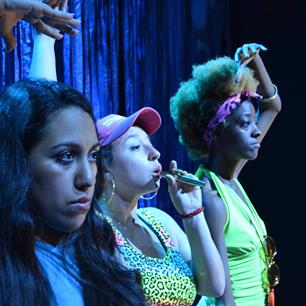 Their presentation to the actual audience is a static mermaid tableau reminiscent of P.T. Barnum's cheesy sideshows of the nineteenth century. The actors' arm shapes, however, are more deeply evocative of the painting Les Demoiselles d'Avignon by Picasso, the painting that brought together in one image the potential both for corruption and glory in the human form. If this is so, then what about metamorphosis? We don't have to answer this question, but the play toys with it a bit.
The carny barker is the owner of the "attraction," attired tastefully as a gentleman cowboy and played by Tim Mateer. He is burdened with grief at the loss of his spouse Nancy. This is the launching point of the play, and it quickly introduces several plot lines, each pointing toward the lake and its mysterious but inviting blue depths.
The creative resources of the production staff are immense and stretched to the limit to create a West Texas town in a warehouse box. Zac Crofford's design talents are well applied in the design and fabrication of the interactive backdrop/lake, and the blocking of director Ann Marie Dorr ensures the success of the lake scenes. Lighting design lay in the capable hands of Rachel Atkinson. The rest of the production team overused the design concepts of "cheesy" and "tacky" as though they were a popular cartoon duo with those names. To those above a certain age (usually late teens) cheesy and tacky make no impression and are of no interest.The only exception to this are the "trash fish" thrown around by Trash Tourist, played by Abigail Rose. They are workable props for throwing and are artistically consistent.
The actors are the strength of this play. They took the script's high points and projected them right through the high concrete block walls. And not just by using volume. Wild Tuna, played by Olivia Jimenez, gave remarkably clear lines in expressing her alcoholic anger at her ex-husband the ice-cream seller, played by Austin Vaught. Hayley Armstrong as Mermaid Treasure aspired to escape by going to college. Her role was expository, developing the ecological theme of the play principally by explaining kindergarten-level concepts of ecology to her companions, whoconsidered high school an opportunity for drinking beer and making babies.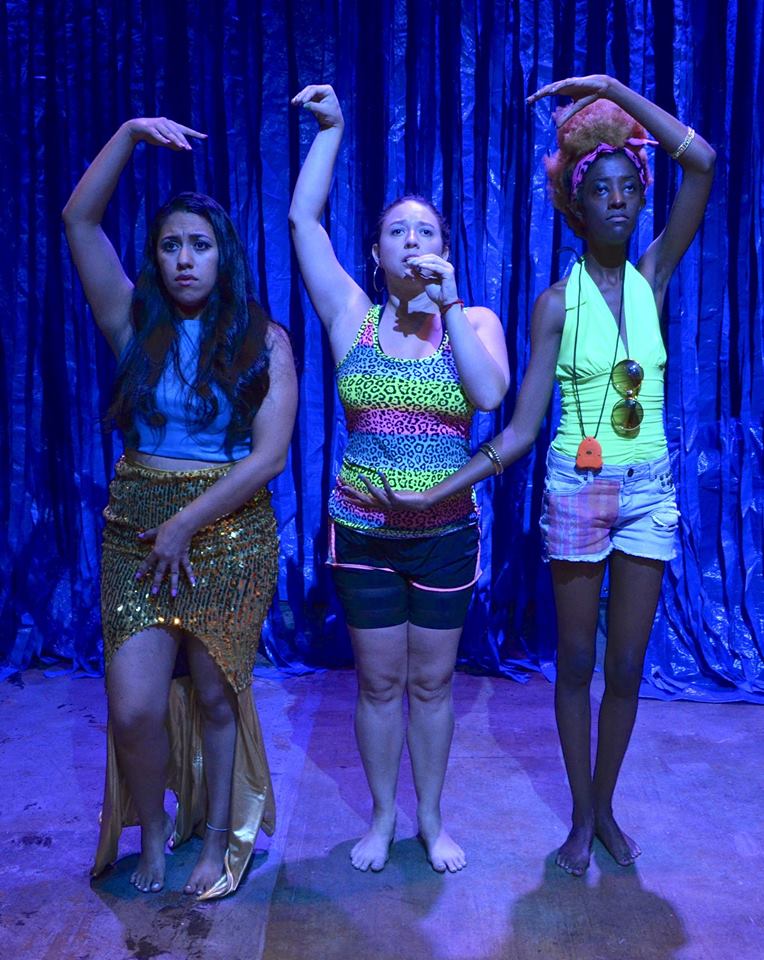 And then there's Mateer. His Phil, the West Texas entrepreneur and mendicant, possessed a despairing air long before he lost his wife. He conveys more than any other character the sense of the town's disintegration. Longtime Austin theatre veteran Tim Mateer does it all with very few lines and immense presence. From the cowboy hat to the beard to the boots he exudes the quiet strength of west Texans. With no lines at all Phil picks up his deceased wife's blue gingham apron, puts it on and smooths the fabric. He looks out and through us, in silence. Eventually one hears from faraway the mourning of a West Texas wind in one's own mind. Would someone please give Tim Mateer a one-person show—Jaston Williams? Anyone?
The ensemble took inspiration from the poetic abstraction and seeming absurdity of blue love. Yes, the color blue. How can you relate to this, one might be asked in an acting class? To add a little flesh to the concept, the program notes quote from Maggie Nelson's poem Bluets: "And what kind of madness is it anyway, to be in love with something constitutionally incapable of loving you back?" and "Are you sure—one would like to ask—that it cannot love you back?" This is the stuff of which great theatre is made, but you the audience must open to it, and remain open.
Crave Blue is a show for those enthusiastic about young, bold, experimental theatre makers and the performances they create. Add this one to your collection. The show runs from July 20 to August 5, 2017 at Mastrogeorge Theatre, Pedernales at Cesar Chaves, east Austin.
---
Crave Blue
by Sarah Louks
Mouth Radio
Thursdays-Sundays,
July 20 - August 05, 2017
July 20-August 5th, 2017, Thursdays-Saturdays at 8 pm. July 29th* & August 5th* at 6:00 pm and 9:00 pm
MastroGeorge Theatre at Carol Hickey Acting Studio. 130 Pedernales St. 318B Austin, TX 78702
Tickets vailable at sarahloucks.space or 515-520-7632
$15 general admission. $20 priority seating.