Review: Pool (No Water) by Ensemble Mercury
by Michael Meigs
There's something eerie yet very satisfying about witnessing a tight group of young contemporary artists present a play about a tight group of young contemporary artists who turn on one of their members because she was more successful than they were.
Ensemble Mercury is half a dozen theatre artists from Texas State University now set loose on the outside world and specifically upon Austin. Five are in the cast; Diane Irwin, their contemporary, directs. Irwin staged John Cariani's Love/Sick at the Museum of Human Achievement with a similar group, but there's little overlap with this production. Eric Meo is the only actor I detected as featured in both shows.
This simply confirms what we've all suspected. There are networks and extensive reserves of talent in and around Austin, relatively recent graduates who are wrestling with life after academia and are still addicted to the adrenaline and dopamine of live performance.
Mark Ravenhill's Pool (No Water) moves swiftly, delivered in crisp direct exchanges. The five actors speak individually but almost as a single being. Their extreme group consciousness is established in the first minutes of the presentation via Regan Goins's choreography. She sends them moving, marching, flitting, thrusting across the stage in energetic unpredictable patterns, much like those one might witness in an aerial storm of starlings or the underwater plunges and turns of a school of fish.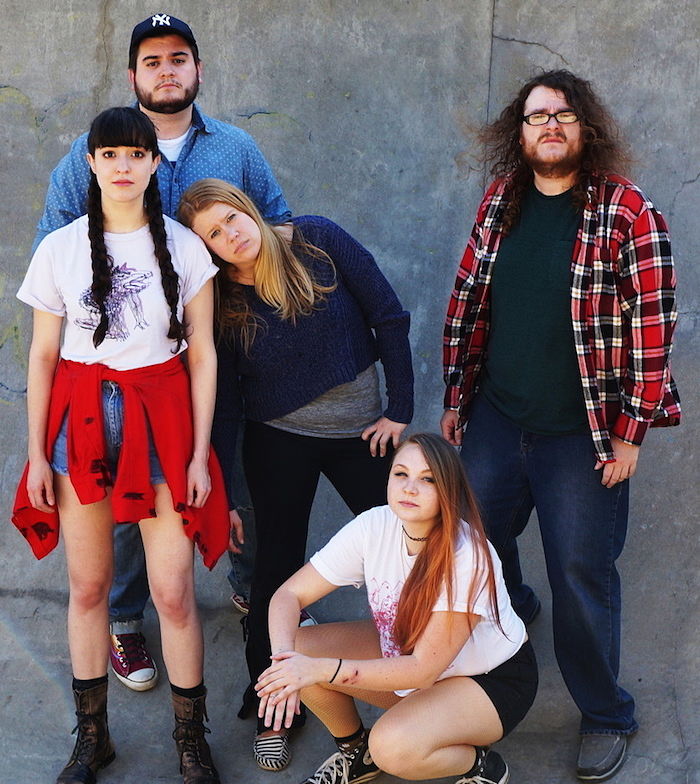 Those initial silent moments may confuse spectators who arrived expecting a narration instead of a ballet. Once the speaking begins, however, the hive mind becomes even more evident. These three women and two men were part of a band of artists of some kind, whether in school or in association or in performance. A woman who lived and performed with them is absent now, swept away by success and living in a villa or on an estate on the west coast. We never learn just what that sucess was -- whether it was in film or music or theatre or art -- but we do learn that she's remained in contact with the band. She invites them to visit her. Their joint excursion to La-La Land or Hollywood Land or the unspecified Left Coast is gleeful, and the first day of partying culminates with a spontaneous celebration of abandoning clothing and surging out into the dark night to go skinny dipping in the pool, that convincing symbol of their friend's success.
Rejoicing in the dark turns almost instantly to catastrophe with a stupid devastating accident.
The band's reaction, their huddling together, their attempt to make art of accident and disfiguring disaster becomes a parable of envy and destruction.
Irwin's fluid direction keeps the actors moving and swirling about the stage without ever definitively dividing any of them from the group consciousness. Brittany Flurry steps forth from that swirl whenever the unnamed successful former member is portrayed or interacts with her visitors; the scene dissolves then and Flurry steps back into her partite membership in the group. If memory serves, we never learn any of their names. The cast -- the chorus -- becomes envy and frustration incarnate, a micro-representation of Ravenhill's grim view of the general run of mankind.
Pool (No Water) is as chilling and intimidating as a straight razor. The band constituted of Marci Blackwell, Eric Meo, Brittany Flurry, Ashley Thurow, and Samuel Owens (as seen above) alienates us as a group even as the individual actors come across as vivid and dedicated, etching their faces, figures and presences in our minds.
Playwright Ravenhill wants to make them losers for us. I'd never want to be the object of their enmity, but I found myself wishing before the sixty-minute performance was done that I too could experience the intimacy and conviction of that shared world of theirs.
EXTRA
Click to view the program sheet for Ensemble Mercury's Pool (No Water).
---
Pool (No Water)
by Mark Ravenhill
Ensemble Mercury
Fridays-Sundays,
March 31 - April 09, 2017
Friday, March 31st 8 pm
Saturday, April 1st 8 pm
Friday, April 7th 8 pm
Saturday, April 8th 8 pm
Sunday, April 9th 8 pm
The Dougherty Arts Center at 1110 Barton Springs Rd, Austin, TX 78704
Tickets $10 and $15 plus fees via