Review: An Iliad by Penfold Theatre Company
by Michael Meigs
We walked away afterwards stunned and wordless.
My wife was moved to tears.
From the interpretation of an epic poem written nearly three thousand years ago.
This is the power of theatre and this is a performance and interpretation that must not be missed. Essential if you want to understand why the art form refuses to die; essential if you're not frightened by huge themes of life, death, love and war; essential if you want to see only one stage performance this year but you want it to be the best.
No, you don't need to know the story beforehand. It's attributed to Homer, the blind poet who's also said to have composed The Odyssey. Composed is the key here, rather than written, for someone -- we don't know who -- wrote down the poet's hexameters. The original was almost certainly performed at public events, probably to musical accompaniment, much as in this staging.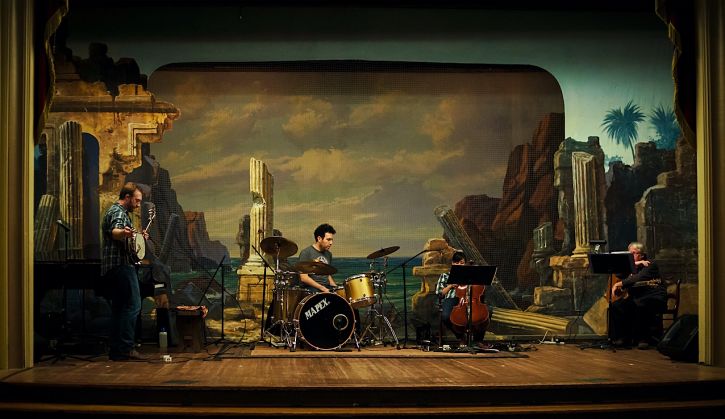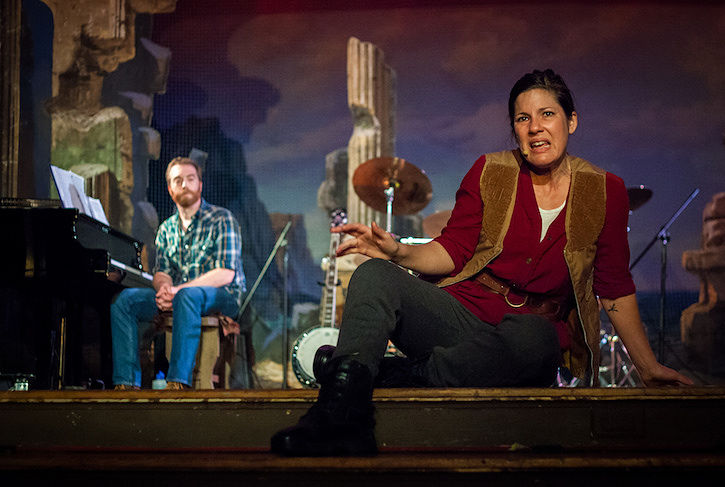 The venue's an Easter egg of sorts, for the Scottish Rite Theatre is a wonderfully preserved 19th century stage equipped with its original painted backdrops. The painted scene cloaking the performance space is the interior of an imagined castle with a red carpet, side loges hung with red plush curtains bordered with gold, and an empty throne at deep center of the image. Lights dim, that frontispiece rises, and Austin-casual musicians are revealed, seated before a brooding landscape of broken columns. Just seconds have passed but you have been transported from the familiar to a deserted castle beyond time to a timeless landscape sparsely inhabited by art.
The music is eerie and brooding, led by composer Seth Osborn first on banjo and later on piano. The players who sit stationary across the stage are a band, but not in the rock music sense; they are a band of searchers sent to capture the spirit of the piece with cello (Henna Chou), drums (Steve Cruz), guitar (Ky Hote) and French horn (Brittany Carson Koepp). With intense concentration they prepare for the arrival of the narrator poet.
I already knew of Cami Alys as an extraordinary actress who'd turned up in some of the town's edgiest and most interesting original performances. In this Iliad she is multiform and protean, evoking the themes of this epic in several personae. Alys strides on in boots and gear that looks left over from an army surplus store. She's forthright and energetic, addressing the audience directly as a storyteller who'd hoped not to tell this tale again. That very personal link -- teller to told -- holds throughout the evening.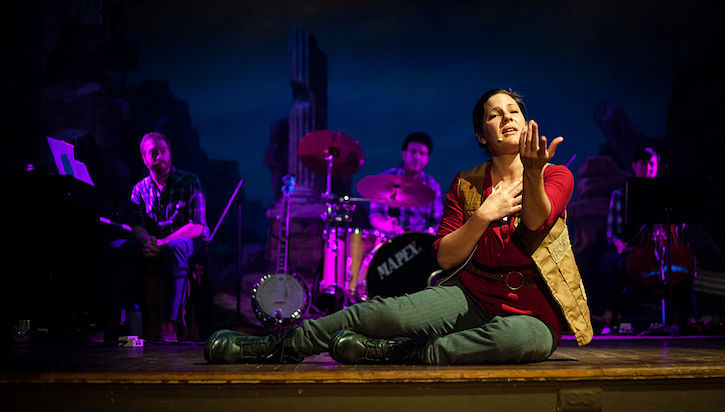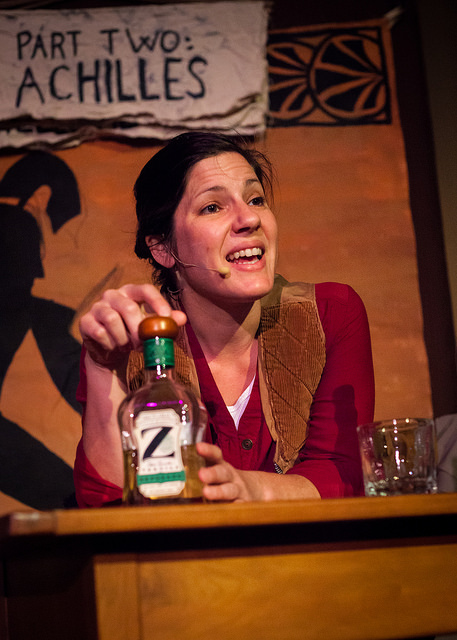 In the ensuing ninety minutes Alys becomes the diviner, standing at center stage with raised arms, intoning the opening stanzas in Greek of The Iliad. She narrates the story scene by scene and gives us context and contemporary comparisons, bringing those dim archetypes home to us in the skins of our contemporaries and our shared modern history. She paces, interrupts herself, swigs from the tequila bottle on the table at stage left, unhooks chapter titles hanging on the wall there and rolls them into scrolls as she leads us through the story. With Homer's words as rendered by Robert Fagles in his 1990 translation she brings us into Troy and into the vast camp of the Ageans.

This is no simple narration, and it feels nothing at all of the spieling off a memorized script. Alys engages the text, becomes each character, intrudes with explanations and comments. She's visibly moved and agitated, living it directly and in real time. She makes tart comments about the capricious interventions of the gods, and she marvels at the heroes. And more, she becomes them, showing us King Agamemnon's surly refusal to heed advice, the curse and contagion harrowing the Greek camp, Achilles towering and truculent, his friend Patroclus offering solace and substitution, while within the city walls imagined at stage right are foolish Paris, extravagantly haughty Helen, faithful Andromache and Hector -- noble Hector -- all fated to destruction, death or slavery.
The story rises to its fierce climax in Alys' narration, spurred interimittenly by musical accompaniment and interludes, and it thrusts itself again beyond time as the poet invokes by name, one after another in stacatto delivery, wars and battles that have left Western history stained with blood. That long angry litany under hallucinatory red light is both accusation and plea, questioning who we are and how we've managed to survive millenia of murderous turmoil.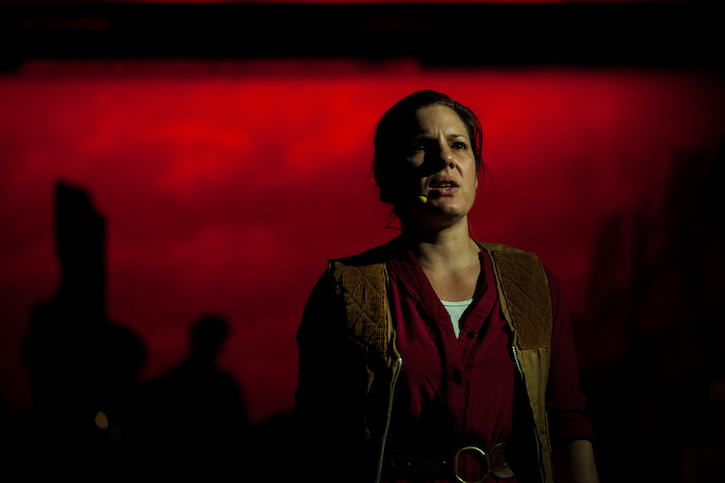 Cami Alys as the poet and narrator is transcendent, but this superb staging merits applause also for Penfold Theatre's decision to create its own version of the 2012 work, Nathan Jerkins' unobtrusive presence as the director giving Alys blocking and guidance for her hectic, energetic and certainly exhausting performance, and composer Seth Osborn for originating and containing music that greatly enriched the story. Rachel Atkinson's lighting modulated the action and followed the poet about the playing space, preserving the illusion of intimacy while emphasizing the emotional content. And thanks to Susan Gayle Todd and the Scottish Rite Theatre for their collaboration; this historic space was exactly right for this superb venture into the howling heart of mankind.
EXTRAS
Click to view the program for Penfold Theatre' staging of An Iliad
Click to view the Magic Spoon promotional video for An Iliad
---
An Iliad
by Homer, adapted by Penfold Theatre, music by Seth Osborn
Penfold Theatre Company
Thursdays-Sundays,
February 16 - February 26, 2017
Showtimes
Thu Feb 16, 2017 | 8:00PM
Fri Feb 17, 2017 | 8:00PM
Sat Feb 18, 2017 | 8:00PM
Sun Feb 19, 2017 | 4:00PM
Thu Feb 23, 2017 | 8:00PM
Fri Feb 24, 2017 | 8:00PM
Sat Feb 25, 2017 | 8:00PM
Sun Feb 26, 2017 | 4:00PM
Austin Scottish Rite Theatre (Map it)
207 W 18th Street, Austin, TX 78701
Free parking is available in the Austin Scottish Rite Theatre parking lot. Space is limited. Paid parking is available on the street and in downtown surface lots and garages.
Running time: 95 minutes with no intermission.
For ages high school and up.
Regular tickets $18-$20.
Tickets $18 and $20 available online via Vendini.