Review #2 of 2: THE GREAT SOCIETY by Robert Schekkan, Zach Theatre, January 25 - March 5, 2017
by David Glen Robinson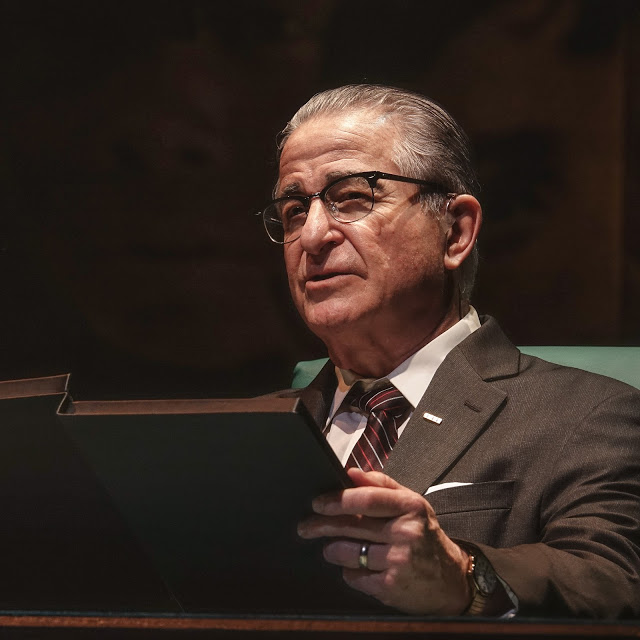 The Great Society by Robert Schenkkan is one ponderous battleship of a stage presentation. At three hours and ten minutes, it could have won the Battle of the Phillippine Sea singlehandedly in extended combat, given its nonstop narrative discourses.
People who lived through the tumultuous mid-sixties of the Johnson Administration can recall bits of the conversations and events of the time recreated in the play.Schenkkan has woven actual speeches by President Lyndon Baines Johnson (LBJ), other politicians, and civil rights leaders into his script; and Zach Theatre has captured period archival video and still photographs to enliven the times further. They are projected through the artistry of K. Eliot Haynes. The discourses, disagreements, Oval Office arguments, and private laments convey a sense of great authenticity, a you-are-there atmosphere vivid to those who lived through those times. Those who were not alive at the time are spared from boredom by efficient ensemble work that ensures rapid transitions with innovative stage changes.
The massive set design credited to Cliff Simon assists the cast with its articulations in the form of panels and platforms that move in and out, with LBJ's Oval Office desk rising through and disappearing down the trap opening in the downstage center floor. Fluted white columns, common all over Washington, D.C., tower at rising, forced-perspective angles. They seem to ascend ever higher to symbolize LBJ's ambitions for his Great Society. Through the play a net slowly descends toward the stage. The net is entwined with charred timbers, looking like burned wreckage falling down after an explosion. That curtain of impending doom reminds LBJ and all of us that fame is fleeting.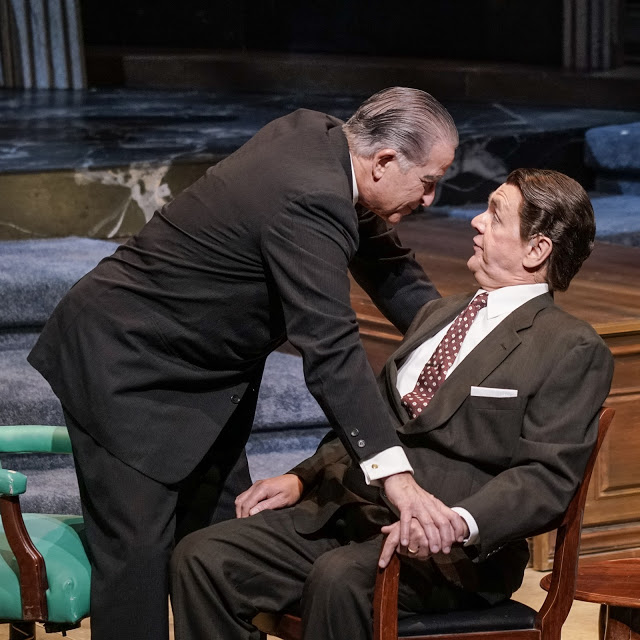 Steve Vinovich as LBJ leads a talented cast and drives all the action forward as LBJ did in reality. Schenkkan starts Act I at the beginning of Johnson's full term after his landslide election in 1964. One of the early graphic projections is a scrolling list of bills and policies proposed by the new president. Not all of them succeeded whether unmodified or not, but those that became law influence and shape our civic life today, notably the 1964 Civil Rights Act and the 1965 Voting Rights Act. The list is the legislative embodiment of Johnson's vision. In their dry, bill-writing language the list items describe Johnson's Great Society. The president came up through Congress, so he got things done by introducing bills and making and enforcing laws. That's how the pragmatic Johnson worked: propose laws and twist arms until he got what he wanted. As he told VP Hubert H. Humphrey (played by Shelby Davenport), the economy was good and there was tax money to pay for it all.
The Civil Rights Movement under Martin Luther King, Jr. (played by Cecil Washington Jr.) challenged Johnson, amounting to a force that the President could not corral and bring under the big tent of the Great Society. All history plays, including The Great Society, have a slant because they must; they cannot replicate reality in all its aspects. Schenkkan's choice of the Civil Rights Movement as LBJ's challenger is apt because it illuminates so much of American life and society. Vietnam is there, too, but it is the bringer of doom, Johnson's Nemesis.
Act II belongs to Martin Luther King and his struggles for justice.He attempted to gain from LBJ federal protection for marches in the South. Johnson was in sympathy with the movement but reluctant to give overt, full support.LBJ thought that majority voters, frankly prejudiced against Blacks, would turn away from his legislative proposals, and he needed tax increases later when Vietnam exploded out of all control.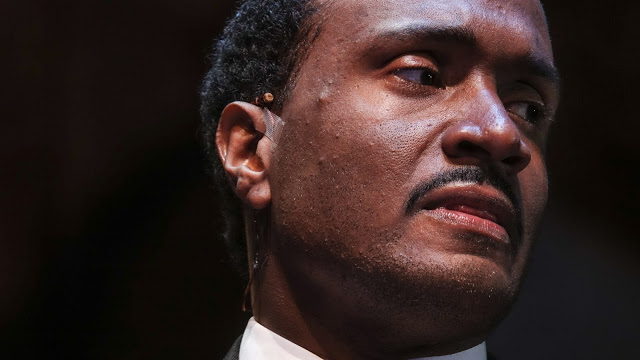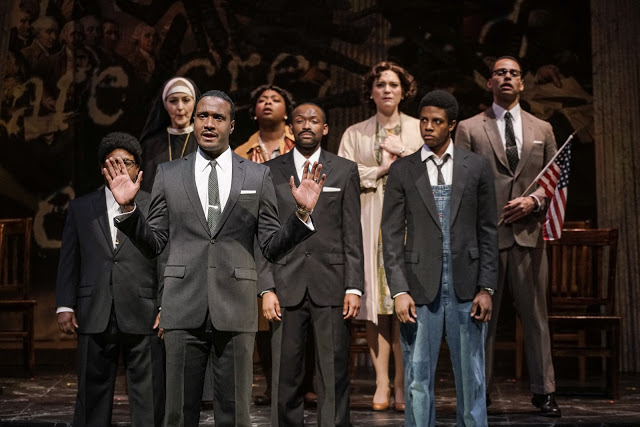 King rode the tiger, moving forward and then falling back with disruptions such as the Watts LA riots, the Chicago near-riots (featuring a profusion of F-words and N-words -- also don't forget the Selma march for its torrent of verbal abuse by state troopers), and the draining off of a lot of energy by the departure of Stokeley Carmichael (Vincent J. Hooper) to start the Black Power Movement. As he left, Carmichael cited the Black soldiers dying in Vietnam to the white President LBJ as his justification for Black law-breaking. The play shows clearly Black Power as the high-karma, burn-baby-burn option to MLK's more zen-like non-violent movement modeled after Gandhi's ahimsa (non-violence) principle. Indeed, MLK suffered a crisis in his inner circle regarding whether or not to abandon non-violence in favor of violent resistance with its quicker and more satisfying results. Cecil Washington, Jr. as MLK captures perfectly the leader's almost unique Deep South intonations, phrasing, and gestures. Credit goes in part to dialect coach Amanda Cooley Davis.
The war in Vietnam was the precipitating event of the end of the Great Society. At regular intervals yearly projections of Vietnam casualties appeared on the screen overhead in the theatre. They seemed low. A check with available archival data confirms that they were.In the years of LBJ's presidency, 1964 through 1968, America suffered 35,957 killed in the Vietnam theater. These are LBJ's dead, 60 per cent of the total 59,183 for the US's long involvement there.
The Great Society explains LBJ's Vietnam quagmire imperfectly. The process of escalation, however, was clear. Secretary of Defense Robert S. McNamara (Miles Chick) suggested ever more forceful responses (fighter squadrons, Marine battalions, etc) to the conflict between North and South Vietnam, convincing LBJ on each ratchet of the wheel that this maneuver would bring North Vietnam's Ho Chi Minh to the negotiating table to find a peace, because it would demonstrate the US's superior power. McNamara treated the problem like an abstract game of chess, its rules governed by strict logic.He had no cultural awareness of Vietnam and the charismatic and visionary Uncle Ho, to whom conflict with the US was simply the price of uniting his people and advancing world communism. That Ho and the North and Viet Cong suffered 1.1 million military deaths (civilian deaths unknown) and still won is ample proof of that. While LBJ apologetically warned the US of more escalation and billions in war spending, Ho Chi Minh simply embraced more escalation.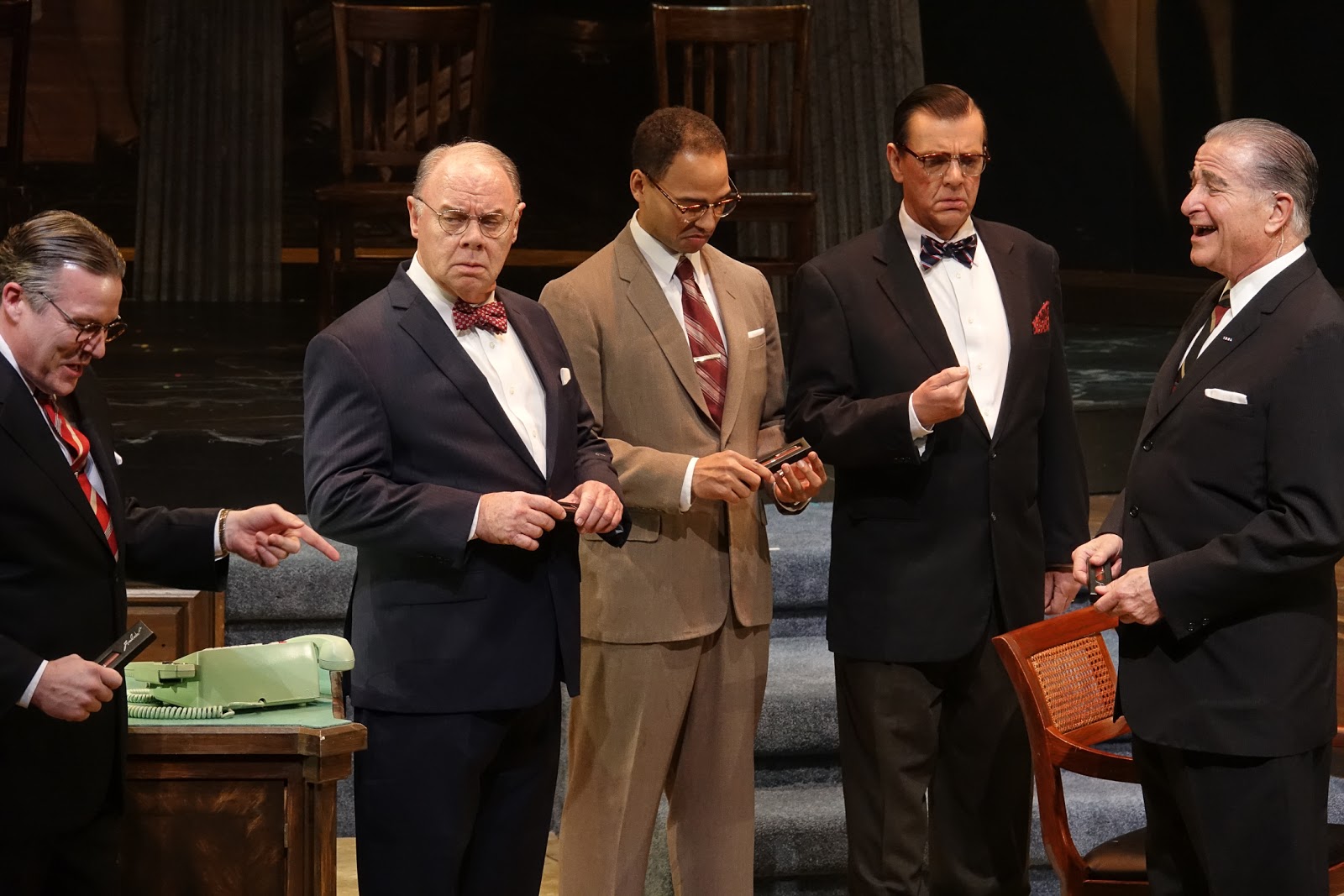 LBJ had a peculiar blind spot for Robert McNamara. Homespun rural Texan LBJ seemed to be in awe of the erudite, sophisticated McNamara, granting him great credence in everything he said, even when his plans left LBJ cursing, stammering, and pounding his desk.In contrast, LBJ never did anything but curse to his face the equally sophisticated, Eastern Establishment Sen. Robert F. Kennedy (Jeff Jeffers). Also, apparently in reality as well as the play, in one incident the angry President physically pushed VP Humphrey out of his office and ordered him to go fight for his programs.He never pushed McNamara out of his office or ordered him to get us out of Vietnam.
The question of Vietnam war casualties is where Schenkkan's play flies off the rails for the sake of apologizing for Lyndon Johnson. The play shows Johnson's writing death notice letters to the families of fallen servicemen, and listening to sorrowful, almost mournful tapes sent to him by future son-in-law Charles Robb (Jeff Jeffers again) from the fighting. Later, LBJ is depicted as misunderstood by the masses that hated him.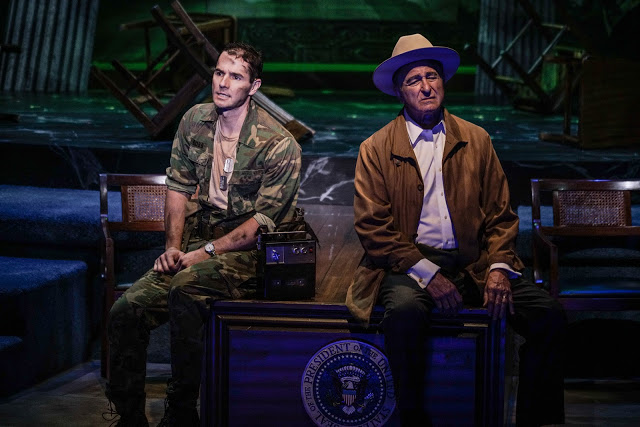 No doubt he cared about those in his personal circle. But as one of our most imperial presidents, LBJ moved the military around like pieces on a game board in the ice-cold exercise of power without much thought about sending a draftee army to fight a guerrilla war for which the entire military was not prepared. Had he any real humanity, LBJ would have shoved McNamara out of his office with some curt orders, the glamor dispelled. But that did not happen, hence yet another escalation, hence more US casualties, hence the vicious anti-war chant: "Hey, hey, LBJ, how many kids did you kill today?" The coldness of LBJ's character and his Niezschean power addiction bought and paid for the animus of generations of Americans, and Schenkkan cannot disguise that.
The costs of the war escalated faster than the fighting, threatening to break the economy's back. Rep. Wilbur Mills of Arkansas (Miles Chick again) came to the Oval Office and drove a harder bargain than the president. The tax increase would be a token, and program cuts would be accepted by LBJ to gain even the token increase. The Great Society began to crumble.
At the end of his administration, when LBJ wandered the White House at night in his bathrobe, apparently hated by the entire country, he confessed his frustrations and enumerated his failures most plainly to Lady Bird (played by Meredith McCall). And yes, he wasn't above blaming others for it all.He cursed RFK even after the man was assassinated. By that time, the wreckage of the White House was strewn everywhere. The angled, rising columns seemed no longer to be rising. They appeared to be falling in on themselves. They are the pillars of the temple, pulled down by LBJ as the modern Samson, captive and blinded by his hubris, to crush him under their wreckage. Despite some flaws in his play, Robert Schenkkan may have written a tragedy for the ages.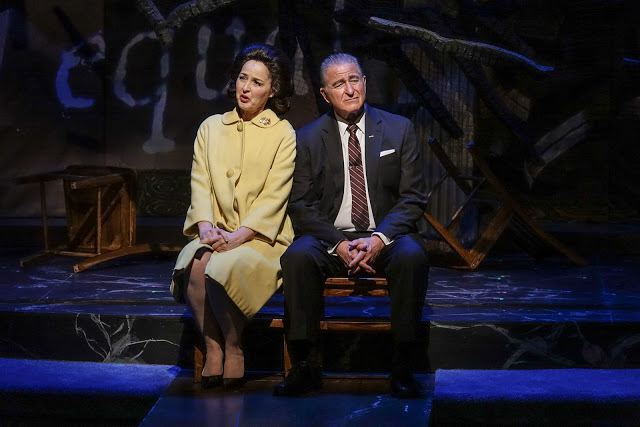 The Great Society by Robert Schenkkan can be enjoyed by anyone who is fascinated by political and historical thrillers. But leave the children at home.
The play runs from January 25 to March 5, 2017 at the Topfer theatre of Zach Theatre, central Austin.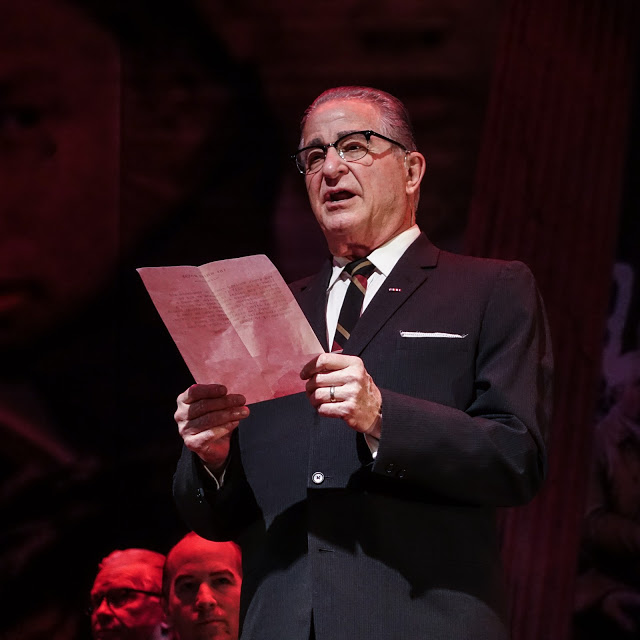 ---
The Great Society
by Robert Schenkkan
Zach Theatre
Wednesdays-Sundays,
January 25 - March 05, 2017
Wednesdays - Saturdays at 7:30 p.m., Sundays at 2:30 p.m.
Saturday matinees February 4 - March 4 start at 2:00 p.m.
Special events in celebration of The Great Society:
GLBT Pride Night: Thursday, January 26, 2017

Wednesday Post-Show Talkback – February 1, 2017

Sign Interpreted and Open Captioned Performance – February 1, 2017

Champagne Opening Night – Thursday, February 2, 2017

Z Lounge: Musical entertainment in the Topfer Theatre's Main Lounge.
Tickets start at $25 and are available online at www.zachtheatre.org, by phone at 512-476-0541 ext. 1, or in person at the ZACH Theatre Box Office, in the Topfer Theatre, 202 South Lamar Blvd. (corner of Riverside Drive and South Lamar Blvd.) Monday through Saturday, 12 noon – 7 p.m. ZACH Theatre is wheelchair accessible. Discounts are available for groups of 8 or more. Student Rush Tickets are $18 one hour before show time (with valid ID)
Recommendation: Thirteen and up. Adult language.
Run time: Three hours including two intermissions.