Review #2 of 2: CAGES by Southwest Theatre Productions
by Justin M. West
Outstanding Performances in CAGES Overcome Flawed Script
Huntsville, Texas, where I was born and spent the first nine years of my life, is a horrible, godforsaken little shitsplat town, just this side of Bumfuck, Egypt and dangerously close to being a suburb of Houston. It's also a prison town. There are seven (seven!) fucking prisons in Huntsville, a few in which my father worked as a guard while pursuing a PhD in criminology.
I spent many of my early years walking the halls of the grad school at Sam Houston State University, interacting with professors and students whose lives were or would become dedicated to the administration of the incarcerated. My point here is that I'm no stranger to prison culture, so it was with great interest and some degree of foreknowledge that I went to see Cages last week, and it's after much thought that I'm writing this very late review.
Arriving at the theatre, taking note of the five empty cages on stage that set a tone even before I took a seat, I read the writer's bio. It encompassed the entire first page of the program, and after reading it I came away expecting a mindfuck. The play's writer, Leonard Manzella, whose name on the program preceded the play's title in the possessive as if to suggest notoriety, is an actor-turned-social worker who for a time practiced group therapy within the California penal system. Cages, which has seen previous runs in California, is inspired by and in some cases directly derived from Manzella's work there.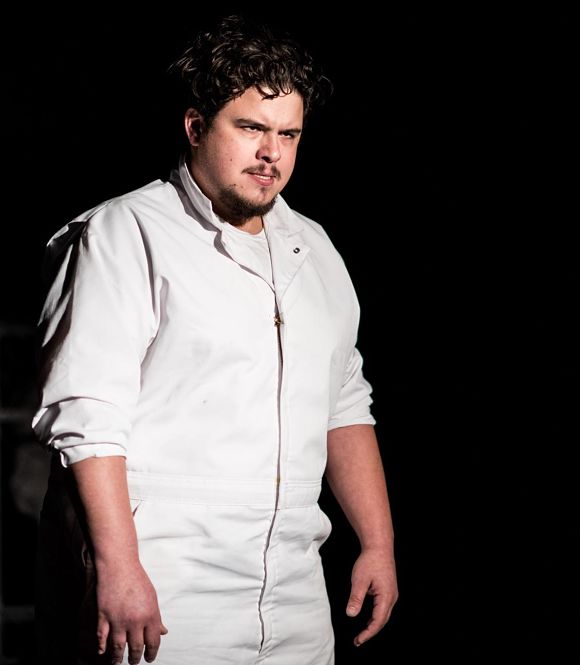 Out of the gate it was clear the show was in the hands of a very capable director (Kat Sparks). All house and stage lights were abruptly cut to start the show, and from the darkness into which the audience was plunged emerged the eerie and unmistakable sounds of prison. Devious and distant shouting echoed down filthy hallways in our minds, unsettling us before returning us, nervous, to our seats. When light returned to the stage and its five empty cages, we looked on with anticipation, knowing not who would soon fill them but sure we wouldn't like them.
Throughout the show, the minimal yet powerful set was complemented by the excellent use of light and space, achieving effective, cinematic styles of cutting, framing, and misdirection. Well-timed and well-crafted sounds immersed us with subtlety in the play's world. Clever uses of blocking and space made the stage feel much bigger than it clearly was, and led us to create blueprints in our minds complete with dead ends and unexplored alcoves. Overall, Sparks' impressive direction, coupled with excellent sound design by Fabian Duran, set design by Tomas Salas and light design by Ryan Salinas showed an immense trust in the audience's intelligence.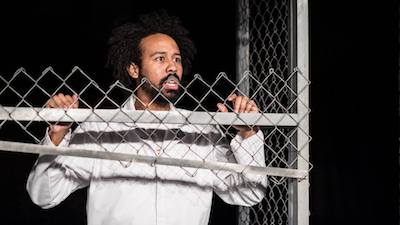 Unfortunately, all of these extremely strong components stood on shaky ground, atop a rather unimpressive and aimless script, not unlike a bodybuilder who's been skipping leg day his entire life.
The first act's story was a formulaic entry in a tired genre: Inspiring Inner-City Teacher Movie. Stop me if you've heard this one: A down-on-her-luck teacher arrives in an inner city school and struggles to teach a ragtag group of rebel students how to learn, live, and love, and in the process she finds a part of herself she didn't know she had (or had lost). In Cages, substitute for the teacher a troubled shrink who's a recovering alcoholic (a subplot forgotten almost as quickly as it's introduced), exchange the students for murderous inmates with a penchant for reminiscing, and you've got the bones of this play.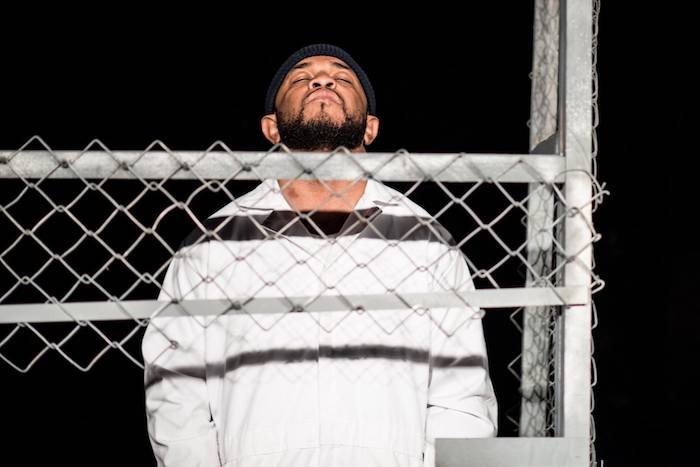 The end of the first act delivers something of a twist, but the promise of that cliffhanger is left mostly unfulfilled. Instead of the character study we're teased with and we hope to get, the second act plays out in bafflingly shallow plotlines. Characters experience complete philosophical about-faces but aren't given the time or legitimate reasons for such conversions. There is very little in the way of cohesive story, and by the hasty and desperate-feeling end of the show I was left wondering just what in the hell the point was supposed to be.
Wondering was not something I did for too long. Immediately following the performance we were urged to stay seated, for the show's author Leonard Manzella was going to do a Q and A. There was no time for a polite exodus. Manzella sat center-stage, ankles crossed and slouching in his chair, spending most of an hour talking about himself and his show and his experience and his ideas on prison in America, never mind the actors crowding the stage around himwho had just put on a show. I waited half an hour for the cast to get a word in before feeling compelled to ask them all a question myself, so they'd have the chance to speak. And as for that cast, which I've not spoken of yet - their performances, mostly outstanding although with some miscues, made this show a success despite a weak script.
Joe Bunner is the emotionally stunted and achingly bored Dr. Tom Morri, who shepherds us through the events of the show. While the character of Morri as written has a great deal of untapped potential, the rather one-dimensional performance could have been afforded more nuance.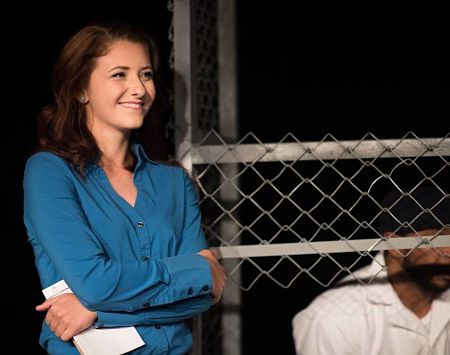 Opposite Bunner as careerist Dr. Sally Stein, Regan Goins shines, exuding a jarring sincerity and much-needed energy. The written reasons for her character's change of heart are flimsy, but the earnestness of Goins' characteristically strong performance keeps us on board.
Cliff Kammerdiener doesn't quite work as Officer Caine, alternating between indifferent guard and military-esque bureaucrat. His character calls for a seasoned veteran who's worn a weary path in front of countless cells, but the performance is contrastingly youthful and buoyant for such a supposed screw.
The five prisoners who each spent almost the entire show inside cages excelled both individually and as an ensemble. Omarr Cantu as Fuertes simultaneously flees and cries to be hugged with a performance that wouldn't seem a bit out of place in a Terry Gilliam film. Sam Domino's Gordon was admirably layered and intelligent, lonely and intense. Jay Windsor's heartfelt portrayal as Fargo inspires sympathy and sticks with us long after the show is over. Ronnie Williams as Brandon provided perfectly-timed comedic relief, as well as a dramatic turn that caught us by surprise and gave us pause. And together, collectively, a sense of chemistry and stand-offish camaraderie pervaded their interactions and lent realism to the events unfolding on stage.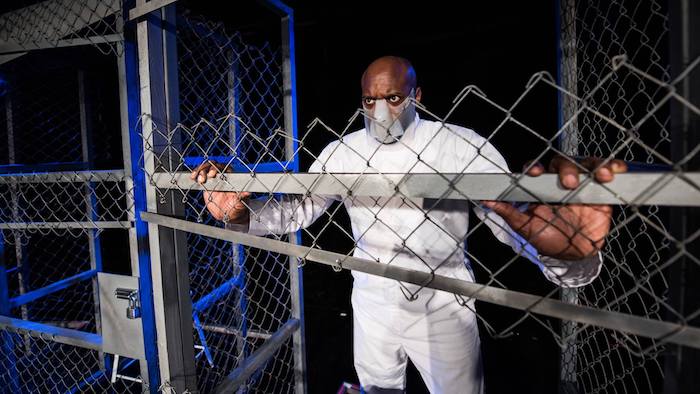 Marc Pouhé gave a standout performance as Henderson. From the start we know to keep our eye on him. He doesn't blink. He radiates intensity without uttering a word. If we look away, he pulls us back in and shocks us. Pouhé's performance was complex and realized with accomplished physical complexity. He alternated convincingly between childish, hurt and withdrawn, to antagonistic, sinister, and downright insane. We believe him. We hurt for him. And we're deathly afraid of him.
Where and while the performers and director succeed, the play as written mostly fails. As a simple presentation of the rigors and horrors of prison life, it offers little to chew on. As a commentary on the built-in injustices within a corrupt system, it uses a painfully simple contrivance to paint a comically simple picture. As a warning of the effects of institutionalization and bureaucracy and their weight upon moral standards, it offers suggestions without real evidence or exploration. The only area in which the script succeeds is in delving into the individual lives of a handful of inmates, but we spend a disappointingly short amount of time with them as people.
Even so, I remarked to one of the actors following the performance that they should feel proud for having been a part of this production, and I meant it. The show stuck with me for days after I left the theatre. It was the light. It was the sound. It was the immersive and clever use of the space to its fullest potential. It was direction that made me take note of a name and vow to keep an eye out. But, most of all, it was the generally stellar cast and their varied, nuanced, and memorable performances.
JUSTIN M. WEST is Co-Founder and Producing Director of Austin non-profit, Mercurial Theatre, where he continues to work as a writer, actor, and director.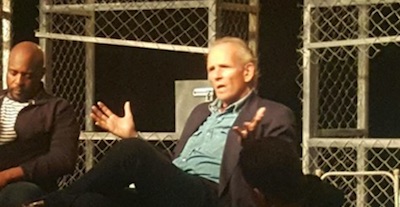 EXTRAS
Click to view the Southwest Theatre Productions program for Cages
Click to go to John Aielli's interview of Leonard Manzella for KUT-FM (9 minutes)
---
Cages
by Leonard Manzella
Southwest Theatre Productions
Thursdays-Sundays,
January 19 - January 29, 2017
CAGES runs for two weekends only at the Santa Cruz theatre, Thursdays - Saturdays at 8 p.m. and Sundays at 4 p.m.

Santa Cruz Theatre, home of Aztlan Dance Company, is at 1830 E. 7th Street, Austin, directly across from Huston-Tillotson University on the east side of I-35.
Tickets are $25 general admission, $22 seniors/students/group sales, plus service fees, available now via



Parking is free on the theatre lot as well as the adjacent Planned Parenthood parking lot.

Wine, soft drinks, water and other beverages are available for purchase as well as snacks.