Review #1 of 2: A PERFECT ROBOT by Sarah Saltwick, Vortex Repertory, January 19 - February 11, 2017
by David Glen Robinson
Anticipating Sarah Saltwick's A Perfect Robot, we wonder what direction the play will take. Will it move toward robots and artificial intelligence (AI) taking over the world imperfectly, as in Fritz Lang's Metropolis? Or will it take the deeper, heart-wrenching approach of that moral diamond in the rough, 1983's Bladerunner, the film by Ridley Scott? The latter, especially, poses the question of what it means to have self-aware consciousness, what it means to be human. Can Saltwick's play ask any questions of similar magnitude? Can the play offer a few answers?
The answers are Bladerunner, yes, and yes. A Perfect Robot is multi-layered and gives us robots, yes, but also a love story. Defeating expectations, Saltwick has reminded us of western civilization's wrestling with these age-old questions by presenting us with Pygmalion-and-Galatea-meet-artificial-intelligence-and-almost-win. The play is in part a retelling of the ancient Greek myth of the master sculptor who falls in love with his perfect statue, with a certain twist. The story is updated satisfyingly for the 21st century. And the play doesn't stop there.
Playwright Sarah Saltwick has finished, at last report, her Master of Fine Arts degree from UT-Austin's Michener Center for Writers, but instead of stepping out to status as an emerging playwright, she seems to have been born Athena-like to her maturity. A Perfect Robot is her MFA thesis, now given its world premiere at the VORTEX.It bodes fair to be produced widely.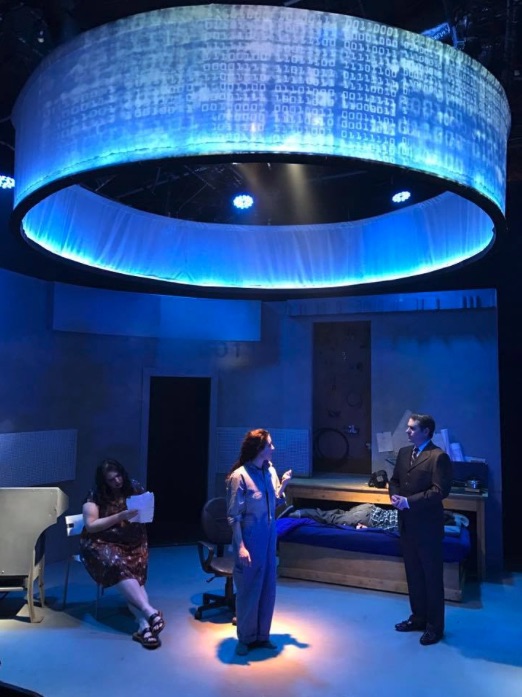 Rudy Ramirez directs with his usual skill. Ramirez is gaining a reputation for choosing excellent material, frequently for the VORTEX, where he holds the position of associate artistic director. Patrick Anthony provides his usual innovative lighting design in close coordination with set designer Ann Marie Gordon. Gordon creates one of her best sets ever for A Perfect Robot, and that's saying a lot. Video designer Eliot Gray Fisher also uses the set design to good effect, and costume designer Pam Fletcher Friday shows adroit use of fabric, circuitry, and wiring. The exquisite 50s British man's suit for Alan Turing is perfect in every light, and it even has a couple of surprises in it.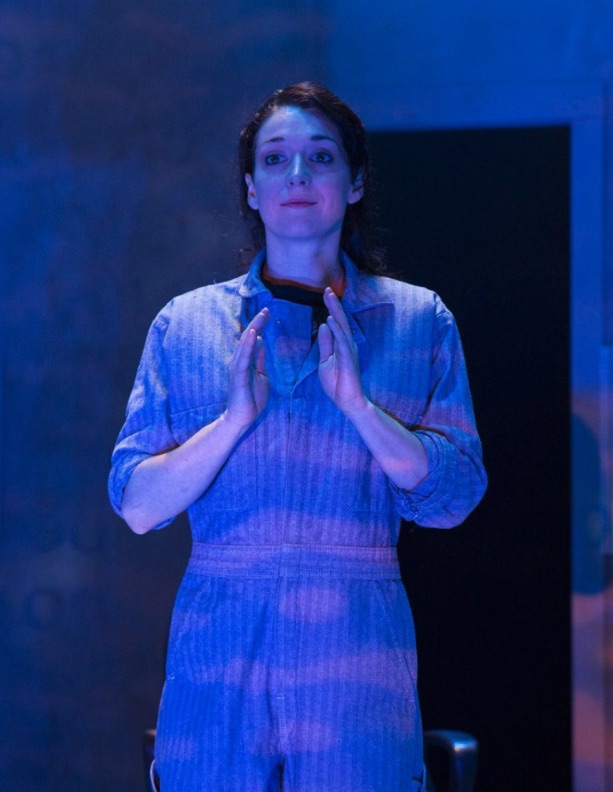 The cast led by Amelia Turner as Mollybot is excellent. Joey Hood, said by some to be the best actor in America today, does not disappoint as Alan Turing.He keeps his upper class British accent in place throughout, and also manages to give his autobiography in speeches as the inventor of the computing machine and decipherer of Nazi codes (Turing is thought, almost by consensus, to be the single Briton most responsible for defeating Nazi Germany in World War II. Take that, Winston Churchill!) Jesus I. Valles and Trey Deason are the AI designers Diego and George, respectively. They both convey that rarefied occupational field convincingly, with Valles as well taking a turn as the romantic male lead.
Multi-talented David DeMaris gives us diverse sonics in the sound design. They are especially effective in the password denied signal "sung" by Mollybot. DeMaris spends most of his time working as a real life Diego in AI.
Andrea Smith plays the dark character of Daisy, a voluptuous beauty, as always, with immense attention to her nuanced character.Sarah Danko is dazzling in all aspects, from her physicality to the wide array of talents she brings to the stage. She and Amelia Turner bear an uncanny resemblance to each other. This reflects a deliberate casting choice by Director Ramirez.
We don't get too far into the first act before its many layers start flowing smoothly over our perceptions like contrasting, sweet flavors of honey, caramel, and cinnamon. The robot, Mollybot, follows all her instructions, but is still sensing the world anew, imperfect in her highest functions and full of naïveté. Her maker, the driven master artificial intelligence designer Diego, must leave suddenly, but promises to complete her waterproofing when he returns. Then she can go swimming in the ocean. George is the colleague researcher and assistant to Diego; George is not without his conflicts with the boss. The shade of Alan Turing stands by watchfully, summoned from Hades by Mollybot's success with the Turing test. In a playwriting masterstroke, only the tentatively sentient Mollybot can see and hear Turing, and Turing speaks only to her or the audience.
If Turing was summoned from Hades, then Daisy the contract IT marketer made a jailbreak from Dante's Inferno, about the third level. Daisy sees Mollybot as nothing more than circuitry, a metal and soft plastic beast worth multiple millions to them all. Daisy is evil, claiming as her secret the fact that she doesn't really have a doctorate. But if everyone believes it, it's actually real, right?
So what is the Turing test, anyway? This is not explained in the script, a shortcoming probably felt by any well-educated general Austin audience. The Turing test challenges any machine to exhibit intelligent behavior indistinguishable from human behavior. A tester questions a machine subject, receives written responses, and decides if the responder is a human or machine.The tester works out of sight and presence of the machine, which takes the test with other human subjects.A score of 70% passes the test. We give Mollybot about a 75, enough to shake the heavens and move the earth. What other thresholds or horizons has Mollybot passed? This is where Playwright Saltwick steps past myth and its lessons and points us to the future.
The character of Maddy is introduced in a flashback bedroom scene with Diego. They were both in grad school, she as a marine biologist, he as a student of artificial intelligence. Their love chat, making us feel a bit like voyeurs, brings forward the themes of the ocean and magnolias. Yes, magnolia trees. We also see the striking, striking resemblance between Maddy and Mollybot, and the central plotline of the play suddenly becomes plain. The lovers drift apart under the full onslaught of divergent careers, and Mollybot comes into being years later.
Diego starts to withdraw as his project draws nearer to perfection and wants to draw nearer to him. The rest is tragic beauty the audience must experience for itself. Saltwick shows us by the end that attaining self-aware consciousness of humans means attaining human flaws as well. Turing has the last words, spoken to the figure of Mollybot, telling her to listen to the ocean, the evolutionary source, embodiment and perfection of all consciousness.
A Perfect Robot is a magnificient play that speaks to the heart of anyone conscious. It plays at the VORTEX January 19 to 29, 2017, at 2307 Manor Road, east Austin.
Highly recommended for all audiences 12 years of age and up.
---
A Perfect Robot
by Sarah Saltwick
Vortex Repertory Theatre
Thursdays-Sundays,
January 19 - February 11, 2017
January 19 - February 11, 2017
Thursdays - Sundays at 8 pm
"Industry Night" Wednesday, February 8, 8pm
Visit vortexrep.org for detailed times and tickets
The VORTEX, 2307 Manor Rd. Austin, TX 78722
INSIDE the theatre!
Free Parking. Bus Route.
The Butterfly Bar @ The VORTEX opens nightly at 5pm with full bar, hand-crafted cocktails, and snacks.
Patrizi's @ The VORTEX opens nightly at 5pm with delicious homemade Italian food.
Tickets: $35-$15
$35 Priority Seating
$25 General Admission
$15 Discount/Child/Artist/Student/Senior
Advance Reservations Recommended. Limited seating.
www.vortexrep.org or 512-478-5282
Radical Rush Free Tickets: Limited free tickets for each performance in the spirit of sustainability, accessibility, and the gift economy. Radical Rush tickets released at 7pm each night--in-person only.
2-for-1 admission Thursday and Sunday with donation of 2 cans for SafePlace