Review: The Noisy Neighbors, or The Square (Il Campiello) by Different Stages
by Michael Meigs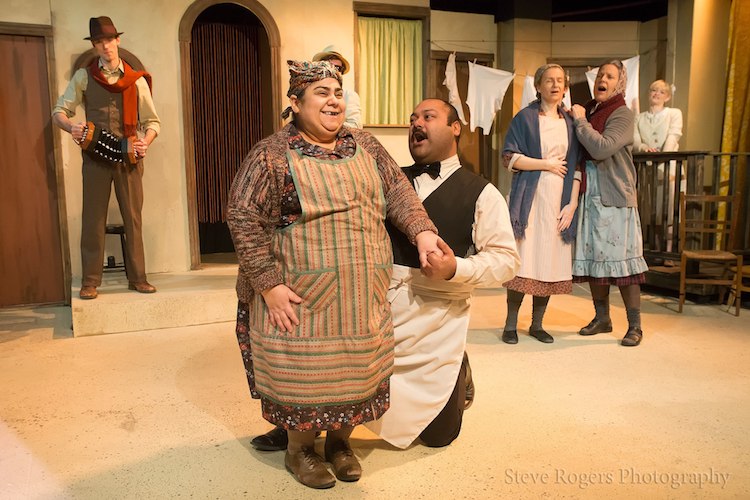 Indeed, they are noisy, and they can come at you from just about anywhere, since there are six entrances and three windows in Ann Marie Gordon's intentionally rickety set plus the black box theatre aisles left and right. The adaptation by Richard Nelson of Yale is faithful to the spirit of Goldoni's commedia dell'arte piece for Carnival in Venice in 1756, although you'll immediately recognize the tunes sung by the ensemble with lyrics completely different from twentieth century pop standards.
The Noisy Neighbors is a lot of fun. Dismayed by current U.S. politics? Fed up with Facebook complaint and bile? Go with director Norman Blumensaadt and the dozen lively members of the Different Stages cast to an imaginary time and place when and where the preoccupations were games, courting, gossip and mischief, all of it exclusively local. It takes a village, and Goldoni's contains two gossiping old women (well into their 40's!), a housewife who sells potatos, two sweet unmarried girls who are BFFs from opposite sides of the square, a couple of foolish hopeful young bachelors, a musician, a rich dingdog maiden living with her grouchy uncle the scholar, a cheery visiting nobleman with mostly empty pockets and an eye for the ladies, and a patient and obliging general factotum who's host at the inn and jack of all trades.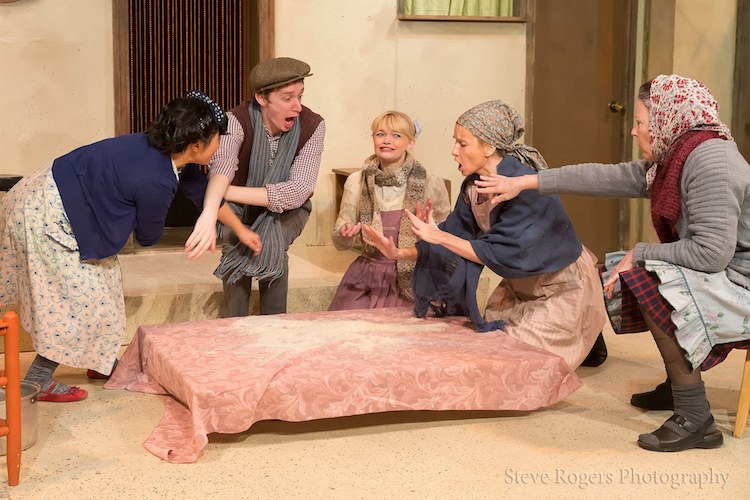 These aren't deep characters, and they're not meant to be. In their confidences, disputes and schemes they bounce around the stage like billiard balls sent flying with a good break.
Eva McQuade and Katherine Schroeder are the old ladies, toothless and deaf respectively, mothers to the comely Annie Kim Hendrick (stage right) and Sara Snyder (stage left). Both widows, they're impatient to marry the girls off so they go hunting for their own new husbands. Will Douglas and Chip Connell are equally tall, thin and gawky, rivals in affairs of the heart. Chelsea Beth is the adorable rich dumb-dumb who regularly flings open the shutters to lean out and confide in the audience. The visiting nobleman is the unlikely Craig Kanne, who if anything is the opposite of the typical Latin lover, a fellow who's delighted to compliment, party and treat every woman like a princess.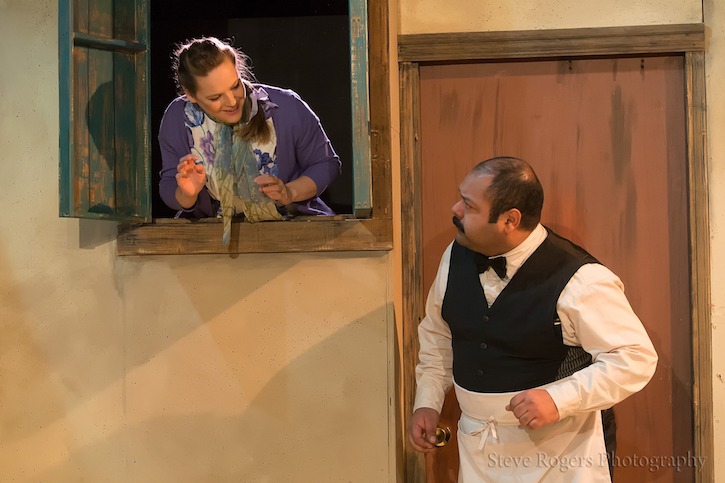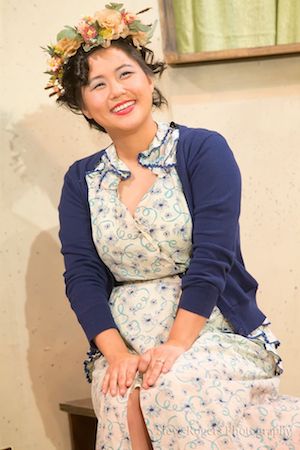 Annie Kim Hendrick is particularly cute as the eligible maiden at stage right, bawling with ostentatious determination, then delighted beyond all measure when peddler Anzoletto gives her an engagement ring.
And on, and on -- each of the dozen actors fits snugly into a stereotype and charms us with it. You never quite know which combination of characters is going to plunge onstage. The action is swift as hellzapoppin and you'll find no disappointments, surprises or inexplicable reversals. Director Norman Blumensaadt must have spent a lot of time on his blocking book, for the two-scenes, quarrels, confrontations and group celebrations shift the audience's attention constantly around the stage.
EXTRA
Click to view the program for The Noisy Neighbors by Different Stages
---
The Noisy Neighbors, or The Square (Il Campiello)
by Carlo Goldoni
Different Stages
Thursdays-Sundays,
January 06 - January 28, 2017
Trinity Street Players
Black Box Theatre, 4th floor, First Baptist Church
901 Trinity Street
Austin, TX, 78701
Performances are Thursdays through Saturdays at 8:00 p.m. and Sundays at 3:00 p.m. Tickets are $15 Thursdays, and for other days pick your price: $20 general admission, $25 supportr or $30 VIP on Fridays, Saturdays and Sundays
.
For Information call 512-926-6747