Review: Mad Beat Hip & Gone by Zach Theatre
by Michael Meigs
At first I was disconcerted by the time-line.
Playwright-director Steven Dietz places his creations the Nebraska buddies Danny and Rich in 1949 and engineers an encounter with beat adventurers Jack Kerouac and Neal Cassady. We don't see it; as in ancient Greek theatre that event is reported to us, endowing it with distant mystery and epic sense.
But in the opening scenes of Mad Beat Hip & Gone, suddenly Jacob Trussell as Danny is ranting center stage in full Beat style, declaiming verse that has no rhyme, not much reason, a rush of disconnected jagged images. Now how did this smalltown boy start channeling the fullblown Kerouac style, when On the Road wasn't published until 1951?
But I got over that. Dietz made it clear before too long that he was taking us to fantasyland, where his two protagonists weren't really tracking or channeling the beats; they were engaged in their own shambolic adolescent plunge toward adulthood. It takes the entire first act to get Danny and his gregariously goofy buddy Rich (Jon Cook) into the front seat of the sedan that's going to be their literary vehicle.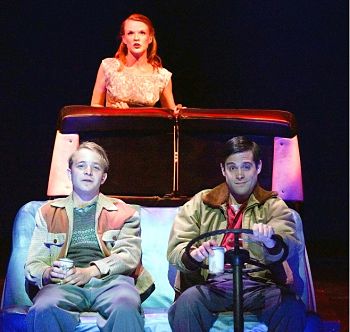 They don't have much help growing up in that first act. Danny's father disappeared long ago, although Rick Roemer regularly appears in that role, always ineptly tangled up in something or other. No adult help there; he's long gone, another fantasy figure, wearing a suit but walking gnomically barefoot or appearing as a traveling salesman, always present but always absent. Babs George as Danny's mom is equally unhelpful, a sort of spiritual weather vane spinning merrily in the winds of her own cheerfully unapologetic irresponsibility.
And The Girl -- doesn't every coming-of-age fable need A Girl? -- dominates the second act. First encountered in the company of Jack and Neal, Erin Barlow as Honey becomes real for us after the intermission when our protagonists, too, get to the land of dreams in San Francisco. Pale, hip, dreamy, a beat hanger-on, she's with us just long enough to drive our boys distracted and then to disappear into the fog of the Golden Gate. Then they learn that yet another jumper has thrown herself from that span down into the void.
Topaz McGarrigle hangs about the stage during much of this, working his melodious saxophone.
Now, here's the thing. Mad Beat Hip & Gone is a sweet, small fable. If staged in the "intimacy of the Zach Theatre's Whisenhut Stage" (the Z-code for the tidy little theatre-in-the-round on the backside of the lot), it would have moved, perhaps even shaken an audience. But the decision to put it into the new 425-seat Topfer Theatre obliged designers to inflate this piece visually like a Macy's Thanksgiving Day parade balloon.
The brilliant Michael Raiford and videographer/projectionist Colin Lowry must have loved the challenge to fill all that looming space, because they do an amazing job of it. Skies delirious with cloud formations, the Blue Bird motel, fields of flowers, a sleek automobile image the size of the space shuttle, a wistful video of Honey in film noir three-quarter full-length black and white, and -- wait for it -- yes, the Golden Gate bridge itself.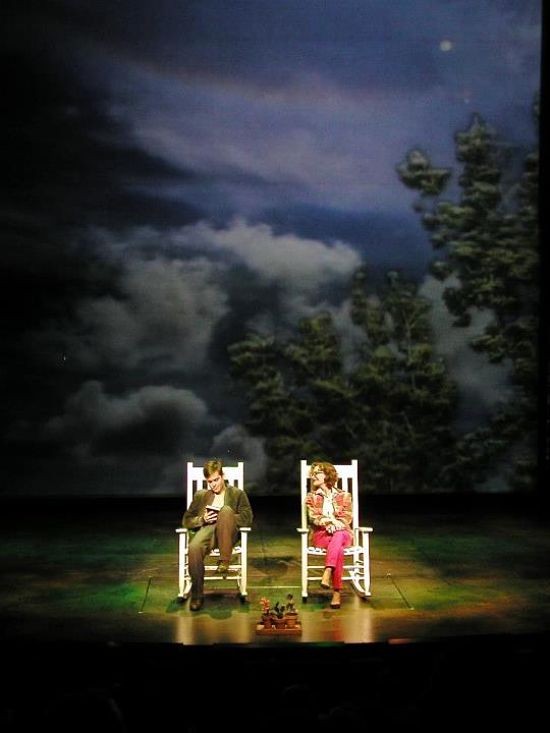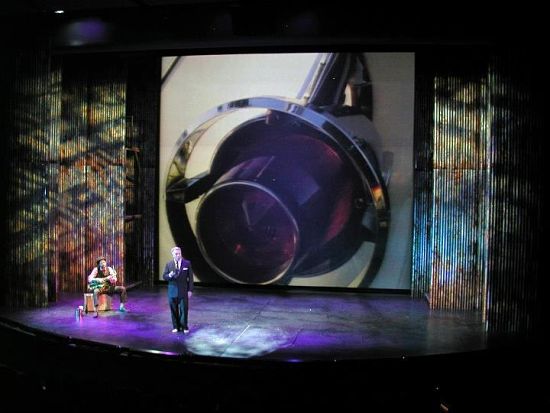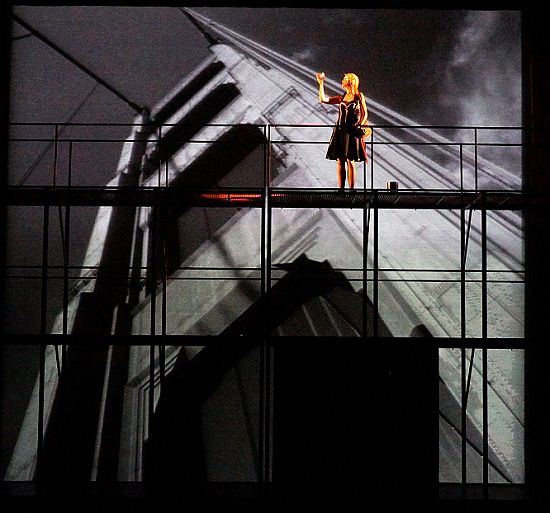 I have the uneasy feeling that with its brilliantly successful campaign to finance and build the Topfer Theatre, the Zach Theatre may have succeeded in raising expectations that exceed those that they might reasonably satisfy. Show and spectacle are part of theatre-making, without doubt; and one can only praise their Austin initiative in putting up a cast of some of the most talented and capable actors, young and older, that the town has to offer. But how is artistic director Dave Steakley going to program that space to put enough paying customers onto the seats?
Dietz is almost hometown talent, since UT bought him away from Seattle -- hook 'em, horns! -- but can even "Austin's favorite actor" (that's the Zach Theatre quoting the Austin Chronicle) Martin Burke bring the 1946-Pulitzer-prize-winning-drama-precursor-to-the-Jimmy-Stewart-movie Harvey sufficiently to life? I suppose we'll have a full assortment of bunny-eared-shadow-effects and twitching inanimate objects to convince us of the presence of the 'pookah.' And following that, oh, dear, we're back to Janis-Joplin-land in July.
The Zach Theatre's new facility is a huge magic box. It's time for the programming content to rise to that challenge.
Blurb by Robert Faires in the Austin Chronicle, March 28
Olin Meadows interviews Steve Dietz, Austin Entertainment Weekly
Comments by Claire Carnavan for the Statesman's www.Austin360.com Seeing Things blog, April 15 (384 words)
Feature by Shelley Seale at www.austin.culturemap.com, April 16
Review by Joan Baker and Olin Meadows at www.austinentertainmentweekly.com, April 16
Review by Elizabeth Cobbe for the Austin Chronicle, April 18
Review by Jeff Davis at www.austin.broadwayworld.com, April 15
EXTRA
Click to view excerpts from the program of Mad Beat Hip & Gone by Steven Dietz.
Hits as of 2015 03 01: 1445
---
Mad Beat Hip & Gone
by Steven Dietz
Zach Theatre
April 03 - April 28, 2013