Wimberley Players' Open House to Celebrate Theatre Improvements, June 10, 2016

Wimberley Players invite the public to a Grand Open House on June 10
Count on music, tasty light refreshments, a new garden to admire, fresh paint and carpet in the lobby and some dramatic surprises at the Wimberley Playhouse sure to create an appreciative buzz.
The theater improvements will be celebrated on Friday June 10 from 6:00 – 7:30 at the Playhouse, 450 Old Kyle Road. The project was made possible by a matching grant from the Texas Commission on the Arts, and the enthusiastic response of donors to make the match. Jim Bob McMillan, deputy director of the Texas Commission on the Arts, will be a special guest at the grand open house event.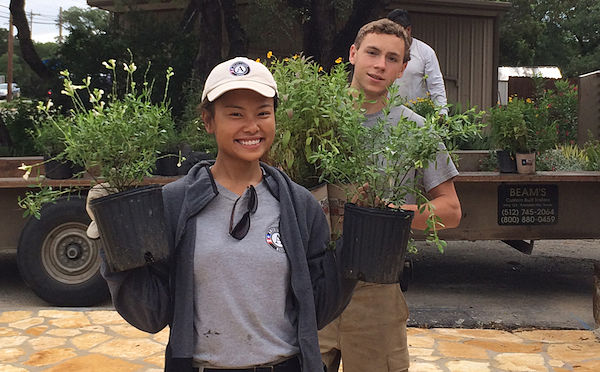 In addition to donations from throughout the community and beyond, a surprise lead gift by Nancy Moore and a matching gift by the Powell Foundation, which she heads, put the campaign over the top. Moore is a Houstonian who maintains a creek-side vacation home in Wimberley. She has been a long time supporter of the Wimberley Players.
"We're very pleased that both Jim Bob and Nancy can join us for the open house," said David Bisett, president of the Players board of directors. "We hope to have a big turnout. It's our chance to celebrate those who honor us by supporting our theater." He added that the party is also an opportunity to get acquainted for the first time. "We look forward to welcoming newcomers and visitors to Wimberley. The improvements that began with receiving the TCA grant are intended to attract residents and tourists alike. So everyone is invited to come see."
The acoustic duo Cam & George will play on the new outdoor stage, and materials from other arts organizations will be available for browsing. Jan Fitzhugh, president of Wimberley Valley Arts and Cultural Alliance, said, "We're pleased that the Players are showcasing other arts groups in their celebration. There's so much happening in the arts in our community."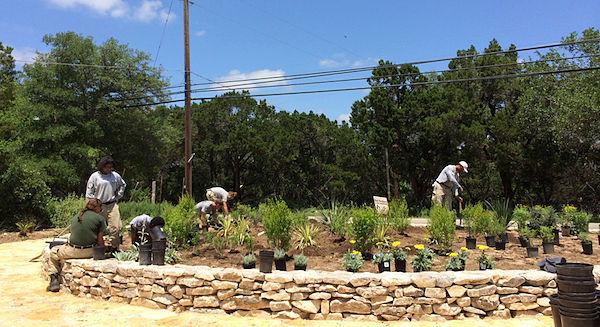 The efforts of many people have brought the garden and improvements to reality, according to Julie Ray, a Players board member who serves as board coordinator of the project. The garden and other outside improvements were designed and coordinated by Bert Ray. Landscaping was designed by landscape architect, Nan Simpson, with planting provided by a team of young people from AmeriCorps National Citizen Community Corps. Several local contractors provided services "far above and beyond " their contract requirements, Ray said, especially Randy Myers of Myers Concrete and John Ball of Ball Brothers Painting.


Interior designer Eric Quinn, who has designed stage sets for the Players, contributed his services in designing the lobby improvements. Kathy Gamel joined him in shopping area consignment and discount shops for new lobby décor. "And the list goes on," said Bisett, "including the ongoing assistance of our executive producer Adam Witko and his crew."
RSVPs to publicity@wimberleyplayers.org will be appreciated by the Players.