Video by Vanessa Alvarado: Backstage with the Cast of EL NOGALAR by Tanya Saracho, Teatro Vivo, June 4 - 20, 2015
Jun. 04 - Jun. 20
Thursdays-Sundays
"What would you risk for the land you love?" This modern bilingual adaptation of Anton Chekhov's The Cherry Orchard takes place on the beautiful but fading estate, Hacienda Los Nogales, now a hostage of the explosive drug wars prevalent in Northern Mexico.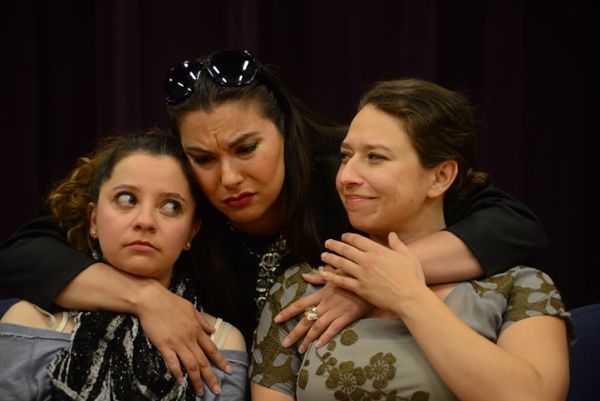 Gricelda Silva, Yesenia Yadira Herrington, Olivia Jiménez (photo by Alberto Jiménez)
El Nogalar is the story of the Galvan family's struggle to hold on to their homestead and their precarious social status before it slips away. The play shadows the family's housekeeper, Dunia, as she watches the family matriarch Maite and her daughters squander their money and risk losing everything to a local drug cartel, La Maña. Despite the repeated warnings from the once humble but loyal worker in the estate's pecan orchard, Guillermo Lopez, Maite ignores her dwindling fortune as stubbornly as she ignores La Maña. This poignant and moving story from playwright Tanya Saracho explores social class, family, identity and the choice between adapting to the changing world or getting left behind. Mature topics.Recommended for ages 13 yrs and older. Parental discretion advised.

About the playwright: Tanya Saracho was born in Los Mochis, Sinaloa, México. She is a Chicago playwright who currently writes for Television (HBO's "Looking," "Girls," and "Devious Maids."). Named "Best New Playwright" by Chicago Magazine, Saracho has had plays produced at: Oregon Shakespeare Festival, The Goodman Theater, Steppenwolf Theater, Teatro Vista, Teatro Luna, Fountain Theater, Clubbed Thumb, NEXT Theater and 16th Street Theater. Saracho was named one of nine national Latino "Luminarios" by Café magazine and given the first "Revolucionario" Award in Theater by the National Museum of Mexican Art. She is currently in development with HBO and has commissions with the following theatres: Goodman Theater, Steppenwolf Theatre, Two Rivers Theatre, Denver Theater Center, South Coast Rep. Tanya is also a successful Spanish voice-over artist and a SAG/AFTRA actress.

El Nogalar is directed by Rudy Ramirez.

Starring Yesenia Yadira Herrington, Krysta Gonzales, Olivia Jimenez, Gricelda Silva, Jesus Valles

Set Design by Ia Ensterä. Lighting Design by Patrick W Anthony. Costume Design by Jessica Gilzow. Sound Design by Alexis Arrendondo. Props Design by Helen Parish. Stage Managed by Lori Navarrete.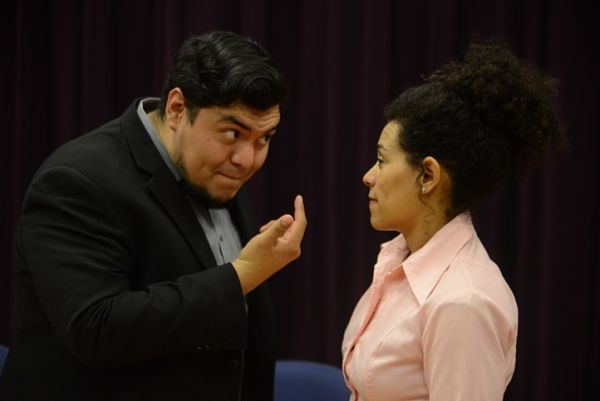 Jesus Valles, Olivia Jiménez (photo: Alberto Jiménez)
From LA Weekly: Saracho moved to Chicago because of its reputation as a serious theater town, and there she formed her own company, Teatro Luna, where she mostly performed solo shows. At one point, she says, "I said, 'In this company, we're going to adapt The Cherry Orchard to Latino.' " Eventually the more established Teatro Vista company got involved and helped make it happen.
In her adaptation, she says, "I got rid of the dudes. I never understood what the dudes did. The first version was all women. Lopahkin can't touch the women because of the class thing," referring to the grandson of a serf kept at a distance by the play's aristocrats as "vulgar." "So I consigned him to monologues."
But it was the maid, Dunyasha, who became the playwright's obsession -- "how she became a survivor," Saracho says, after having been jilted by the servant Yasha, who doesn't appear in Saracho's version. "Yasha could have been a coke-head, I guess, but I cut out all the men."
The play is in English, but peppered with Spanish and Spanglish. "Nobody's going to miss a thing," she says.
The bank doesn't foreclose on the orchard, as it does in Chekhov's play. Rather, a drug cartel causes the family to part with the property.
poster photo by Albert Jiménez: Gricelda Silva, Yesenia Yadira Herrington and Olivia Jiménez.
---
El Nogalar
by Tanya Saracho
Teatro Vivo
Thursdays-Sundays,
June 04 - June 20, 2015
evenings at 8 p.m., Sunday afternoons at 2 p.m.
Tickets $14 - $20 plus fees, available at

Tickets are available online at www.teatrovivo.org or you may purchase at the theatre starting 30 min before the performance time. All Thursdays are "pay what you wish" only at the theatre box office beginning 30 minutes before show time. The "pay what you wish" tickets are not available on line.