Scriptworks: 2 'Dramatis Personae' Workshops in June 2016: THE MAGIC OF REVERSALS and STUDYING STRUCTURE

ScriptWorks Dramatis Personae Series
WORKSHOP #1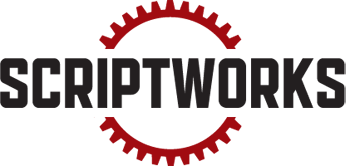 THE MAGIC OF REVERSALS with Ann Marie Healy
WHEN:
Monday, June 13th, 7-10pm
WHERE:
Austin Playwrights Studio
5555 N. Lamar, Bldg. K, Ste. 125
COST:
$35 General/$25 ScriptWorks
REGISTRATION/ INFO:

ADDITIONAL INFORMATION:
All great storytelling uses reversals of character and action to create drama. In this workshop, we'll do exercises exploring reversals and we'll talk about how to use reversal techniques to break through writing blocks and structural impasses in your play.
ABOUT ANN MARIE HEALY:
Ann Marie Healy writes plays and books. Her creative writing has been supported and honored by organizations as diverse as the Sundance Institute, The Alfred P. Sloan Foundation, The New York State Council for the Arts, The Ivy League Film Festival, the Susan Smith Blackburn Prize, Clubbed Thumb Theater Company, MCC's Playwright's Coalition, Edge Theater Company and Lincoln Center's LCT3. Her essays, fiction and plays are published through Smith and Kraus, Samuel French and The Kenyon Review. She is currently completing commissioned plays for Yale Rep and Playwright's Horizons; she received her MFA in Playwriting from Brown University.
WORKSHOP #2
STUDYING STRUCTURE with Jenny Connell Davis
WHEN:
Wednesdays, June 22, 29 and July 6, 7:30-9pm
WHERE:
Online
COST:
$125 General/$100 ScriptWorks
ADDITIONAL INFORMATION:
This three-week, reading-intensive class is designed to give playwrights a way of thinking about how and why plays employ non-linear time, play-within-play formats, direct address, monologue, and other structural devices that might (just might) make Aristotle roll over in his grave. The class will be a mix of lecture and discussion, with students asked to read up to three plays before each class.
The goal: to give writers a renewed appreciation for the formal elements at work in a variety of classic and contemporary plays, to consider some controversies brewing between critics and play-makers throughout the United States, and to help articulate framework writers as they consider the best formats to employ in bringing their own stories from page to stage.
All participants will be given a reading list before class begins: some plays will be provided in .pdf forms, while others will need to be procured independently.
ABOUT JENNY CONNELL DAVIS:
Jenny Connell Davis's plays include Dragon Play, The Scientific Method, Goddess of Mercy and End of Shift. She is a CORE Writer with the Playwrights' Center and her stage plays been developed or produced with the O'Neill, Icicle Creek, ACT in Seattle, the Araca Group, The Gift Theatre, Stage Left and ATC in Chicago, Ars Nova, Asolo Rep, NAATCO, Theater Mitu, New York Stage and Film, Shrewd Productions, Impact Theatre in Berkeley, Chance Theatre, SPACE at Ryder Farm, and Team Sunshine Performance Corporation.
Her short films have screened at festivals worldwide, including SxSW and Toronto; she currently has full-length films in development with Maven Pictures and Co-opent Films.
She has been a finalist or semi-finalist for Seven Devils, BAPF, the Nicholl (twice), and the Heideman Award, has been an honorable mention on the Kilroys list (2014, 2015) and for the Jane Chambers Award (2014), and has been twice-nominated for both the Susan Smith Blackburn Prize and the Lark/PONY fellowship. She is a proud member of The Gift Theatre, former member of the Ars Nova Play Group, and a recipient of grants and/or commissions from Ars Nova, ScriptWorks, The Playwrights' Center, and the Network of Ensemble Theatres. Jenny was the 2014-2015 Hot Seat Local Writer in Residence at Baltimore's Center Stage Theater, where she helped organize their new Playwrights Collective, and the 2016 Resident Playwright at Chance Theatre in Anaheim, CA.
She trained as an actor at Court and Steppenwolf theaters in Chicago, and in playwriting at University of Texas at Austin. She has taught acting at UT Austin, and playwriting at the Berkeley Carroll School in New York, at UT Austin, and for the Playwrights' Center. She is represented by Beth Blickers, Lucy Stille and Amanda Hacohen at APA, and managed by Circle of Confusion. She lives in Austin, Texas.
ABOUT SCRIPTWORKS
ScriptWorks is a playwright driven organization that seeks to promote the craft of dramatic writing and to protect the playwright's integrity by encouraging playwright initiative and harnessing collective potential. The Dramatis Personae series was initiated to provide area playwrights a place to experiment with their craft and expand their careers.
This project is supported in part by the Cultural Arts Division of the City of Austin Economic Development Department and the Texas Commission on the Arts.