Profile: The Wild Striving of Peer Gynt, Mary Moody Northen Theatre, Austin, 2010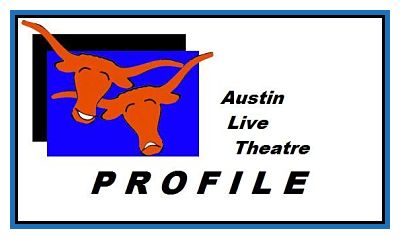 Peer Gynt is one of those great, impossible works of literature. It's a masterwork of the Norwegian playwright Henrik Ibsen, one that is totally different from the new 19th century realistic dramas of social concern that we remember today. This is the playwright who later gave us A Doll's House (1879), Ghosts, An Enemy of the People and Hedda Gabler.

Well before that, after a penurious career as a creative director and producer at Norwegian state theatres in Bergen and in Cristiana (Oslo), in 1864 while in his mid-thirties this self-taught artist left Norway with his wife and child for self-exile in sunny Italy. He continued to write. A five-act verse play Brand succeeded in Stockholm in 1866. The following year Ibsen had his five-act verse play Peer Gynt published in Copenhagen.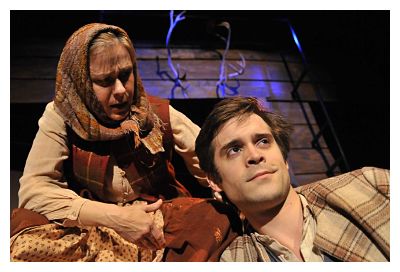 Almost ten years passed before the piece appeared on stage, in the Norwegian capital. And no wonder -- Ibsen himself wrote without a thought for the constraints of conventional staging, which he knew well. Peer Gynt is an exalted narrative of Peer's whole life, leaping in space and time. Peer seduces and runs off with the intended bride of a rival, then abandons her. Act II places the cheeky young Peer in a troll world, contemplating marriage to the daughter of the troll who rules the mountain (the scene for which composer Edvard Grieg wrote the comic but menacing incidental music "In The Hall of the Mountain King"). The action moves from upcountry Norway to Morocco to the Saharan wastes to a lunatic asylum in Egypt to a storm-wracked sailing ship and, finally, back to rural Norway. Upon his return Peer encounters his former neighbors, the devil in the shape of a parson, and the grim reaper in the guise of a button maker.

Because of the unrestrained length of the piece, a conventional static reading from a lectern would take more than six hours. In rhymed couplets. In Norwegian.

The first American production of this epic was in 1907. I had the good fortune to see a 1998 production by the Washington DC Shakespeare Theatre. In the early 1980's the Guthrie Theatre in Minneapolis did a five-hour version; in 2008 they again produced Peer Gynt, using a new stage-version translation by Minnesota poet Robert Bly, starring Shakespeare veteran Mark Rylance. Bly had the Minnesota Norwegian whimsy to mimic Ibsen by crafting about half of his text in rhyming verse, especially for comic scenes such as the dialogue in which the King of the Trolls seeks to convince Peer to stay in his kingdom. Bly cut and tailored the action so that the play ran about three hours.
St. Ed's assistant professor of theatre Ev Lunning, Jr., is using Bly's translation and has cut it further. He cast St. Ed's senior Jacob Trussell as Peer. You've had plenty of opportunities to see Trussell over the last couple of years. He was nominated for the B. Iden Payne awards each of the last two years for Summer Stock Austin musical theatre leads in Bat-Boy, The Musical and Sweeney Todd. Last season at St. Ed's Mary Moody Northern Theatre he was in Cloud 9, Cyrano de Bergerac and Pajama Game. He appeared in The Fantasticks for Austin Playhouse and Leave It To Beverley for the DA! Theatre Collective.

Continuing its long tradition of casting Equity actors alongside its students, St. Ed's has Sheila Gordon in the key role of Peer's mother and Ben Wolfe in a variety of roles, including that of the big puppet-headed Troll King.

Peer Gynt is a remarkable work. Ibsen's source was a collection of Norwegian folktales with the opening legends of Peer's conquest of a magic flying stag and his striving against an unseen monster known as the Bøyg. Add to those Paul Bunyan exaggerations the fact that Peer's a bouncing, bounding braggart and flirt, obliged to abandon his true love Solveig because of his entanglements with the trolls. The story has elements of a Bildungsroman (a tale of growing up), a resemblance to the picaresque novel (a rascal's adventures), and withering portrayals of 19th century mercantilism and capitalism. Peer wants to become the Emperor of the World.

All in all, and throughout, Peer is on a search to find his Self: "One must be oneself; for oneself and one's own/one must do one's best, both in great and in small things./If the luck goes against you, at least you've the honour/of a life carried through in accordance with principle."

Yet for all his inventiveness and egotism he has no concept of that Self. In the Egyptian lunatic asylum, confronted by a desperate madman who imagines himself to be a Pen, Peer calls himself "a blank sheet of paper." In the fifth and final act as Peer is facing imminent death he peels an onion, imagining it to represent himself -- peeling away his many roles and adventures, eventually to find nothing in the middle. Because Death threatens to melt down Peer's soul with other imperfectly realized lives, Peer seeks frantically for some witness, any witness, to assert that his life was not entirely futile.

This is a huge, demanding text. Last Monday, the final full run through at the Mary Moody Northen Theatre before tech sessions went smoothly and swiftly, giving promise of a dramatic, gripping evening of theatre. Jacob Trussell was self assured, emphatic and energetic in all of Peer's many permutations.

This is Peer's life story, from adolescence to near the grave, and Trussell's appearance and makeup will reflect that. The 2008 Guthrie version, according to the 48-year-old Mark Rylance while playing Peer, was a survey of Gynt's life retro and avant from the perspective of middle age. The St Ed's production, inevitably, because of the university setting and the predominantly young cast, will imply a young man's look forward into that feckless adventurer's life.

Trussell with his rough good looks and devotion to the thespian calling is mounting that legendary stag, about to ride forward into his future. Director Ev Lunning, Jr., both an academic and a seasoned member of Actor's Equity, could be a Peer who's somewhere along about the end of Act III in his own five-act Gyntian adventure. That combination, along with Gordon, Wolfe, Lainey Murphy as Peer's beloved but abandoned Solveig, Nathan Brockett and other talented company members, promises a full and challenging evening of classic theatre.
EXTRA
American Theatre magazine interview of Mark Rylance about the Guthrie's 2008 Peer Gynt, Feb. 2008 (.pdf)
---
Peer Gynt
by Henrik Ibsen
Mary Moody Northen Theatre
February 12 - February 21, 2010