Oscar Brockett, 1923 - 2010, by Michael Barnes
UPDATE: UT memorial service scheduled for December 11, 4 p.m. at B. Iden Payne Theatre
Published by the Statesman, November 8: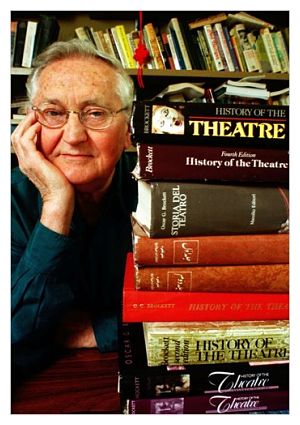 Oscar Brockett, the world's foremost theater historian and a former University of Texas professor, died early Sunday morning after suffering a massive stroke late Saturday.
Brockett, 87, leaves behind hundreds of former students and colleagues around the world, as well as a daughter, Francesca Brockett, and her husband, Dr. James Pedicano of Austin.
"(He) was an absolute giant in the field of theater history," said Doug Dempster, dean of the UT College of Fine Arts. "He defined it in many ways. His name is synonymous with the field across several continents. He was a prolific, meticulous scholar into the very last year of his long career. He leaves a legacy that will last as long again as his long life."
In 1968, Brockett wrote "History of the Theatre." It has since been translated into dozens of languages, including a suppressed version in Farsi. It is now in its 10th edition and has passed through the hands of almost every American theater student for four decades.
Read full text at Statesman.com . . . .
Read NYT publication of Associated Press obituary, November 8