Austin Theatre Life Profiles: Nathan Jerkins of Penfold Theatre, by Alex Garza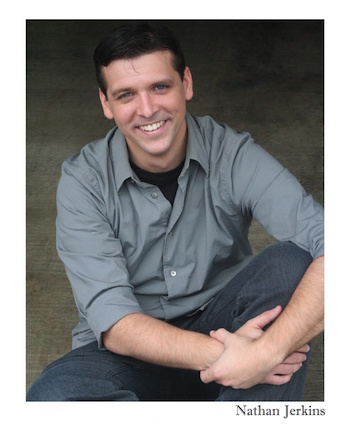 "I've always loved stories -- reading them and hearing them and telling them. When I finally put together theatre's ability to allow you to step into a story, shrinking the gap between storyteller and audience, then the possibilities really caught my imagination."
Those are the words used by Nathan Jerkins to describe the origins of his interest in theatre. He has continually been impressed by the narrative and its "powerful shaping effects on individuals and even entire communities." He emphasizes his love of theatre by describing the art form as a "worthwhile way to spend a life."
A glance at his theatrical resume shows it has been a fruitful Austin theatre life indeed. Nathan is the co-founder of Penfold Theatre Company, a venture he created with fellow artists Ryan Crowder and Sean Martin, both of whom he met while attending Abilene Christian University.
"They were interested in starting something new," he explains, "and I was able to convince them that Austin was the place for it."
Nathan's journey begin in Nashville, Tennessee, where he grew up. He came to Texas, where he attended college, and he made his way to Austin with his wife, who began a graduate program in physics at the University of Texas. After she earned her Ph.D, they were in a position possibly to leave Austin. By then, however, they had set down roots with a home and they had made friends. Additionally, Nathan had started a theatre company that seemed to be doing well. He was glad they'd made that choice.
"Austinites make things," he says of the artists in our state's capital city. "Art is something that is created, and theatre is something that is forged from the resources on hand. This is a place where people start their own companies and produce their own shows rather than just hoping to be cast in something."
Appropriately, one of Nathan's favorite roles is the character of Yvan from Yasmina Reza's play Art. This was Penfold Theatre Company's first production. He also greatly enjoyed playing Brutus in Julius Caesar. He played that role in college, and based on his experience since, he says that he would play the role differently now. His dream roles include Heisenberg in Michael Frayn's Copenhagen, Jody in Steven Dietz's Lonely Planet, as well as King Lear, Don Quixote, and Ebenezer Scrooge.
Through the years he has built his versatility as a theatre artist, first as an actor, then a producer, and also as a director. Penfold Theatre's current production is taking place under his direction. Clybourne Park by Bruce Norris, opens May 26, 2016, at the Rollins Theatre, Long Center. This winner of the Tony Award, Olivier Award, and the Pulitzer Prize is a hilarious satire inspired by Lorraine Hansberry's Raisin in the Sun.
As Clybourne Park sets forth to make its Austin professional premiere, Penfold also moves forward with the production process for William Shakespeare's Comedy of Errors, which opens on Thursday, July 7. This is the sixth production in the "Penfold in the Park" series, an annual offering of free outdoor summer theatre. The performances will take place in the amphitheatre of the Centennial Plaza in Round Rock.
Nathan Jerkins is proud of the theatre company's contributions and investments intthe northern communities of the Austin area. He makes mention of a permanent home for Penfold Theatre.
"Eight years ago," he recalls, "Three guys scraped together what little cash we had and forced a bare-bones show into existence. Now we have paid staff and are opening a venue."
He and his co-producers of the company hope for a stability that a venue can provide, and he feels that they are positioned to produce better and better work. When asked about the greatest challenges of being a theatre person in Austin, he speaks of a city that is filled with "creative sparks of brilliance." He says, "You never know where one will come from." He finds that the challenge is "sustaining those individual sparks into more long-term growth."
"I don't know how to fix that," Nathan Jerkins concludes, "but Penfold Theatre Company is hoping to be part of the solution."
---Alex Garza is an actor and writer living in Austin, Texas---
---
Clybourne Park
by Bruce Norris
Penfold Theatre Company
Wednesdays-Sundays,
May 26 - June 05, 2016
Rollins Theatre
Long Center
701 Riverside at South First,
Austin, TX, 78704
May 26 – June 5, 2016 at the Rollins Theatre, Long Center for the Performing Arts in Austin
Regular tickets $27. Or included with season membership.
TICKETS AVAILABLE ONLY THROUGH LONG CENTER BOX OFFICE (NOT THROUGH PENFOLD WEBSITE).
CLICK HERE TO BUY TICKETS THROUGH LONG CENTER BOX OFFICE
OR CALL 512.474.5664.
Rollins Studio Theater at The Long Center of the Performing Arts (Map it), 701 W Riverside Drive
Austin, TX 78704
Directions are available on the Long Center website, as are parking information and other details designed to make your visit more enjoyable. Food and drink will be available for purchase.