Invitation from The Rude Mechs: Come See Cultural Trust's New 7000-sq-ft Space on October 10 and Suggest Your Needs
From Thomas Graves, Rude Mechs: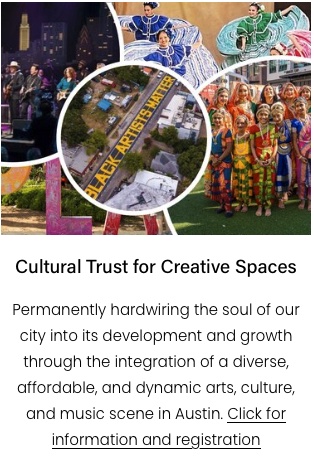 iAll!

Some of you barely know us, some of you wish you didn't know us so well. Some of you probably have already heard from us, so please forgive repeated info - we just wanna make sure and catch the folks that might have an interest in this.
We are hosting a design charette (or perhaps "charrette") for a new 7,000 sq ft arts space funded through Austin's Cultural Trust on:
October 10 from 6-8pm.
Address is: 6234 Middle Fiskville Rd. (across the street from AFS)
This is an opportunity for us to get and you to give your expert opinions about how to make a space that will work for your needs: what you've seen that was really smart at other places, what you've seen be a disaster at other spaces, what you've never seen but dream about. We hope you can make it.
And if you don't mind, could you please pass along this info to others in the Austin Arts community that could provide valuable input? Or tell us people you think we should be listening to and we will reach out to them.
If there are people that can't make it to this event there will be other opportunities. We will have a survey that people can fill out and more opportunities for in-person engagement to come. So let us know.
Thanks so much,
Rude Mechs