2022-2023 Season, Magik Theatre, San Antonio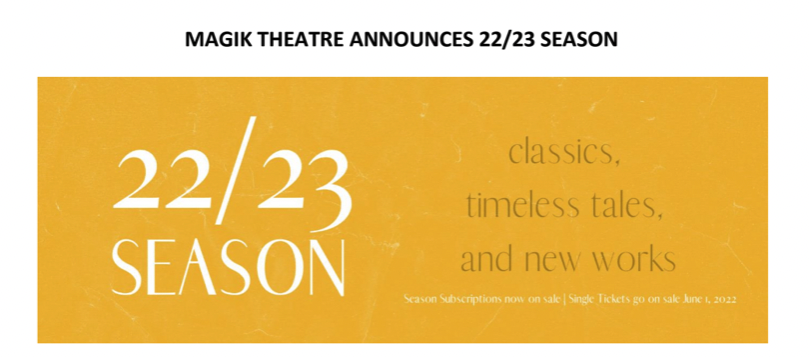 Magik Theatre is thrilled to announce its 2022-23 season filled with classics, timeless tales, and new works. This season presents a range of titles that celebrate diversity, inspire curiosity, and encourage an appreciation for the arts. There is something for everyone! We are offering Sensory-Friendly, Pay What You Wish, and American Sign Language Interpreted performances for each production, all designed to create a welcoming environment.
"If the past two years have been about change and survival," said Artistic Director, Anthony Runfola, "then I am happy to say we are moving into a season of growth. As we begin to find life's new rhythm, the plays and musicals in Magik's upcoming season will remind us not only that change is possible throughout our lives, but necessary for growth. We see this through the eyes of a very hungry caterpillar, a young woman trying to find her place in the world, a boy who embraces his learning differences, a toy rabbit who becomes real through love, and a young person speaking truth to power. I hope you will join us for what promises to be an exciting year!"
The 22/23 Season
Performance times vary. Programs and dates are subject to change.
THE VERY HUNGRY CATERPILLAR SHOW
Created by Jonathan Rockefeller, Based on Eric Carle's Books
Directed by Jon Gentry


July 9 – August 7
Recommended for ages 3 +
The critically acclaimed production of The Very Hungry Caterpillar Show created by Jonathan Rockefeller features a menagerie of 75 lovable puppets. The production faithfully adapts four stories by author/illustrator Eric Carle: The Very Lonely Firefly, The Artist Who Painted A Blue Horse, Mister Seahorse, and of course, the star of the show – The Very Hungry Caterpillar. The Very Hungry Caterpillar has delighted generations of readers since it was first published in 1969 selling more than 48 million copies worldwide.



------------------------------------------------------------

SELENA MARIA SINGS
By Miriam Gonzales | Music by Daniel French
Co-Production with Childsplay in Phoenix, AZ
Directed by Andréa Morales
September 6 – October 2
Recommended for ages 9+

Named after Selena Quintanilla, Selena Maria has much to live up to. Selena Maria has a passion for music. While her Selena superfan mother hopes she takes after the popstar, Selena Maria is working to find her own beat. Selena Maria Sings tells a story of music, family, immense love, and the strength it takes to be yourself.
------------------------------------------------------------
EDDIE & VINNIE (World Premiere)
by Jenny Millinger
Directed by Anthony Runfola
October 15 – October 28, 2022
Recommended for ages 6+

Eddie has dyslexia and struggles with schoolwork, and finds out he can't play on the basketball team unless he gets his grades up. With the help of his pet gecko, Vinnie, and the overly-helpful new girl in class, will Eddie's final class presentation come together, or will his basketball dreams be dashed forever? A Magik Theatre world premiere, produced in collaboration with Celebrate Dyslexia.
------------------------------------------------------------
THE VELVETEEN RABBIT
Adapted for the stage by Magik Theatre
Based on the book by Margery Williams

November 19 – December 24
Recommended for ages 5+

The Velveteen Rabbit is a delightful Magikal retelling of the classic children's story of a boy who receives a stuffed rabbit sewn from velveteen as a present on Christmas Day. When another toy is lost, the Rabbit quickly becomes the Boy's new favorite. As the Rabbit's dapper appearance gets worn and shabby from play, a wonderful change begins to happen. Join us this holiday season for the heart-warming and much-loved classic story about a shy toy rabbit who longs for nothing more than to become real.
------------------------------------------------------------

THE HERO TWINS: BLOOD RACE
By Ramón Esquivel
Director TBD
February 4 – March 5, 2023
Recommended for ages 7+


Who will win the Blood Race, an ancient competition between two tribes that takes place in the underworld? The winner rules the capital city and all the people who labor for it, while the loser remains trapped forever in the underworld. Cricket has trained for his entire life with his twin sister, Moth, and he is favored to be the first of their tribe to win the Blood Race.
When Cricket fails, the high priestess, Iguana, challenges Moth to compete in the next race against King Jaguar. When Moth learns the truth of the Blood Race, she is faced with a choice that could turn the world upside down. An invented mythology inspired by classic Mayan narratives, The Hero Twins: Blood Race is an action-filled adventure that is also an allegory about inequality, justice, and liberation.
------------------------------------------------------------
SCHOOLHOUSE ROCK LIVE!
Originally Adapted and Produced for the Stage by Theatre BAM | Form the Series Created by George Newall and Tom Yohe | Based on an Idea by David McCall | Book by Scott Ferguson, George Keating, and Kyle Hall | Music and Lyrics by Lenn Ahrens, Bob Dorough, Dave Frishberg, Kathy Mandry, George Newall and Tom Yoha
Directed by Anthony Runfola
April 15 – June 4, 2023
Recommended for ages 6+


Now's your chance to catch the musical that wowed audiences nationwide! Schoolhouse Rock Live! follows Tom, a nervous schoolteacher who is anxious about his first day of teaching. He tries to relax by watching TV and discovers that his favorite show comes to life on the set. Together with the Schoolhouse Rock gang, Tom realizes how fun learning can be. Enjoy classic songs such as "Just a Bill," "Interjections," and "Conjunction Junction" at this fun-filled retro revue!


TICKETS
Season subscriptions on sale now. Single tickets go on sale June 1, 2022.

2022-23 Season Subscriptions prices are $48, $60, $75, $87
Click here for Magik Theatre Season Subscriptions
Purchase season subscriptions online www.magiktheatre.org, via phone (210) 227-2751 and in-person at Magik Theatre's Box Office (420 S Alamo, 78205). Box Office hours are Monday-Friday, 9 am – 5 pm.

Single Tickets are $20 for children (ages 2-17), Military, Seniors, and Educators | $25 for adults | Children under 2 years old are free.
If a child under 2 uses a seat, even a car or booster seat, the patron must pay for a general-admission ticket. Group rates are offered to parties of ten or more people. For questions and further inquiries contact tickets@magiktheatre.org
MAGIK THEATRE
A professional theatre for young audiences established in 1994, Magik Theatre's mission is to use the power of theatre to create Magikal storytelling for children that Activates imagination, Grows young minds, and Inspires creativity and a love of learning that is the Key to a more literate future for our community.