Video Teaser: Rome and Juliet in Reverse, Expatriate Theatre Company, Austin, Streaming from April
(trailer from Expatriate Theatre Company)
In fall 2020, Expatriate Theatre Company brought you online performances of Shelter Out of Place, a new play by Elizabeth Bernhardt, which were praised by audiences:
"So professional."
"Beautiful. So well done. And a joy to behold."
"I was deeply moved."
Continuing our efforts to bring you live theatre in the midst of the global pandemic, we now present a brand new adaptation of one of Shakespeare's most famous works, one which offers its title characters one last chance.
Why this play now?
In the midst of challenging times, it can feel like chaos is inevitable. But what if one choice could change the trajectory of the future? What if one spark could pierce the darkness?
Performed by professional actors, Romeo & Juliet in Reverse moves backwards through Shakespeare's tragic tale, letting us view it from new angles, then revisits the tomb to see if love and life can prevail over death.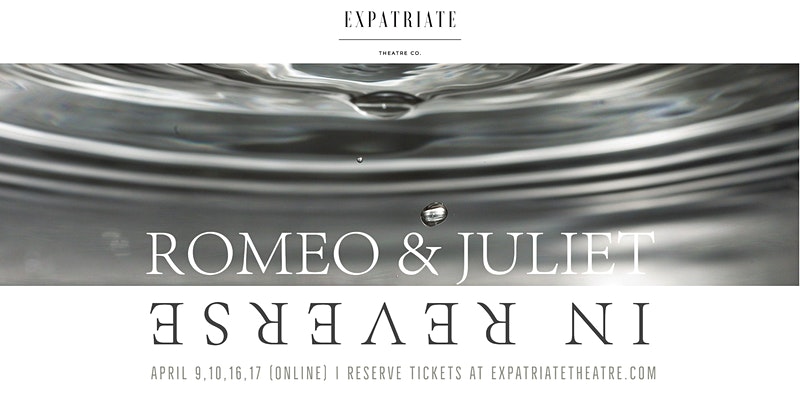 Direction/Play Adaptation: Elizabeth Bernhardt
Cast: Joe Kelley: Romeo, Abraham, First Watchman
Katie Beth Stubbs: Juliet, Sampson, Second Watchman
Joseph Clingan: Friar Laurence, Mercutio, Balthasar, Peter, Montague
Nick Ivons: Tybalt, Apothecary, Capulet, Friar John
Elizabeth Bernhardt: Queen, Benvolia
Expatriate Theatre Company is a new theatre company based in Austin, Texas.
Expatriate's mission is "to create compelling theatre that reveals the heart of God and stirs the heart of man."
To learn more or to support this important work, visit: www.expatriatetheatre.com
---
Romeo & Juliet in Reverse
by William Shakespeare, adapted by Elizabeth Bernhardt
Expatriate Theatre Company
Fridays-Saturdays,
April 09 - April 17, 2021
Streaming
via internet
Everywhere, TX, 78700
Fridays and Saturdays at 7:30 p.m.