In Memoriam: Rebecca Gish Trinidad, from Alamo Theatre Arts Council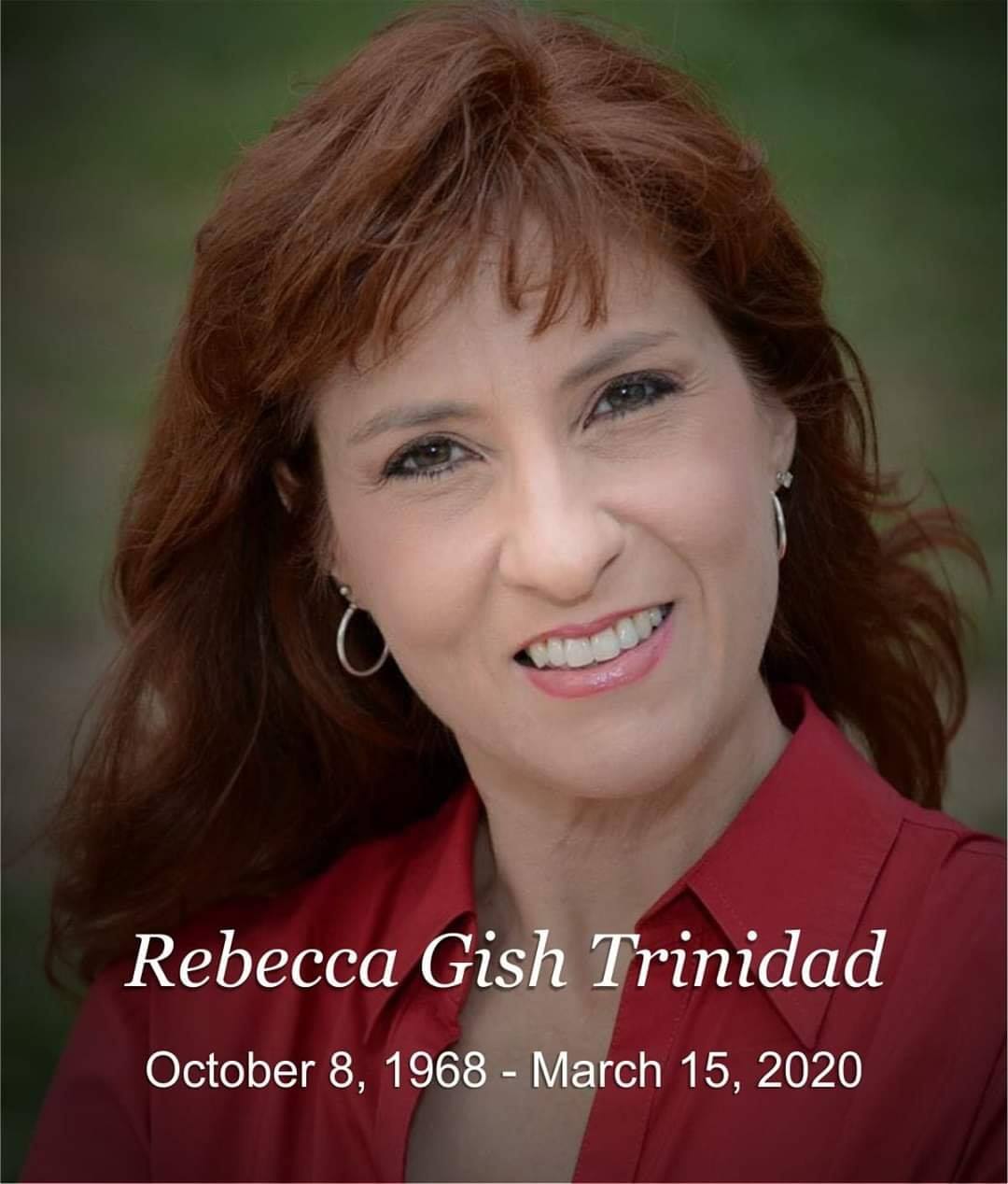 An update from the family of our dear Rebecca Trinidad:
Update to Becci's family and friends. It's been a month since we lost Rebecca Gish Seres Trinidad to cancer. I've attached her obituary below for those who haven't seen it. Many are asking about plans for her memorial service. Well, after the coronavirus passes, it's our hope that we'll all get together and have a Celebration of Life for Becci with the help of the theater community. Thanks for the outpouring of love and support you've given Becci and our family. To know she touched your hearts as she did ours makes me feel a bit better knowing we're all missing her and that she'll be remembered. Please stay safe during this challenging time. — John
Rebecca Ellen (Gish) Trinidad Obituary
It is with great sadness that the family of Rebecca Ellen (Gish) Trinidad announces she died on March 15, 2020 in San Antonio, Texas at the age of 51 after a hard-fought battle with breast cancer.
Becci was born on October 8, 1968 in Frederick, Oklahoma. She graduated from Cameron University in 1991 with a Bachelor of Music & Theater degree in Vocal Performance. She was proud to be the first vocalist chosen to sing with their, instrument only, jazz band where she excelled and honed her vocal style. She married John Trinidad and together they performed across the country at numerous theme parks such as Six Flags Fiesta Texas, AstroWorld, Busch Gardens Williamsburg, and Sea World of Texas and on cruise ships in the '90s. After years on the road they moved back to San Antonio and had Megan, their only child.
Being a workaholic by nature she had many different jobs throughout her lifetime, including: supervising at Starbucks, event coordinating at the Paseo del Rio Association, she was also an avid photographer, photographing newborns at the Methodist Hospital, she was even a Radio DJ on 88.3 KPAC but she always returned to her love of singing. She performed with the likes of Dave Brubeck, Della Reese, Diane Schuur, and Johnny Gimble.
Becci could sing anything from opera to hard rock and she taught and couched voice to countless students over the years. But she loved performing big band standards and in musical theater where she showcased her wonderful acting in a wide range of productions that garnered her several awards along the way. Her favorite roles included: Ado Annie in Oklahoma, Lizzie in Baby, Nellie in South Pacific, Emma Goldman in Ragtime, Golde in Fiddler on the Roof, Carrie's Mother Margaret in Carrie the Musical, and The Acid Queen in Tommy. She also loved directing and her directorial debut helped produce the spectacular San Antonio premier of Memphis the Musical. But her proudest entertainment achievement was creating and hosting the Broadway Nights series that ran for 5 years in the lobby of the Woodlawn Theater with pianist and friend Darrin Newhardt. It still stands as San Antonio's longest running cabaret act.
Her last performance was as Aunt Eller in Oklahoma, who says these lines at the end of the show: "Oh, lots of things happen to folks. Sickness, or being poor and hungry, even being old and afraid to die. That's the way it is cradle to grave. And you can stand it. There's one way. You gotta be hearty, you got to be. You can't deserve the sweet and tender in life unless you're tough." Our Becci, who was from Oklahoma, lived those lines for most of her adult life. She fought her cancer back several times and spoke these lines less than a year before succumbing to her disease. But no one could tell she was in pain while on stage. That's the way she tried to live her life, always singing, smiling and giving the best performances till the very end.
Becci is survived by her parents, David Wood III and Pamela Sue (Starr) Gish, of Alaska; husband, John; daughter, Megan; brother, David Wood Gish IV, of Alaska; parents-in-law, Robert and Anna Marie Trinidad; brother-in-law, Robert Trinidad, sister-in-law, Cynthia Trinidad and niece Alana. She is preceded in death by her grandparents David Wood II and Helen Frances (Hammonds) Gish, of Frederick, Oklahoma.
Unfortunately due to coronavirus restrictions we can't have a large gathering of family and friends until the danger has passed. So at first her immediate family will honor her final wishes, to be interred with her grandparents in her hometown of Frederick, Oklahoma. Then with the help of the theater community we'll give her a grand memorial celebration. Please stay tuned for updated information. Until then, please keep sharing your photos, videos and memories of her on Facebook or on her obituary page.
Memorial donations may be made to The Breast Cancer Research Foundation at: https://www.bcrf.org/
Her service is being arranged by:
Sunset Northwest Funeral Home - San Antonio, TX.
https://www.dignitymemorial.com/…/…/rebecca-trinidad-9086266
Orr Gray Gish Funeral Home – Frederick, OK.