Video Promo by Magic Spoon Productions: GHOST QUARTET, Penfold Theatre, October 17 - November 1, 2019
(video promo by Jose Lozano, Magic Spoon Productions)
In this spell-casting musical, four friends wind away the evening with whiskey and the haunting stories of two fairy tale sisters, a tree house astronomer and a lazy evil bear, a subway tragedy and the ghost of Thelonious Monk.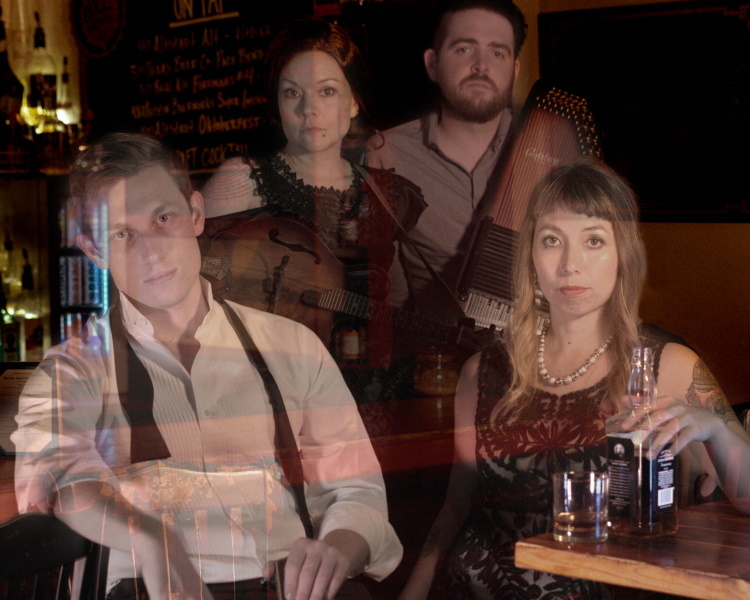 Ghost Quartet is a happily haunted musical about love, death, and whisky. We listen in as four friends drink and spin yarns about two fairy tale sisters, a tree house astronomer and a lazy evil bear, a subway tragedy and the ghost of Thelonious Monk. As the evening winds on and glasses empty, we realize the narrative threads are interweaving into a centuries-long tale of encounters with the otherworldly. Ghost Quartet seductively pulls at our desire to believe in ghosts and subtly asks us why these stories continue to endure and multiply in the human imagination.
Composer Dave Malloy, Tony-nominated createor of the Broadway hit "Natasha, Pierre and the Great Comet of 1812", draws inspiration from a number of spooky stories - Snow White and Rose Red, Edgar Allan Poe's "Fall of the House of Usher", Arabian Nights and others - as well as a variety of musical styles, including gospel, folk ballads, honky-tonk anthems of heartbreak, electropop, doo-wop and jazz.
Content advisory: strong language.
Rapturous...this happily haunted song cycle slyly addresses the questions of why we want to believe in ghosts and feel the need to keep talking about them. And I promise you, you will believe by the evening's end..ingenious and affecting." -New York Times
4 Stars...brilliantly inventive." -Time Out New York
Ghost Quartet unfolds with a subtly seductive allure...tight harmonies, compelling characters, and rich musicianship, draw us into a cozy world to explore our fascination with and connection to otherworldly spirits for a uniquely thrilling evening." -Boston Globe
---
Ghost Quartet
by Dave Malloy
Penfold Theatre Company
Thursdays-Sundays,
October 17 - November 01, 2019
unspecified in Austin
somewhere in Austin
to be announced
Austin, TX, 78700
Oct 11 - Nov 1, 2019
Thursdays - Saturdays at 8 p.m., Sundays at 5 p.m.
Two venues: The Driskill Hotel or Blue Genie Art Bazaa
Tickets to Ghost Quartet are $16-$31, or you can save money with a season membership! The show runs about 1:40 with no intermission.
To purchase tickets for performances October 11 - 27 at the Blue Genie Art Bazar, click HERE.
For information about performances at the Driskill Hotel on Thursday, October 31st or Friday, November 1st, please click HERE.
First Saturday Soiree
Saturday 10/12, First Saturday Soiree. Join us after the performance for a special reception with the artists of Ghost Quartet! We'll toast the show's opening with the creative team and enjoy food and fun, all included for a small upcharge. (Season Members get in free!)
Location
Blue Genie Art Bazaar (Map it)
6100 Airport Blvd
Austin, TX 78752
Free parking is available in the parking lot and on nearby streets. Please note, the front entrance faces Dillard Circle (not Airport Blvd).