Video Promo: MACBETH, Austin Shakespeare's Youth Troupe at Curtain Theatre, June 14 - 23, 2019
(video via Austin Shakespeare)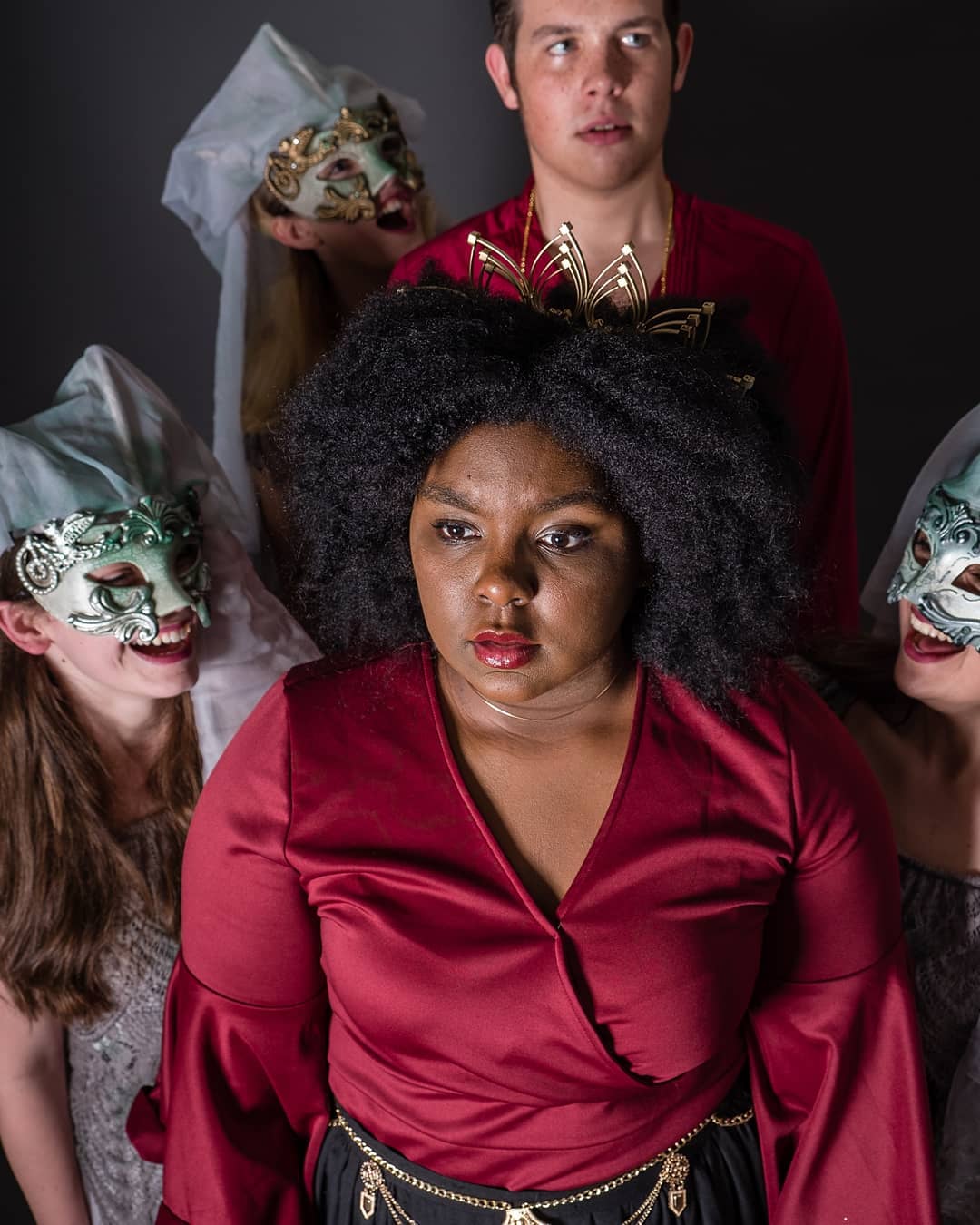 Young Shakespeare actors bring to life the raw fantastical world of witches who lure Macbeth to kill to become king, and then trick him to his downfall. "Macbeth is a primitive world of magic and battling heroes," said Artistic Director Ann Ciccolella. "The audience may notice a familiar ambiance -- we have been inspired by Game of Thrones in our costumes and our throne."
The production is directed by Ciccolella and Nancy Eyermann. "The spirit in these young actors can be felt from every seat of the fabulous Curtain Theatre," Eyermann said. "Macbeth is a fast-moving, incredibly engaging story, perfect for young Shakespeare goers."
Young Shakespeare actors range in age from 10-19, come from Austin, Round Rock, Pflugerville and Westlake; and attend Westlake High School, McCallum Fine Arts Academy, Bowie High School, St. Dominic Savio Catholic High School, Anderson High School, Founders Classical Academy of Leander, Murchison Middle School, Austin School for the Performing and Visual Arts, Headwaters School, Liberal Arts and Science Academy (LASA), Leander High School, area home schools, Concordia University Austin and University of Texas-Dallas. In addition to directors Ciccolella and Eyermann, the young company is trained by professional coaches and designers and actors from the adult Austin Shakespeare company.
Actors returning to the Young Shakespeare stage include Owen Chance as Macbeth, Ben Frey as Macduff, Alley Koenig as Malcolm, John Kilfoyle as Duncan, Campbell Collins as Fleance, Fin Fulmer as Banquo, Madelyn Reed as Lennox, Eleanor Walter as Lady Macduff, Anastasica Weiss as Donalbain, Reagan Komendera as Witch 1 and Sophia Davis as Witch 2. Special live drumming will be provided by Madeline Silvestro who also plays the "bloody sergeant." New to Young Shakespeare are: Joilynn Green as Lady Macbeth, Sadie Balling as Gentlewoman; Sarah Wells as Seyton, Richard White as Doctor, Bee Jackson as Messenger, Arden and Oscar Egerton as the Macduff children, Bailey Gilmore as Witch 3, and Mercy Olguin as Ross/Hecate.
CREATIVE TEAM:
Directors: Ann Ciccolella & Nancy Eyermann
Costume Designer: Cecilia Gay
Set & Light Design: Patrick Anthony
ABOUT AUSTIN SHAKESPEARE: Founded in 1984 and the only professional classical theater company in Central Texas, Austin Shakespeare presents professional theater of the highest quality with an emphasis on the plays of William Shakespeare, bringing to the public performances that are fresh, bold, imaginative, thought-provoking, and eminently accessible, connecting the truths of the past with the challenges and possibilities of today. In the fall and spring, Austin Shakespeare also produces plays by Williams and Stoppard as a Resident Company of The Long Center for the Performing Arts, Rollins Studio Theatre. Austin Shakespeare's ongoing Shakespeare Aloud reading group and Artist's Way sessions invite new participants weekly. Austin Shakespeare's education program 20/20 sends professional actors into the schools to encourage love of language.
---
Macbeth
by William Shakespeare
Austin Shakespeare Youth Troupe
Thursdays-Sundays,
June 13 - June 23, 2019
Young Shakespeare presents
Macbeth
The Curtain Theater
June 14 - 23, 2019
Thursdays to Sundays at 8 pm
The Curtain Theater, Austin's replica of an Elizabethan theater
7400 Coldwater Canyon Drive, Austin, TX 78730
TICKETS: $13 to $18. available via

[image via Sacramento Theatre Company]