2019 Season, Salvage Vanguard Theatre, Austin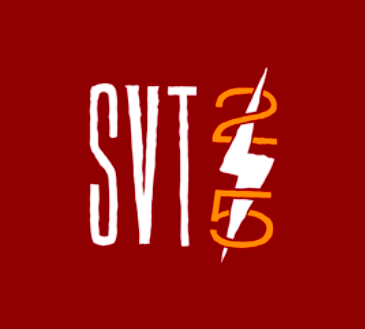 In our 25th Anniversary Season Salvage Vanguard Theater (SVT) invites you to witness two challenging Mainstage productions and two Works Progress Austin performance experiments. On the Mainstage this March is the regional premiere of Antigonick, a wild translation of Sophocle's Antigone by Anne Carson, directed by SVT's Diana Lynn Small. October brings the world premiere of Adrienne Dawes' Casta, illuminating a complex portrait of fluid Latinx identities. Translated by Jesus Valles, directed by Jenny Larson, with original music by Graham Reynolds. SVT's Works Progress Austin new-play development series will feature new works by composer and performer Henna Chou, and a memoir piece Fumbling for the Knob by James Dean Jay Byrd. In conversation with these performances SVT provides educational opportunities, including a playwriting workshop for teens with local nonprofit Austin Bat Cave.
Mainstage:
Antigonick a translation of Sophocles's Antigone by Anne Carson
Directed by Diana Lynn Small
March 21 to April 6 2019 | Dougherty Arts Center
A contemporary translation of the classic Greek drama that asks, "How do we care for the dead and how we do grieve amidst crisis?" Translated and strangely reimagined by the inimitable Classics scholar and award-winning poet, Anne Carson. Featuring local performers Megan Tabaque, Paige Tautz, Rachel Long, Jay Byrd, Tobias Al-Trabulsi, Travis Tate, and Vincent Tomasino. Original music by Henna Chou and designs by Lisa Laratta, Paige Tautz, Natalie George, and Henna Chou.
Casta by Adrienne Dawes
Translations by Jesus Valles, Directed by Jenny Larson
Original composition by Graham Reynolds
Nov 2 to 21 2019 | Blanton Museum of Art
Casta is inspired by a series of casta paintings by Miguel Cabrera, a mixed-race painter from Oaxaca. Casta paintings were a unique form of portraiture that grew in popularity over the 18th century in Nueva España that depicted different racial mixtures arranged according to a hierarchy defined by Spanish elites. When a lowly apprentice is commissioned to paint a casta series for a wealthy patron, he tries to conform his work to a set hierarchy but finds the images revolt, illuminating a complex portrait of fluid Latinx identities. Performances are sponsored by the Blanton Museum of Art and will be presented as part of their Painted Cloth: Fashion and Ritual in Colonial Latin America exhibit.
Works Progress Austin workshop series:
噢哦! 噢哦: Slow Roll by Henna Chou
June 22 | Dougherty Arts Center
Performed by 6 musicians, Slow Roll, explores the concepts of mediumship in both the biological and spiritual world. The piece is conceived and created by interdisciplinary artist Henna Chou, an SVT company member and Austin gem.
Fumbling for the Knob by Jay Byrd
December 2019 | Venue TBA
Jay Byrd, author performer of Naked as a Gaybird, recently finished a collage-style experimental memoir, Fumbling for the Knob. Fumbling touches on being raised in the Closet in a Fundamentalist Christian household; molestation; and depression. It features several chapters presented as scripted plays which will be recorded and released as a podcasts.
Educational opportunities:
ARTReach Teen programing with Austin Bat Cave: Salvage Vanguard has partnered with Austin Bat Cave to offer playwriting workshop for teens in congruence with SVT's 2019 Mainstage season. We are also offering FREE tickets for teens to every night thanks to the generous support of Applied Materials Foundation.
Community Dialogue series: Join us March 30th following the performance of Antigonick, for a dialogue with Austin-based spiritual and religious leaders, discussing contemporary and rituals around grief and death. Panel features speakers Kye Flannery and Mohamed-Umer Esmail. The Blanton Museum of Art will host a seminar in collaboration with the University of Texas and in congruence with Casta and the Painted Cloth exhibit, details to be announced at a later date.
About the Artists:
Anne Carson is a poet, essayist, professor of Classics, and translator. "In the small world of people who keep up with contemporary poetry," wrote Daphne Merkin in the New York Times Book Review, Carson "has been cutting a large swath, inciting both envy and admiration." Carson has gained both critical accolades and a wide readership over the course of her "unclassifiable" publishing career. In addition to her many highly-regarded translations of classical writers such as Sappho and Euripides, and her triptych rendering of An Oresteia (2009), she has published poems, essays, libretti, prose criticism, and verse novels that often cross genres. Carson's recent collections include Nox (2010), Red Doc> (2013), and Float (2016). Her honors and awards are many, including fellowships from the Guggenheim Foundation, the MacArthur Foundation, and the American Academy in Berlin. She has also received the Lannan Literary Award, the Pushcart Prize, and the Griffin Poetry Prize.

Adrienne Dawes is a mixed-race AfroLatina playwright originally from Austin, TX. Her plays include Casta, Denim Doves, Am I White, Teen Dad, You Are Pretty, and more. Adrienne has been a selected playwright in the 2018 Fornes Playwriting Workshop with Migdalia Cruz (University of Notre Dame), a Literary Fellow in the Tulsa Artist Fellowship (George Kaiser Family Foundation), a NALAC Fund for the Arts grantee, a recipient of the Stanley and Evelyn Lipkin Prize for Playwriting (Sarah Lawrence College), and received a scholarship from the 2018 Kenyon Review Playwrights Conference, directed by Wendy MacLeod. Her play Am I White won the David Mark Cohen New Play Award from the Austin Critics Table and an award for Outstanding Original Script by the B. Iden Payne Awards. She has a been a finalist for the O'Neill National Playwrights Conference, Bay Area Playwrights Festival, and a semifinalist for the Princess Grace Award. Her work has been published by Vintage Books, Playscripts, Heartland Plays, Heuer Publishing, and Applause Theatre & Cinema Books. Her full-length work has been produced at Salvage Vanguard Theater (Austin, TX), Sacred Fools (Los Angeles, CA), and American Theatre Company (Tulsa, OK). Adrienne's work has also been developed at Teatro Milagro, National Black Theatre, National Winter Playwrights Retreat (HBMG Foundation), North Carolina Black Repertory, English Theatre Berlin, Live Girls! Theater, and Echo Theatre (Dallas, TX). She is a member of Scriptworks, the Dramatist Guild, and a company member with Salvage Vanguard Theater. She is currently in residence with Crosstown Arts in Memphis, TN where she teaches writing for performance for Crosstown High, a charter high school. Later this summer, she will join the Ragdale Foundation as a Alice Judson Hayes Fellow. www.adriennedawes.com
Henna Chou (周世涵) has traveled the world as an environmental scientist and musician for the past two decades. She is a member of the Austin, Tx community dedicated to the proliferation of creative sound and counter culture expression. As a cellist, guitarist, keyboardist or sound designer, she has performed in Austin theater productions, touring ensembles, created string arrangements for bands and improvisations for film.
James Dean Jay Byrd is a writer/performer living in Austin, Texas. He has been seen onstage in productions with the Rude Mechs, Capital T Theatre, Paper Chairs, and others, including Salvage Vanguard Theater, where his solo-show, Naked as a Gaybird, directed by SVT co-artistic director, Jenny Larson, earned him a B. Iden Payne award for Best Actor in a Comedy. His writing can be seen online in The Manhattanville Review (http://www.themvillereview.com/nonfiction-1) and in the publication The Olivetree Review, a Hunter College literary and arts journal.
ABOUT SALVAGE VANGUARD THEATER
Salvage Vanguard Theater (SVT) based in Austin TX, is a nonprofit organization that provides accessible, affordable, artistic exchange between a diverse, inclusive community of artists and audiences through high quality experiences that foster experimentation and generate conversation.
This project is funded and supported in part by a grant from the Bloomberg Foundation, the Texas Commission on the Arts, the National Endowment for the Arts. Art Works, and in part by the City of Austin Economic Development Department/Cultural Arts Division believing an investment in the Arts is an investment in Austin's future. This project is produced in coordination with the Dougherty Arts Center and Parks and Recreation Department. Visit Austin at NowPlayingAustin.com.
The City of Austin is proud to comply with the Americans with Disabilities Act. If you require assistance for participation in our programs or use of our facilities, please call (512) 974-3914
La Ciudad de Austin está comprometida al Acta de Americanos Incapacitados. Si requiere asistencia para participar en nuestros programas por favor llame al teléfono número (512) 974-3914.