2018-2019 Season, VLA Theatre, Killeen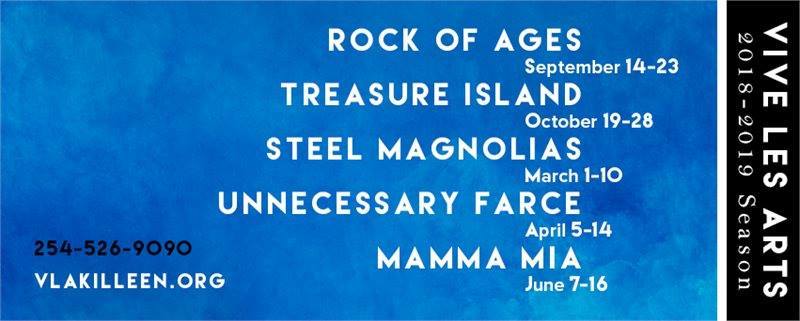 Rock of Ages

Friday Sep 14, 2018 - Sunday Sep 23, 2018
(Recommended for ages 14 and up: adult themes, strong language, and sexual content.)

It's the tail end of the big, bad 1980s in Hollywood, and the party has been raging hard. Aqua Net, Lycra, lace and liquor flow freely at one of the Sunset Strips last legendary venues, a place where sex machine Stacee Jaxx takes the stage and scantily clad groupies line up to turn their fantasies into reality. Amidst the madness, aspiring rock star (and resident toilet cleaner) Drew longs to take the stage as the next big thing (and longs for small-town girl Sherri, fresh off the bus from Kansas with stars in her eyes). But the rock and roll fairy-tale is about to end when German developers sweep into town with plans to turn the fabled Strip into just another capitalist strip mall. Can Drew, Sherri, and the gang save the strip–and themselves–before it's too late? Only the music of hit bands Styx, Journey, Bon Jovi, Whitesnake and more hold the answer.

Treasure Island

Friday Oct 19, 2018 - Sunday Oct 28, 2018


It's a dark, stormy night. The stars are out. Jim, the innkeeper's granddaughter, opens the door to a terrifying stranger. At the old sailor's feet sits a huge sea-chest, full of secrets. Jim invites him in - and her dangerous voyage begins. Robert Louis Stevenson's classic tale of murder, money, and mutiny is brought to life in this thrilling adaptation.
Steel Magnolias

Friday Jan 25, 2019 - Sunday Feb 3, 2019


This beloved comedy/drama follows the lives and friendship of six unforgettable women from Chinquapin Parish, Louisiana. Supporting each other through their accomplishments and their losses, they gather at Truvy's beauty shop to celebrate, reminisce, grieve, and antagonize. Steel Magnolias is sure to make you laugh, cry, and want to see it again!




Unnecessary Farce

Friday Apr 5, 2019 - Sunday Apr 14, 2019
(Rated PG-13 for sexual situations, suggestive language, vulgarities.)

Two cops. Three crooks. Eight doors. Go. In a cheap motel room, an embezzling mayor is supposed to meet with his female accountant, while in the room next-door, two undercover cops wait to catch the meeting on videotape. But there's some confusion as to who's in which room, who's being videotaped, who's taken the money, who's hired a hit man, and why the accountant keeps taking off her clothes.
Mama Mia!
Friday Jun 7, 2019 - Sunday Jun 16, 2019
A daughter with three possible dads and an upcoming wedding conspires to get the prospective fathers on the Greek island where she will tie the knot. The stage show played Broadway and toured the world for over a decade, and the hit movie inspired a sequel. Now it comes to Central Texas in a joyful romp through love, memory and identity. Mamma Mia features the unforgettable pop mastery of ABBA…and a trip down the aisle you'll never forget!