2018-2019 Season, Mary Moody Northen Theatre, St. Edward's University, Austin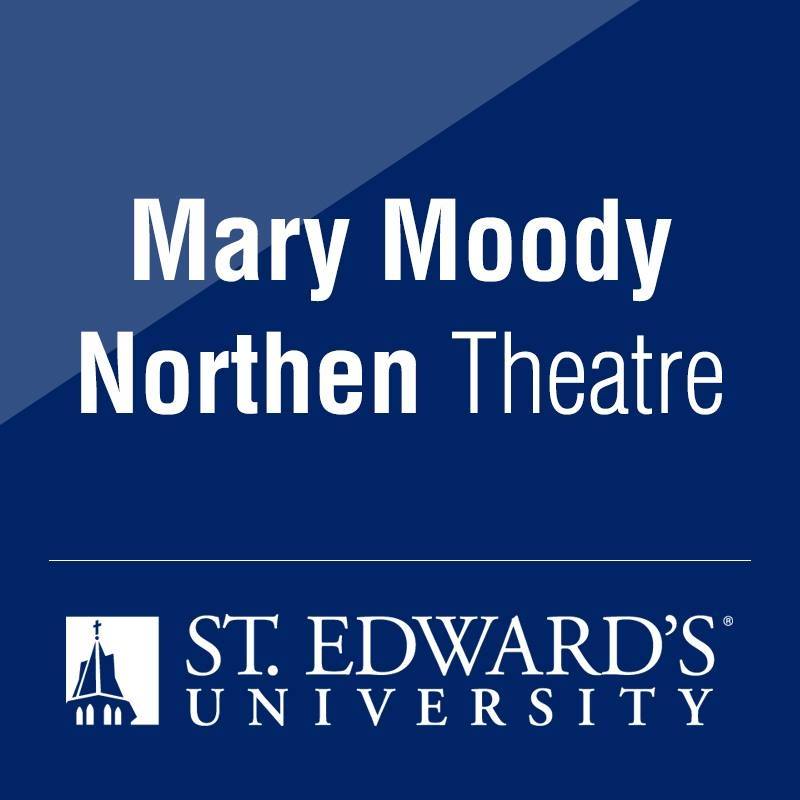 Mary Moody Northen Theatre, the award-winning producing arm of the St. Edward's University theater training program, announces its 2018-2019 season, rife with heart, humor, high adventure, and spirited rock-n-roll. Join us for our 46th annual season and share in the fun and excitement at the theater on the hill!
Middletown
By Will Eno
Directed by Robert Tolaro
Sept. 27–Oct. 7, 2018
Welcome to Middletown: population, stable. Mary Swanson has just arrived and is settling into her new community. Will Eno's eloquent, funny, and moving play take us on a journey across the spectrum of humanity, from City Hall to the local library to the depths of outer space. Middletown reminds us that the nuances of life are what makes us human, and every now and then we should take a moment to look around and appreciate the absurd beauty of it all. Featuring Equity guests Jacqui Cross and Ben Wolfe.
"Mr. Eno's gift may be unmatched among writers of his generation. Glimmers from start to finish." — The New York Times
Men on Boats
By Jaclyn Backhaus
Directed by Shawn Sides
Nov. 8–18, 2018
Ten explorers. Four boats. One Grand Canyon. Men on Boats is the true-ish story of an 1869 expedition, when a one-armed captain and a crew of insane yet loyal volunteers set out to chart the course of the Colorado River. Join our explorers as they argue about directions, navigate rapids, and risk it all. MMNT welcomes guest director Shawn Sides (Rude Mechanicals) to steer this adventurous production. #savethewhiskey
"…off the canyon-walls funny. Paddle or portage your own boat to the theatre — but get there." — Variety
The Three Musketeers
By Megan Monaghan Rivas
Inspired by the novel by Alexandre Dumas
Feb. 14–24, 2019
All for one, and one for all! Join d'Artagnan in his quest to join the King's Royal Musketeers in this new adaptation of the classic coming-of-age story. Rivas' retelling plants itself firmly in 17th-century France yet provides a fresh, contemporary sensibility — one where men and women are equally entitled. Join us for a night of intrigue, swashbuckling and romance. A regional premiere.
"Dazzling." — PittsburghCityPaper.com
Spring Awakening
Book and lyrics by Steven Sater
Music by Duncan Sheik
Directed by Danny Herman
Based on the play by Frank Wedekind
April 4–14, 2019
Meet Wendla, a young girl yearning to understand what it means to be a woman; Mortiz, a troubled young boy struggling to come to terms with his new desires; and Melchior, a highly intelligent atheist with a desire to rebel. In an electrifying fusion of morality and rock and roll, this unforgettable musical explores the journey of eleven young people from adolescence to adulthood with poignancy and passion. Winner of eight Tony Awards, including Best Musical, The New York Observer calls Spring Awakening "the best new musical in a generation." Warning: adult themes and language. Not suitable for all audiences and not recommended for those under 17.
"…bold, funny and inviting." — The New York Times
Performances
All performances are at 7:30 p.m. Thursday to Saturday and 2 p.m. Sunday. The Three Musketeers and Spring Awakening will add a 7:30 p.m. Wednesday show during the second week of the run.
Location
Mary Moody Northen Theatre is located at St. Edward's University along Campus Drive. Campus map: http://www.stedwards.edu/map/maincampus.
Tickets
Season passes go on sale Aug. 27 through the Mary Moody Northen Theatre box office at (512) 448-8484 and online at http://www.stedwards.edu/theatre. Single tickets for each production go on sale three weeks prior to opening and may be purchased through the MMNT box office or the website. Box office hours are 1–5 p.m. Monday–Friday when classes are in session and one hour prior to curtain. Group rates for 10 people or more are available. Information: 512-448-8484
About Mary Moody Northen Theatre
Mary Moody Northen Theatre operates on a professional model and stands at the center of the St. Edward's University theater training program. Through MMNT, students work alongside professional actors, directors and designers, explore all facets of theatrical production and earn points towards membership in Actors Equity Association, the union of professional actors and stage managers in the United States. MMNT operates under an AEA U/RTA contract and is a member of Theatre Communications Group. Information: 512-448-8487 or www.stedwards.edu/theatre.
About St. Edward's University
St. Edward's University is a private, liberal arts college in the Catholic Holy Cross Tradition with approximately 5,000 students. Located in Austin, Texas, it is one of the top universities in Texas and offers undergraduate and graduate programs, including MBA programs and a master's degree in counseling. With a network of partner universities around the world, St. Edward's is a diverse community with programs designed to inspire students with a global perspective. St. Edward's University has been recognized for 12 consecutive years as one of "America's Best Colleges" by U.S. News & World Report and ranks in the top 15 Best Regional Universities in the Western Region. Information: www.stedwards.edu/about.