Austin Critics Table 2018 Nominations - Ceremony Will Be Monday, June 4, 2018 at the Cap City Comedy Club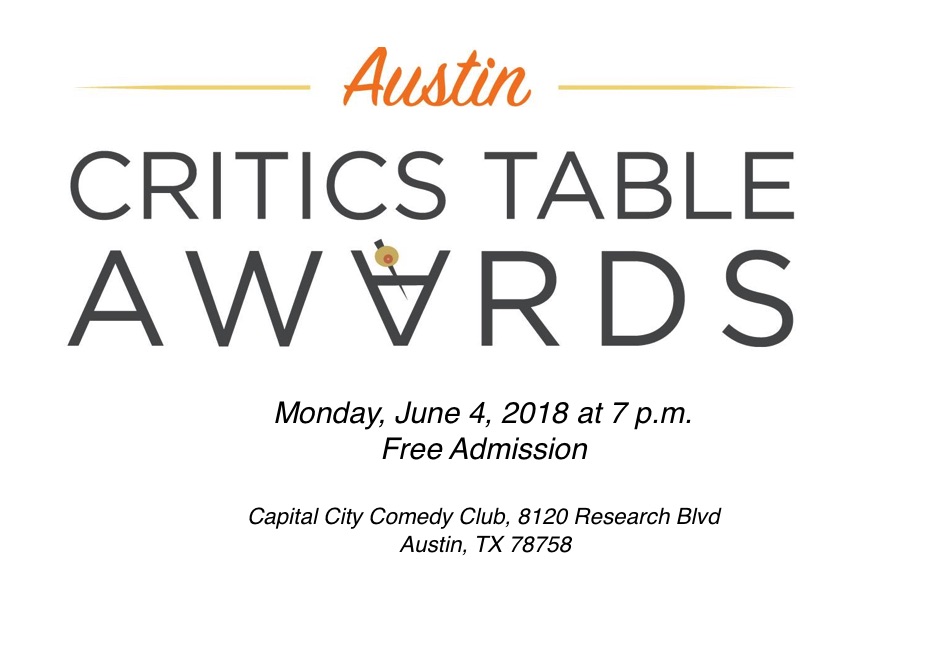 Commentary by Robert Faires, Austin Chronicle arts editor, in his article of May 14:
The Critics Table, that informal association of area arts writers and editors, have been presenting the awards for more than a quarter of a century. Most of the categories have remained the same, recognizing the work of individual artists and performers and specific works they've made or presented. But as the area has grown, new categories have occasionally popped up to reflect that. For this year's awards, two new categories were added, both under the heading of Theatre: Periphery Company, recognizing the theatrical body of work by companies outside of Austin proper, and Improvised Production, recognizing mainstage projects by area improv troupes.
Earning the most nominations this year were Paper Chairs' original production Catalina de Erauso, and Dance Repertory Theatre's short-works program Fall for Dance, both of which received seven nominations. The UT Department of Theatre & Dance's production of ENRON captured six nods.
The critics will present the awards in their usual fashion – with drinks in hand – in an informal ceremony on Monday, June 4, 7 pm, at Cap City Comedy Club, 8120 Research #100. The event will also include the induction of four local artists into the Austin Arts Hall of Fame: Norman Blumensaadt (theatre), Kathy Dunn Hamrick (dance), Jeanne and Michael Klein (patronage), and Anuradha Naimpally (dance).
Taking part in the Critics Table award process this year were the Austin American-Statesman's Andrew J. Friedenthal (theatre) and Claire Canavan (theatre); the Chronicle's Elizabeth Cobbe (theatre), Melany Jean (visual arts), T. Lynn Mikeska (theatre), Robi Polgar (classical music), Jonelle Seitz (dance), Shanon Weaver (theatre), and Robert Faires (arts); Central Texas Live Theatre's Michael Meigs (theatre) and Dr. David Glen Robinson (theatre, dance); Arts & Culture Texas' Claire Spera (dance); Broadway World Austin's Lynn Beaver (theatre), Frank Benge (theatre), and Lacey Cannon (theatre); Austin Entertainment Weekly's Olin Meadows (theatre); and Conflict of Interest TX's Rebecca Marino (visual arts) and Thao Volang (visual arts). Note: Members of the Table refrained from voting on any project in which they or an immediate family member took part.
AUSTIN CRITICS TABLE NOMINATIONS 2018
The Critics Table awards ceremony is Monday, June 4, 7 p.m., at Cap City Comedy Club, 8120 Research. Admission is free. The public is welcome.
THEATRE
Production

The Curious Incident of the Dog in the Night-Time, ZACH Theatre
ENRON, UT Austin Department of Theatre & Dance
Henry IV, The Hidden Room Theatre
Pocatello, Street Corner Arts
Ragtime, Texas State University Department of Theatre and Dance
The Repentance of Saint Joan, Paper Chairs
The Wolves, Hyde Park Theatre
Direction
Jason Phelps, The Brothers Size
Rudy Ramirez, The Revolutionists/Storm Still/Wild Horses/The Way She Spoke: A Docu-Mythologia
kt shorb, Scheherazade
Dave Steakley, The Curious Incident of the Dog in the Night-Time
Benjamin Summers, Pocatello
Dustin Wills, Catalina de Erauso
Hannah Wolf, ENRON
David Mark Cohen New Play Award
Catalina de Erauso, Elizabeth Doss
Fixing Troilus and Cressida, Kirk Lynn
The Repentance of Saint Joan, Patrick Shaw
Scheherazade, Scheherazade ensemble
The Secretary, Kyle John Schmidt
A Shoe Story, Allen Robertson & Damon Brown
Wild Horses, Allison Gregory
Performance by an Individual
John Christopher, The Brothers Size/Fixing Troilus and Cressida
Crystal Bird Caviel, The Moors/Fixing Troilus and Cressida
Chanel, Lady Day at Emerson's Bar and Grill
Jennifer Coy Jennings, Wild Horses
Sarah Danko, The Effect/Grounded
Sam Domino, Prodigal Son
Judd Farris, Henry IV/The Repentance of Saint Joan
Joseph Garlock, The Immigrant
Bill Karnovsky, Yankee Tavern
Katie Kohler, The Curious Incident of the Dog in the Night-Time
Robert Matney, Henry IV
Amber Quick, Pocatello/The Secretary
Performance by an Ensemble
A Chorus Line, Texas State University Department of Theatre and Dance
Catalina de Erauso, Paper Chairs
ENRON, UT Austin Department of Theatre & Dance
Pocatello, Street Corner Arts
The Seafarer, City Theatre
Vampyress, Vortex Repertory Company
The Wolves, Hyde Park Theatre
Periphery Company
Fredericksburg Theater Company, Fredericksburg
Gaslight Baker Theatre, Lockhart
Georgetown Palace Theatre, Georgetown
Way Off Broadway Community Players, Leander
Wimberley Players, Wimberley
Improvised Production
The 48-Hour Improv Marathon: Hour 48, The Hideout Theatre
Broad Ambition, Girls Girls Girls
Deja Noir, ColdTowne Theater
The Kindness of Strangers, The Hideout Theatre
Latinauts: The Wrath of Juan, Prima Doñas
Orphans!, The Hideout Theatre
Speak No More, Golden
DESIGN
Set
Stephanie Busing, The Curious Incident of the Dog in the Night-Time
Chris Conard/Zac Thomas, Pocatello
Magdalena Jarkowiec, "In Here"
Lisa Laratta, Catalina de Erauso/The Repentance of Saint Joan
Roxy Mojica, ENRON
Desiderio Roybal, The Father
Lino Toyos, The Drowsy Chaperone
Costume
Emily Cawood, "Fellow Travelers"/"Klein Blue (The Void)"
Jennifer Rose Davis, The Revolutionists
Cait Graham, ENRON
E.L. Hohn, Catalina de Erauso
Buffy Manners, Shakespeare in Love
Cheryl Painter, The Moors
Barbara Pope, The Drowsy Chaperone
Lighting
Rachel Atkinson, Scheherazade/TWENTYEIGHT/Catalina de Erauso/The Curious Incident of the Dog in the Night-Time/con flama
Natalie George, 11:11:10/11:11:11/A Study in Release/Romeo and Juliet/There's No Such Thing as a Single Stripe
Sarah EC Maines, In the Heights
Steven Myers, "Fellow Travelers"/"Murmuration"/"Klein Blue/The Void"
Stephen Pruitt, Parade/Juana: First (I) Dream/Glacier/Diet Fizz Radio/Bartholomew Swims
Alex Soto/Ilios Lighting, Belonging, Part One
Tony Tucci, Exit Wounds
Sound
Lowell Bartholomee, Grounded
Robert S. Fisher, The Moors/Wakey Wakey
William Meadows, Belonging, Part One
Robert Pierson & Dustin Wills, Catalina de Erauso
Drew Silverman, "A Meditation"
Jesse Wilson, with Brandon Guerra, John Clark Gable, and KIVI, Diet Fizz Radio
Digital
Lowell Bartholomee, The Effect/Wakey Wakey/The Repentance of Saint Joan/Grounded
Ashton Bennett Murphy, "Mirror"
Eliot Gray Fisher, "In the Ether"
Robert Mallin, ENRON
DANCE
Concert
A Study in Release, The Illusory Impressions Project
Fall for Dance, Dance Repertory Theatre
First (I) Dream, A'lante Flamenco
Masters of Dance, Ballet Austin
Midsummer Offerings, Performa/Dance
Parade, Kathy Dunn Hamrick Dance Company
(Re)current Unrest, Charles O. Anderson/Fusebox Festival
Short Work
"Finale," Jennifer Sherburn
"Four Mortal Men," Ballet Austin
"In Here," Magdalena Jarkowiec/Fusebox Festival
"In the Ether," Dance Repertory Theatre
"Murmuration," Ballet Austin II
"Overseas Phone Call, 1987," Magdalena Jarkowiec/Performa/Dance
"When," Dance Repertory Theatre
Choreographer
Charles O. Anderson, (Re)current Unrest
Kathy Dunn Hamrick, Parade/Glacier
Rennie Harris, "Resurrection"
Jennifer Hart, "Fellow Travelers"/"Murmuration"
Taryn Lavery & Alex Miller, with Hailley Laurèn, Amy Myers, and Lucy Wilson, Diet Fizz Radio
Ray Eliot Schwartz, "Otras Puertas/Otras Rumbos"
Jennifer Sherburn, "Lapse"/"Finale"
Dancer
Charles O. Anderson, "(Re)current Unrest pt. 3: Clapback"
Ellen Bartel, "Attic"
Alexa Capareda, "Diet Fizz Radio"/"Overseas Phone Call, 1987"/"In Here"
Anika Jones, Belonging, Part One
Anuradha Naimpally, "Krishna the Divine Lover"
Rosalyn Nasky, "Come In!!!"/"Pod"/There's No Such Thing as a Single Stripe
Kelsey Oliver, "Overseas Phone Call, 1987"/"In Here"
Oren Porterfield, "Fellow Travelers"
Emily Rushing, "Flicker.Burn.Repeat"
Jun Shen, Belonging, Part One
Ensemble
Exit Wounds/Masters of Dance, Ballet Austin
"Fellow Travelers," Performa/Dance
"Otras Puertas/Otras Rumbos," Fall for Dance
Parade, Kathy Dunn Hamrick Dance Company
(Re)current Unrest, Charles O. Anderson/Fusebox Festival
"Resurrection," Dance Repertory Theatre
There's No Such Thing as a Single Stripe, ensemble
CLASSICAL MUSIC
Concert/Opera
Bach: Mass in B Minor, Panoramic Voices
Carmen, Austin Opera
La Clemenza di Tito: A Retelling, LOLA
Feast of Voices, Austin Symphony Orchestra with Chorus Austin
Southwest Voices, Chorus Austin
La Traviata, Austin Opera
Unclouded Day, Conspirare
Chamber Performance

Invoke, Beerthoven/Golden Hornet Smackdown IV
Golden Hornet Young Composers Concert, Golden Hornet
i/we, Austin Classical Guitar
It's About Time: Companions, Texas Early Music Project
The Lavuta Project, Austin Chamber Music Festival
Virgo Veritas, Austin Chamber Music Center
Original Composition/Score
A Study in Release, Catherine Davis
Crone – for Chamber Orchestra, Samuel Lipman
i/we, Joseph V. Williams II
"Songs of Remembrance and Resistance," Kevin March
Singer
Ryland Angel, Passio/It's About Time: Companions
Cayla Cardiff, An Early Christmas/It's About Time: Companions
Liz Cass, La Clemenza di Tito: A Retelling
Marina Costa-Jackson, La Traviata
Carolyn Hoehle, La Clemenza di Tito: A Retelling
Gitanjali Mathur, It's About Time: Companions
Sandra Piques Eddy, Carmen
Heather Phillips, Carmen
Chad Shelton, Carmen
Jenifer Thyssen, An Early Christmas/It's About Time: Companions/Complaints Through the Ages
Veronica Williams, "Songs of Remembrance and Resistance"
Ensemble
Aeolus Quartet, Virgo Veritas
Invoke, Beerthoven/Golden Hornet Smackdown IV
Tetractys, Golden Hornet Young Composers Concert
Instrumentalist
Bruce Colson, It's About Time: Companions
Ian Davidson, Feast of Voices
Artina McCain, Black Composers Concert: The Black Female Composer
Carla McElhaney, Revel Classical Band at Beerthoven
Marcus McGuff, An Early Christmas
Ebonee Thomas, Black Composers Concert: The Black Female Composer
Bruce Williams, Feast of Voices
VISUAL ART
Solo Gallery Exhibition
"Anthony B. Creeden: Cacti and Semaphore," grayDUCK Gallery
"Bucky Miller: Grackle Actions," Umlauf Sculpture Garden & Museum
"Claude van Lingen: Timekeeper," Co-Lab Projects
"Larry Bamburg: BurlsHoovesandShells on a Pedestal of Conglomerates," UT Visual Arts Center
"Maria Magdalena Campos-Pons: Notes on Sugar," Christian-Green Gallery
"Rachel Stuckey: Good Days and Bad Days on the Internet," Women & Their Work
"Raul Gonzalez: Doing Work," grayDUCK Gallery
Group Gallery Exhibition
"Collectors Show," grayDUCK Gallery
"Good Mourning Tis of Thee," Co-Lab Projects
"In depth: a group show," Davis Gallery
"Refigured: Radical Realism," Dougherty Arts Center
"Staycation 2: What in the World?" MASS Gallery
"xoxo," Museum of Human Achievement
"Yo soy aqui / I am here," ICOSA
Museum Exhibition
"Rodney McMillian: Against a Civic Death," The Contemporary Austin
"Line Form Color," Blanton Museum of Art
"The Open Road: Photography and the American Road Trip," Blanton Museum of Art
"Vaudeville," Ransom Center
"Wangechi Mutu," The Contemporary Austin
Independent Project
2017 Texas Biennial
Cage Match Project Gallery
The Museum of Pocket Art
Outsider Fest
Gallery, Body of Work
Co-Lab Projects
Dimension Gallery
grayDUCK gallery
MASS Gallery
Museum of Human Achievement
Artist
Jennifer Balkan
Elizabeth Chiles
Michael Anthony Garcia
Revi Meicler
Barry Stone