Zach Theatre's 2018-2019 Season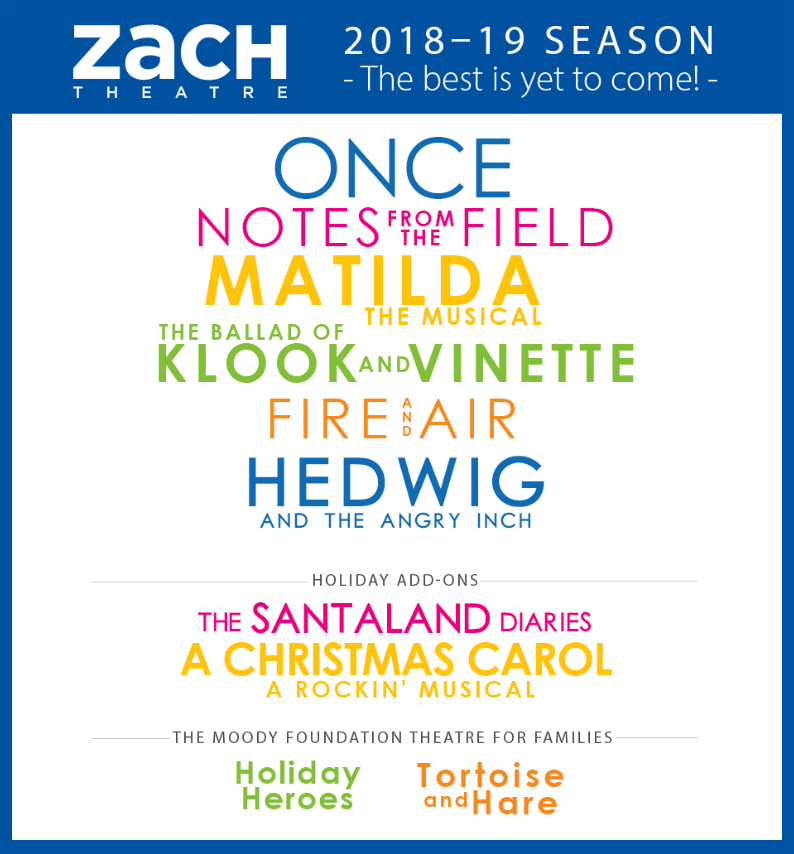 New subscriptions will go on sale in May. For more information, call the Box Office at 512-476-0541 or go to zachtheatre.org.
ONCE
September 19 – October 28, 2018, The Topfer
Written by John CarneyMusic and lyrics by Glen Hansard and Markéta Irglová
Book by Enda Walsh
Directed by Dave Steakley, Musical Direction by Allen Robertson, Scenic Design by Donald Eastman
Based on the 2007 Academy Award®-winning film, Once is an enchanting, modern love story about the complexities of relationships and the power of music to connect us all. Once tells the story of an Irish musician and a Czech immigrant drawn together by their shared love of music. Their unexpected friendship and collaboration evolves into a powerful but complicated romance, heightened by the raw emotion of the songs they create together. Winner of 8 Tony Awards® including Best Musical, this unique theatrical experience, with breathtaking melodies by Glen Hansard of the Irish band The Frames, will have you falling in love from the very first note.
NOTES FROM THE FIELD
February 27 – March 31, 2019, The Kleberg
Created and Written by Anna Deavere Smith, Music composed by Marcus Shelby, Directed by Dave Steakley
One of the most acclaimed and provocative theatre artists of our time, Tony and Pulitzer Prize nominee Anna Deavere Smith (Let Me Down Easy; "Nurse Jackie"), shares her "most ambitious and powerful work to date" (Variety). Incredibly timely and moving, Notes from the Field depicts the personal accounts of individuals caught in America's school-to-prison pipeline as they navigate inequities in their communities. Based on interviews with over 250 people living and working within a challenged system, Notes shines a light on a lost generation of American youth.
MATILDA THE MUSICAL
April 3 – May 12, 2019, The Topfer
Based on the book by Roald Dahl
Book for the musical by Dennis Kelly,Music and lyrics by Tim Minchin
Directed by Abe Reybold and Nat Miller, Musical Direction by Allen Robertson
Take a journey through the world of the Tony Award®-winning hit, Roald Dahl's Matilda The Musical! Matilda is an extraordinary little girl who dares to take a stand and change her destiny. When she has finally had enough of her unscrupulous parents and tyrannical headmistress, she enlists the help of her friends—and favorite teacher Miss Honey—and bravely takes matters into her own hands to become the biggest little hero. Matilda is sure to delight and empower audiences of all generations.
THE BALLAD OF KLOOK AND VINETTE*
*pending final approval
April 24 – May 26, 2019, The Kleberg
Book by Ché Walker, Music and lyrics by Anoushka Lucas and Omar Lyefook
Tender, funny, and incredibly moving, this contemporary new love story will grab you from the inside out. Klook and Vinette are two lost souls trying to find themselves in one another. Against all odds and with the past at their heels, together they make a tentative stab at happiness. Staged in the intimate Kleberg at ZACH Theatre, this is a seductive world-premiere musical about inevitability and the thrill of falling in love. Infused with lyrical prose, Jazz, Blues, and Soul, The Ballad of Klook and Vinette is a mesmerizing theatrical experience you won't want to miss.
FIRE AND AIR
June 12 – July 14, 2019, The Topfer
Written by Terrence McNally
Four-time Tony Award® winner Terrence McNally (Ragtime, Kiss of the Spider Woman) explores the rich history of the Ballets Russes, Sergei Diaghilev's itinerant Russian ballet company, in his newest play Fire and Air. Surrounded by great talents of art, design, and music, the tempestuous relationship between Diaghilev and dancer Vaslav Nijinsky revolutionizes dance forever.
HEDWIG AND THE ANGRY INCH
July 31 – September 8, 2019, The Topfer
Book by James Cameron Mitchell
Music and lyrics by Steven Trask
Directed by Dave Steakley
Lift up your hands for the most groundbreaking, heart-stomping, gut-busting character ever to grace the stage! Created by John Cameron Mitchell and Stephen Trask, Hedwig and the Angry Inch is "the most exciting rock score written for the theatre since, oh, ever" says Time Magazine. Winner of two Obie Awards and four Tony Awards®, Hedwig tells the story of "internationally ignored song stylist" Hedwig Schmidt, a fourth-wall-smashing East German rock 'n' roll goddess who also happens to be the victim of a botched sex-change operation, trying to find a place to belong in America. Join the outrageous and unexpectedly hilarious Hedwig as she shares her story backed by her rock-band "The Angry Inch" for an immersive rock gig, stand-up comedy event that will ultimately inspire anyone who has felt life has given them an inch when they deserve a mile.
Holiday Add-Ons
A CHRISTMAS CAROL
November 21 – December 30, 2018, The Topfer
By Charles Dickens
Conceived and Adapted by Dave Steakley
Directed by Abe Reybold
Musical Direction by Allen Robertson
Austin's most rockin' holiday tradition returns to make merry with new music and surprises to get the party started. ZACH's inspired adaptation of the Dickens' classic is a musical sleigh ride through rhythm and time, infusing the traditional Victorian story with a score that spans all genres and eras. Motown meets the Ho-Ho-Holidays in this family-friendly spectacular, creating an infectious spirit that has everyone dancing in the aisles. Celebrate the season with the loving Cratchit family and three soulful ghosts as they take Ebenezer Scrooge on a joyride to rediscover his heart and love for human kindness.
THE SANTALAND DIARIES
December 5 – 30, 2018, The Whisenhunt
By David Sedaris
Adapted to the stage by Joe Mantello
Directed by Nat Miller
David Sedaris' ever-irreverent and cynical Crumpet is baaaack! The outlandish tale of a Macy's elf merrily jingles to life in the intimate Whisenhunt at ZACH Theatre. In this holiday cult-classic, Crumpet sarcastically expounds on the talent it takes to juggle tinsel, tearful tots, and not-so-sober Santas during what is hailed as the most wonderful time of the year. 75 minutes of rollicking (and not so politically-correct) fun, this laugh-'til-you-spill-your-cocktail evening will delight adult elves who like it more naughty than nice!
The Moody Foundation Theatre for Families
TORTOISE AND HARE
September 8, 2018 – February 27, 2019, The Kleberg
Based on the story by Aesop
Book by Allen Robertson and Damon Brown
Music and lyrics by Allen Robertson
Directed by Nat Miller
Ancient versus modern. Brain versus brawn. Reptile versus mammal. The ultimate culture clash between two tribes and a fantastical race to decide the fate of them all. Written by the talented Allen Robertson and Damon Brown, with modern music and energetic re-imagining of the ancient fable that will delight tortoises and hares of all ages!
HOLIDAY HEROES
November 29 – December 13, 2018, The Topfer
Written by Allen Robertson, Shaun Wainwright Branigan and Jerome Schoolar
Due to demand, the original Holiday Heroes returns with some new songs and surprises! In this hilariously fun holiday sing-along, students get into the holiday spirit with Ernie and Rufus. Celebrate the season with singing, laughter, and holiday cheer for all.