Lakeway Players Needs Male Actor, Teens-mid20s, for Larry Shue's Comedy THE FOREIGNER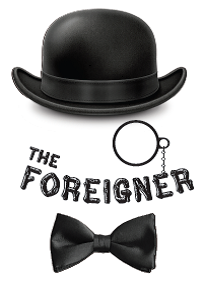 The Lakeway Players is urgently seeking a young male actor for the role of Ellard in their upcoming production of "The Foreigner" by Larry Shue.
Ellard is a young, very Southern, seemingly slow witted but good hearted younger brother of Catherine (played by Tate Allen). He has a middle-sized role – very fun, with lots of physical comedy.
We need someone who can pass in their mid-teens, mid 20s at the latest would be ideal, older will be considered. This is an unpaid role, but it's seen by close to 600 folks over the 3-day show run. The audience can bring food & adult beverages to the show, and they sit at round tables of 10, so it's a lot of fun for both actors and the audience.
Please contact Linda Dobbs at lsdsyd@gmail.com, or 512-431-8917. Rehearsals are Mondays, Tuesdays, and Thursdays from 6:30 to 9:30, and Saturday 9:00-12:00 at the Lakeway Activity Center. The show will be March 22-24th.
What happens when a shy, reluctant Englishman in search of complete solitude ends up at a fishing lodge in the middle of "Podunk" Georgia? In this hilarious farce, Charlie, a timid sci-fi proofreader by day and boring husband by night, adopts the persona of a foreigner who doesn't understand English. When others begin to speak freely around him, he not only becomes privy to secrets both dangerous and frivolous, he also discovers an adventurous extrovert within himself.
---
The Foreigner
by Larry Shue
Lakeway Players
Thursday-Saturday,
March 22 - March 24, 2018
[poster image via Vexler Theatre, San Antonio]