Info and Orientation Meeting: Actor's Equity Candidate Program, Zach Theatre, Austin, October 16, 2017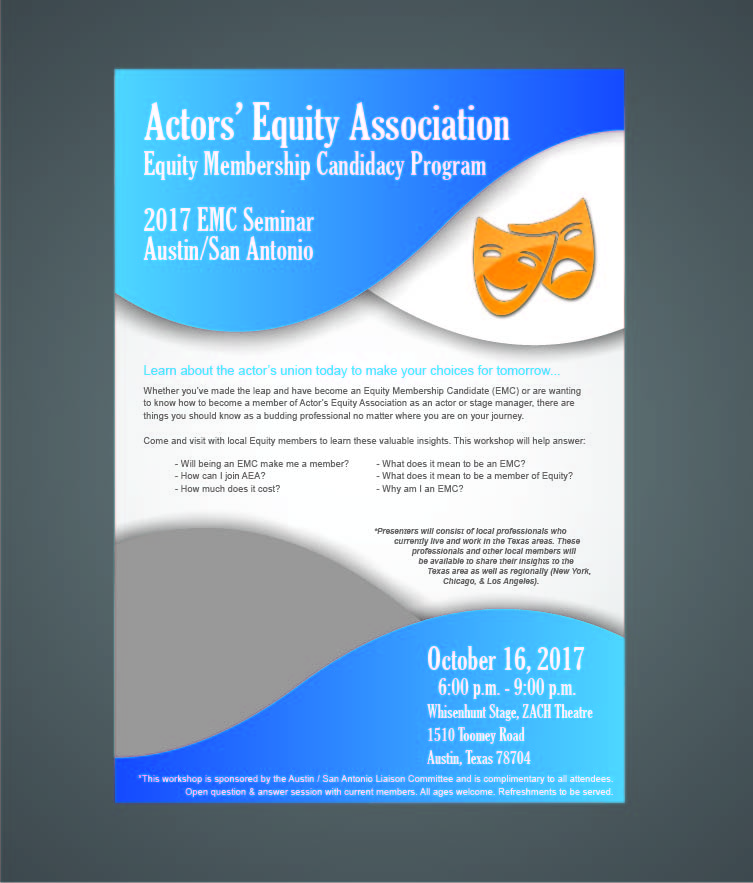 October 16, 2017
6:00pm - 9:00 pm
Wisenhunt Stage, ZACH Theatre
1510 Toomey Road
Austin, Texas 78704

Whether you've made the leap and have become an Equity Membership Candidate (EMC) or are wanting to know how to become a member of the Actor's Equity Association as an actor or stage manager, there are things you should know as a budding professional no matter where you are on your journey.

Come and visit with local Equity members to learn these valuable insights. This workshop will help answer:

* Will being an EMC make me a member?
* How can I join AEA?
* How much does it cost?
* What does it mean to be an EMC?
* What does it mean to be a member of Equity?
* Why am I an EMC?

Presenters will consist of local professionals who currently live and work in the Texas area. These professionals and other local members will be available to share their insights into the Texas area as well as regionally (New York, Chicago, and Los Angeles).

This workshop is sponsored by the Austin / San Antonio Liaison Committee and is complimentary to all attendees. Open question & answer session with current members. All ages welcome. Refrshments to be served.