2017 Theatre Season, Playhouse 2000, Kerrville
ANNOUNCING THE PLAYHOUSE 2000 2017 SEASON! SEASON PASSES AND INDIVIDUAL TICKETS!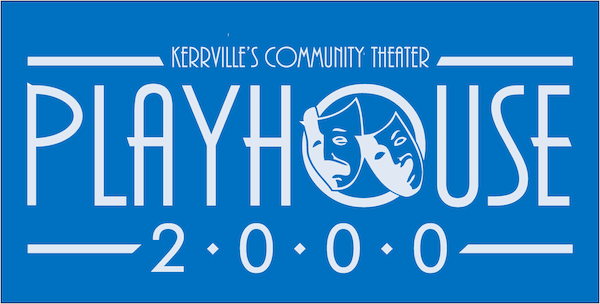 Purchase a Season Membership! Click on "Become a Member" and purchase your Season Membership in individual, couples, three or four pack groups. Then call the Box Office or bring your receipt in to redeem your tickets for each show and to select your performance dates and seats. Individual tickets for each show are also available by clicking the "Buy Tickets Now" button under each show description. You can redeem your season membership online as well – just click the "Buy Tickets Now" button for each show and then follow the "I'm redeeming benefits" link on the Patron Info screen and follow the instructions.
P2K Flex Pass Membership! Purchase a pack of 10, 8, or 6 tickets and use them for any Playhouse 2000 production in 2016. You can use them in any combination you choose! Click on the "Become a Member" below to order your Flex Pass and the follow the same redemption instructions as the regular Season Pass.
House for Sale
A Comedy by Ron Hill
February 3 through 19, VK Garage Theater
A Laugh-till-you-cry look at what happens when Dad no longer needs to live alone
Glen Martin is an independent widower in his 70's whose daughter lives a good distance away with her husband and family. When she begins to hint that he should no longer live alone, he tries to avoid selling the homestead by "shopping" for a roommate to share his house. His advertisement is answered by a variety of wacky characters, complicating his plans and leading him to question his decision.
This is a riotously comic take on a situation that many of us can really relate to!
Auditions: December 11 and 12, 2016
The Matchmaker
A Classic Farce by Thornton Wilder
April 21 through May 7, VK Garage Theater
The original comedy that became the smash hit musical Hello Dolly
Well before Hello Dolly became a Broadway Musical sensation, Thornton Wilder scripted his version of a very old story in the classic farce The Matchmaker,
in which Dolly Levi took became the leading character for the first time.
The hilarious antics of life-long bachelor store-keeper Horace Vandergelder and his clerks, Cornelius Hackl and Barnaby Tucker, as they pursue relationships with the softer sex, will leave our audience in stitches, just as they did New York audiences many decades ago.
Hello Dolly is enjoying a revival on Broadway this season, and our neighbors in Fredericksburg are planning their own production. We hope you'll see both the classic play and the musical, and enjoy the best of both worlds.
Auditions: February 19 and 20
Carousel
A Musical by Richard Rodgers and Oscar Hammerstein II
June 30 through July 15, The Cailloux Theater
A Musical of amazing depth and beauty, with a story that resonates through the years.
Another gem from Broadway's "Golden Era" drawn from much earlier material, Carousel is Richard Rodgers and Oscar Hammerstein's version of a now-forgotten European play, Lilliom. Thanks to an extraordinary movie, we are all familiar with this story of the complex love story between young Julie Jordan and the carnival barker Billy Bigelow to whom she is drawn despite his flaws.
This is one of the most beautiful scores ever created by the most important writing team in Broadway history, including the well-loved "If I Loved You," "June Is Bustin' Out All Over" and the thrilling "You'll Never Walk Alone," which will send you from the theater with an uplift that will last for days.
Don't miss it!
Auditions: May 7 and 8
Making God Laugh
A New Comedy by Sean Grennan
August 18 through September 3, The VK Garage Theater
Follow one family's trip across four decades to confirm the old adage – "We Plan, God Laughs!"
There are many sayings about "the best laid plans" – among the truest is Woody Allen's observation, "if you want to make God laugh, tell him your plans."
Ruthie and Bill have plans for their little family; a son in the priesthood, an actress daughter, and a middle son who keeps up with the times. Over the course of 40 years and four holidays, we get to watch the comic – and sometimes poignant-outcomes they didn't prepare for as the modern world takes its toll.
Enjoy their forays into a future they could not predict in this brand new play the Chicago Sun Times called "a gem of comic relief…a heartwarming new comedy."
Auditions: July 2 and 3
Nunsense
A Comic Musical by Dan Goggin
October 20 through November4, The VK Garage Theater
The Little Sisters of Hoboken are raising money with the wackiest musical revue ever!
Pity the poor Little Sisters of Hoboken, the last remaining members of an order that finds itself with a desperate need to raise funds fast!
Sister Mary Regina comes up with the idea to take advantage of her Circus experience (from her pre-convent days) and stage a variety show in the Middle School Gym – amidst the remains of the set for the kids' recent production of Grease.
With songs, dances, puppet shows and personal reflections, the Sisters take the stage to new heights of hilarity. You'll laugh out loud all night long!
Come see why Nunsense has had more than 8,000 productions around the world. You won't be sorry!
Auditions: August 27 and 28