Aug. 31 - Sep. 02
Austin Scottish Rite Theatre
2023-2024 PERFORMANCE SEASON
(Audition information below)
Sir Knightsalot and the Great Dragon Dance Off
November 25 – December 17, 2023
Written by Griffen McDonald
Eric, known sometimes to his friends as the mighty Sir Knightsalot, is a 10-year-old medieval boy who aspires to become a knight one day… even if the way he plays is a little different than the other kids. When his village and the kingdom are threatened by a mysterious dragon, Eric and his friends must use what makes them unique to save the day!
· Rehearsals start: Oct 16th
· Tech: Nov 17 - Nov 22
· Performances:
· Thurs/Fri - 10am + 12pm: Nov 30 - Dec 15
· Sat/Sun - 11am + 1pm: Nov 25 - Dec 17
Cast of Characters
· ERIC/SIR KNIGHTSALOT (MAKE-BELIEVE), a 9-year-old boy who is a little different than the other medieval boys – he likes both "boyish" things and what others might consider "girly" things
· DUSTIN/DRAKORVIAN (MAKE-BELIEVE), Eric's 10-year-old friend, a bit more sporty and "macho"
· OLIVE/PRINCESS PERFECT (MAKE-BELIEVE), Dustin's 11-year-old sister, very empathetic and possibly too smart for her own good
· SIR IAN, a hyper masculine, bullying knight; also secretly a massive coward
· SHELBY, Sir Ian's faithful, if consistently annoyed, squire
· DRAGON (DRAKORVIAN), a menacing dragon, perhaps hiding something beneath its often terrifying demeanor
Barney Carey Gets His Wings
February 17 – March 10, 2024
Written by: Brendan Murray, playwright
Rooting through an old trunk, Barney and his dad make unexpected discoveries, including a beautiful bright set of Fairy Wings. But boys can't wear fairy wings…right? Who made that rule anyway? Barney Carey Gets His Wings is a funny and poignant tale of forgotten memories and future possibilities.
· Rehearsals start: Jan 9, 2024
· Tech: Feb 10 - Feb 14
· Performances:
· Thurs/Fri - 10am + 12pm: Feb 15 - Mar 8
· Sat/Sun - 11am + 1pm: Feb 17 - Mar 10
CHARACTERS:
· BARNEY: (aged seven and a half)
· DAD: (aged thirty-seven and a half)
· AGNES: (a bearded lady whose age is no business of yours)
The Rainbow Fish Musical
April 20 – May 12, 2024
BOOK, MUSIC AND LYRICS BY AUSTIN ZUMBRO
With shiny, multi-colored scales, Rainbow Fish is the most beautiful fish in all of the ocean, and the only one of his (or her!) kind. When Rainbow Fish refuses to share his vibrant, shimmering scales, the whole ocean seems to turn against the vain creature. Unhappy that no one adores him anymore, the Rainbow Fish seeks out the wise Octopus, who helps him learn that it's far better to be admired for being kind than for being beautiful.
With a bubbly, energetic score and a script that invites wonderful creativity and flexibility, the universal message at the heart of this delightful musical becomes much more than just a simple children's story.
Adapted from the book by Marcus Pfister, translated into English by J. Alison James, with illustrations by Marcus Pfister.
· Rehearsals start: Mar 5, 2023
· Tech: Apr 12 - Apr 17
· Performances:
· Thurs/Fri - 10am + 12pm: Apr 18 - May 10
· Sat/Sun - 11am + 1pm: Apr 20 - May 12
CHARACTERS:
· Rainbow Fish: The Sheltered Prince/Princess. Young, naïve, and self-centered. Their self-worth has been defined by their beauty their entire life.
· Little Fish: A kid-fish, unafraid and curious, but also aware that those qualities don't always add up to positive social interactions.
· Starfish: the court jester. A happy unflappable simpleton (doubles as Ms. Minnow: the teacher, gentle, guiding)
· Octopus: The soothsayer. A sage, handy cave-dweller who lives far from the coral reef (doubles as Pufferfish: the stuffy aristocrat, style editor for the Coral Chronicle & Hermit Crab: a kid-crab, a happy unflappable nerd)
· Sardine: A kid-fish, sarcastic (doubles as Clownfish: another stuffy aristocrat. Garden society president annoyed by circus clown remarks.)
---
Auditions for Austin Scottish Rite Theater Season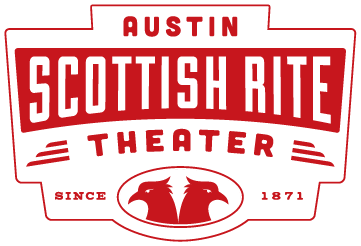 AUDITION TIMES:
Thursday, August 31 from 6:00 pm - 10:00 pm
Friday September 1st from 7:00 pm - 10:00 pm
Saturday September 2nd from 3:00 pm - 5:00 pm
Callbacks are invitation only: Sunday September 3rd from 11:00 am - 4:00 pm
*Digital Auditions are also available through the link provided*
AUDITION LOCATION: Austin Scottish Rite Theater at 207 West 18th Street, Austin, Texas, 78701.
Audition sign-up -- please click HERE.
CONTACT: Deanna Belardinelli, Artistic Director, email: info[AT]scottishritetheater.org, Phone 512-472-5436.
AVERAGE PAY: $800
GENERAL AUDITION INFORMATION:
· Actors prepare a monologue from a script of their choosing.
· Please bring 1 copy each of your headshot and resume, if you have them.
**If Auditioning for Rainbow Fish Musical:
Actors prepare 32 bars of a song from a musical, and a way to play the music.

**Digital Audition Info**
Provide unlisted YouTube video links containing:
**If Auditioning for Rainbow Fish Musical:
1 minute vocal selection.
*Video should show performer from at least the waist up and be well lit with the angle of the camera directly at eye level. Please do not sing to the camera, but just to the right or left. Please keep in mind that this is a stage audition, and not a film audition.