Jul. 26 - Jul. 27
Wikipedia:
They're Playing Our Song is a musical with a book by Neil Simon, lyrics by Carole Bayer Sager, and music by Marvin Hamlisch.
In a story based on the real-life relationship of Hamlisch and Sager, a wisecracking composer finds a new, offbeat lyricist, but initially the match is not one made in heaven. The two undergo a series of trials and overcome a number of hurdles before finding true love by the final curtain.
They're Playing Our Song is essentially a two-character show. Vernon and Sonia are the sole characters on stage; each character has a three-person Greek chorus acting as their inner voices, and there are no big production numbers.
From Bay City Players, Bay CIty, MI:
There's this song writing team—but they aren't a team when our musical begins. He's already a successful composer (think Marvin Hamlisch). She's a slightly crazy but very talented lyricist (think Carole Bayer Sager). First, she's intimidated working with such a successful man. But that doesn't last very long and sparks begin to fly—professional and romantic sparks. (Think Marvin Hamlisch and Carole Bayer Sager's real life romance.) Ten great songs to share their story with us in a great script by Neil Simon (Think THE ODD COUPLE.). A delightful musical treat right around Valentine's Day.
---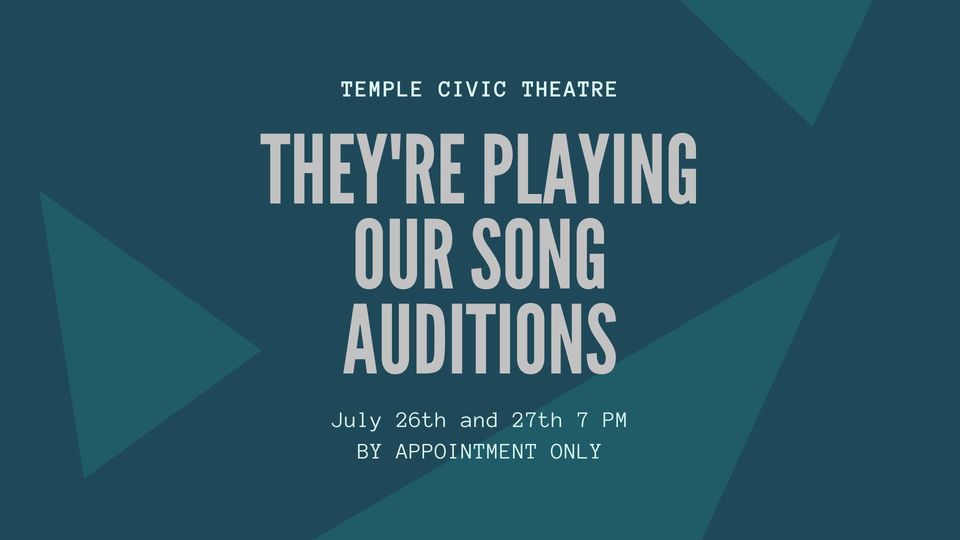 Mark your calendars! Be a part of our 300th Production and the reopening of TCT's regular season.
Auditions for They're Playing Our Song are set for July 26 and 27, 2021 at 7pm. Ages 18+ are encouraged to audition.
Please prepare a 1-minute cut of a song in the style of the show - using karaoke/backtracking if possible.There will also be cold reads from sides provided at auditions.
Auditions are by appointment only! To sign up to audition: Please fill out and submit our online audition form on TheaterForms and make an appointment for your audition. Have your calendar handy and be prepared to enter rehearsal conflicts. You will be asked to upload a headshot (a JPEG file) and a theatrical résumé (a PDF file) if you have one. If you don't have either of these files you can still submit the form.
Sign up here:https://www.theaterforms.com/.../TheyrePlay.../auditionform/

CHARACTER BREAKDOWN:
Sonia Walsk: Female, Lead, Mezzo-Soprano
A pop lyricist who is over-committed and always late. Steps in to collaborate with Vernon.
Vernon Gersch: Male, Lead, Baritone/Tenor
An established Oscar- and Grammy-Award-winning composer in search of a new collaborator. Non-committal.
Voices of Sonia Walsk
Female: EnsembleA trio representing three pieces of Sonia's psyche. Must be able to harmonize
Voices of Vernon Gersch
Male: EnsembleA trio representing three pieces of Vernon's psyche. Must be able to harmonize
Voice of Phil the Engineer
Male: Ensemble The sound engineer at a recording studio.
Please remember that you must sign up for an audition slot at:https://www.theaterforms.com/.../TheyrePlay.../auditionform/