Jun. 29 - Jul. 13 (2021)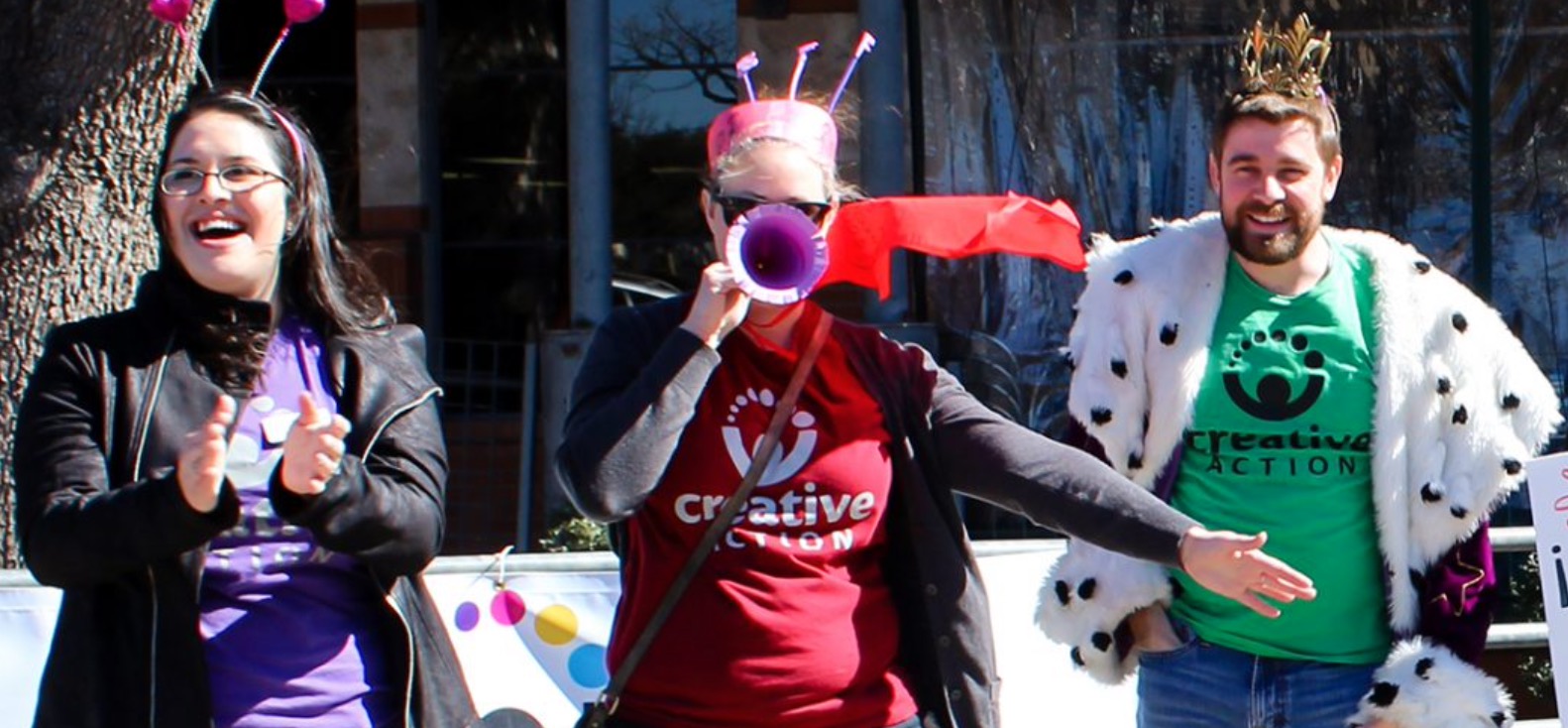 Creative Action is a nationally recognized youth arts education organization in Austin, Texas. As the largest provider of creative learning programs in Central Texas, we use the arts to activate the academic, social and emotional development of young people. Through interactive classroom performances, after school residencies, and community-based programs, our team of professional teaching artists inspire youth to be creative artists, courageous allies, critical thinkers and confident leaders in their communities.
---
HIRING TEACHING ARTISTS
WHO WE WANT
We're looking for a highly motivated, team-oriented and proactive person who is passionate about working with young people. This position requires someone who has a growth mindset, can-do attitude and is a creative problem solver. Applicants must have flexibility, excellent organization and interpersonal skills, and the ability to foster creativity, collaboration and communication. This person must be able to anticipate challenges, set positive intentions, build trust and inspire community. We seek someone who is committed to youth development and believes that all people deserve equal opportunities and are valued for their unique life experience. This position includes a pathway to leadership in the OST Department, through learning more about site management and logistics.
KEY RESPONSIBILITIES
A Teaching Artist is an integral member of the Out of School Time (OST) site based team. This person works closely with a campus Site Coordinator and Artistic Associate to provide daily enrichment, snacks and class for a cohort of students. This person is responsible for preparing daily lessons. Additional responsibilities include creating unit Plan, following Creative Action teaching pedagogy, classroom management, supply maintenance and ordering and safety for their assigned class(es).
Regular duties occur from 2:30-6pm Monday-Friday when school is in session. This position includes the potential for additional hours of work for Day, Spring Break and Summer work as well.
Additional Responsibilities
Maintain consistent and timely communication with CA staff and other program staff for your
campus and follow all required staff sign in/out procedures when on campus as well as maintain
any required paperwork on site.
Maintain compliance with fingerprinting and background checks, as well as current CPR/First Aid certification
Attend all required training/meetings throughout the year, including Creative Action training, arts cohort training, online DFPS training, and any training/orientation for your campus program as scheduled
Support Creative Action's Out of School Time events as scheduled
Support assessment and evaluation efforts for OST programs
Other duties as assigned
Due to the ongoing COVID-19 pandemic, Teaching Artists will be responsible for implementing/and or supervising additional safety procedures to ensure a safe environment for all staff and students in our in-person programs. This may include working with the individual school districts and their specific COVID-19 procedures. Creative Action monitors Austin-Travis County and CDC recommendations for COVID-19. Building protocols are implemented and regularly updated to ensure each employee's health and wellbeing.
WHAT WE OFFER
Starting at $17.50 an hour + training opportunities, and pathway to leadership opportunities within the organization.
TO APPLY
Take some time to familiarize yourself with our organization, what we do, and what we believe in. Then, if this seems like a community you'd like to be a part of, submit your resume and cover letter to our Indeed Job Posting. The position begins on August 17th. In-service training to begin 8/2/21.
Creative Action is an equal opportunity employer. We recruit, train, compensate, uplift and promote regardless of race, religion, color, national origin, sex, disability, age, veteran status, and other protected status as required by applicable law.
Creative Action has a clear vision: we are an organization in which a diverse group of unique thinkers and talented people come together to want to do their best work serving our students through the arts. We know that our company would not succeed without the dedication and hard work from our creative and passionate employees.
Creative Action believes in diversity, equity, inclusivity, and belonging, and this core set of values is reflected across every department and community in which we serve. We are committed to and focused on anti-racism and anti-oppression, and fold this into our organizational foundation. We believe deeply that diversity and differences are what make us an innovative, compassionate, and forward-thinking organization.
We strongly encourage individuals to apply who identify as LGTBQIA+, bilingual, Black, Brown, Indigenous and/or people of color.