Sunday in the Park with George
by Zach Theatre
Feb. 15 (2018)
Stephen Sondheim's Pulitzer Prize-winning musical masterpiece is a living painting by artist Georges Seurat, and centers on the artist as he discovers unimaginable possibilities while creating an enduring work of art. Seurat, known for juxtaposing points of multi-colored paint to allow the viewer's eye to blend the colors, connects the dots that make life so passionate, unexpected, heartbreaking, and ultimately rapturous. The live, onstage orchestra brings the radiant score about the art of making art – and love – soaring to brilliant life with "tension, composition, balance, light, and harmony." The gift of this musical is that the people who are the most different from us, may be the persons who illuminate ourselves to ourselves, and hold the key to our heart.
Music and Lyrics by Stephen Sondheim
Book by James Lapine
Directed by Dave Steakley
Music Direction by Allen Robertson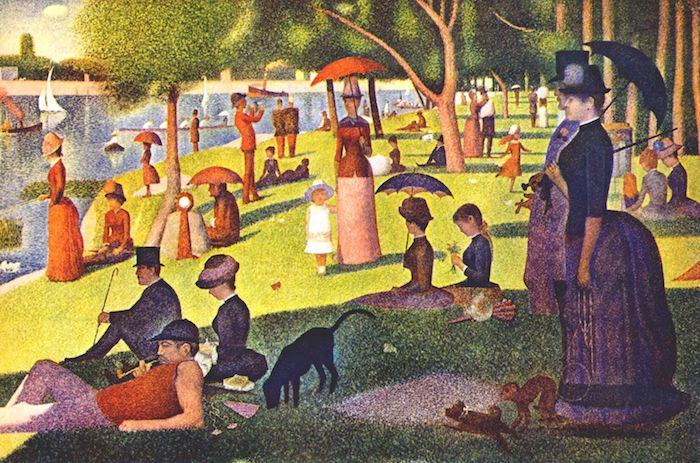 ---
ZACH Theatre announces local auditions by appointment for two remaining roles in SUNDAY IN THE PARK WITH GEORGE on Thursday, February 15th from 5:00pm – 9:00pm in ZACH's Whisenhunt Theatre at 1510 Toomey Road.
Callbacks will be scheduled for Tuesday, February 20th from 5:00pm – 9:00pm at the same location.
REHEARSAL & PERFORMANCE SCHEDULE:
Rehearsals begin May 1, 2018. Performances begin May 30, 2018, and closes on June 24, 2018, with shows Wednesdays through Saturdays at 7:30pm and Saturday and Sundays at 2:30pm.
AUDITION APPOINTMENT INSTRUCTIONS (PLEASE READ THESE CAREFULLY):
Actors will be seen BY APPOINTMENT ONLY.
To schedule an appointment, please send an email to auditions@zachtheatre.org with the subject line that reads:
"(YOUR FIRST NAME, YOUR LAST NAME) SUNDAY Austin Auditions"
Please include in the email a resume and headshot attached in PDF or Word Document format, and please indicate your preferred audition time. All actors should bring a hard copy headshot and resume to the audition.
All AEA members will be seen, and all non-union members will be seen while appointments slots are available. If you are not able to be seen at this audition, ZACH will make all best efforts to schedule you for a later audition date.
AUDITION INSTRUCTION:
Please see the Character Breakdown for further details – we are seeking men of all ethnicities and ages, equity and non-equity. Actors should prepare a 16- to 32-bar cut of a Sondheim song, or a song in the style of the show and bring relevant sheet music. You may be asked to sing an additional contrasting song of your choosing, so please bring your book. An accompanist will be provided; no pre-recorded music allowed.
ROLES TO BE CAST:
(NOTE: any role not listed below has been cast.)
Mr. / Lee Randolph (Male, 35 to 55): Mr. is part of an American couple, married to Mrs., and larger than life. Randolph is the museum's publicist.
Soldier (Male, 20 to 35, ASL required, non-singing role): Partially deaf, polite and gentlemanly; lost his hearing during combat exercises in the French military.