Feb. 04 (2018)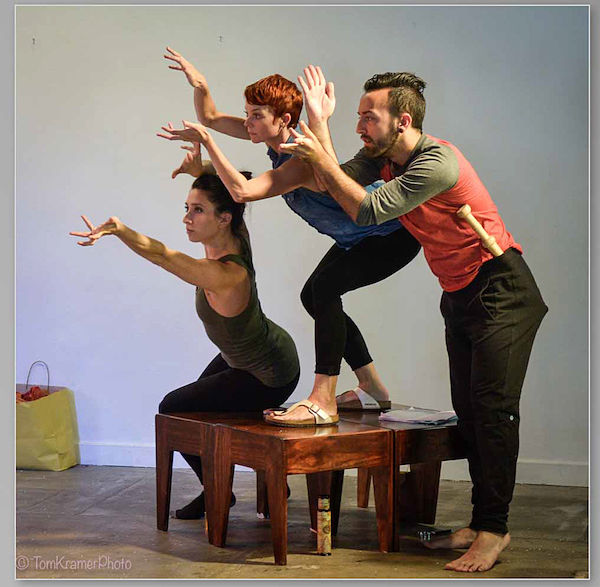 Every day, Tim bares his chest and Leslie kills him. Leslie's mom is in the hospital, so she seeks distraction in her dad's garage, devising a monster play for kids. Tim plays the monster as she wields a wooden sword, while a Trio of silent clowns create a magical world from found objects around them. When Fletcher, Tim's old college love appears, a three-way romantic triangle takes shape through swords and masks and monsters. In a dreamlike space where everybody wears a mask, Tim and Leslie eventually learn the real world never really goes away.

For more info on The Filigree Theatre, visit www.filigreetheatre.com
For more info. on playwright, Sheila Cowley, and TRIO visit: http://www.sdcowley.com/
For more info on Elizabeth V. Newman, visit: www.elizabethVnewman.com
---
Casting world premiere of 'TRIO' by Sheila Cowley for spring show of The Filigree Theatre's inaugural season.

Auditions Sunday, February 4, 2018, 12:15 - 5 p.m.
Space Rehearsal and Recording, 7915 Manchaca Rd., Austin 78745
TO SUBMIT: Please submit headshot and resume to:!filigreetheatre@gmail.com!along with your email & phone number. You will receive your appointment time via email.

Compensation: (Non-Union) $300 flat rate per actor
Notes & Info: Please include resume with application. Sides will be emailed upon audition time confirmation. Hard copies will be provided at the audition. All - please wear comfortable clothes and, especially those auditioning for the TRIO, please be prepared to do some improvisational movement (not full choreography).
Rehearsal and Production Dates & Locations:
Rehearsals late Feb - April.; tech week April 22-25; runs April 26th-May 6 (Thurs.-Sat. at 8 p.m.; Sun. at 5 p.m.) at The Santa Cruz Theatre in East Austin, TX.

ROLES:
LESLIE. . .a children's theatre performer.
Gender: Female
Age Range: 21-45
Ethnicity: All Ethnicities

TIM. . . a children's theatre performer.
Gender: Male
Age Range: 21-45
Ethnicity: All Ethnicities

FLETCHER. . . an engineer.
Gender: Male
Age Range: 21-45
Ethnicity: All Ethnicities

THE TRIO. . .three silent dancers/acrobats, commedia performers/clowns

TRIO BEING A:
Gender: FEMALE
Age Range: 21-45
Ethnicity: All Ethnicities
-movement/dance training or background -music/percussion background or training -puppetry experience

TRIO BEING B:
Gender: Male
Age Range: 21-45
Ethnicity: All Ethnicities
-movement/dance training or background -music/percussion background or training -puppetry experience

TRIO BEING C:
Gender: FEMALE
Age Range: 21-45
Ethnicity: All Ethnicities
-movement/dance training or background -music/percussion background or training -puppetry experience





[photo by Tom Kramer from workshop production, via www.sheilacowley.com]