Review: Ordinary Days by Penfold Theatre Company
by Michael Meigs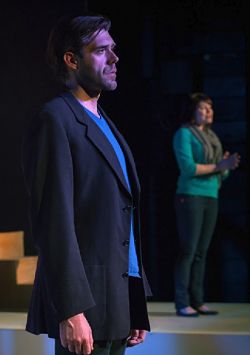 Adam Gwon's Ordinary Days is a fairytale, and an appealing one, set firmly in the city that O. Henry once called "Baghdad-on-the-Hudson." He gives us the portraits of four yearning young folk in their late 20s or early 30s, all unattached, all working to sort out their own identities and places in the world (or in the City). A couple of them are lonely singles who'll eventually meet one another; the other two characters, a man and a woman, are friends who are taking the large and uncertain step of closer association, for Claire has agreed for Jason to move in with her.
There's a sharp breath of fresh air whistling through the canyons of New York City, a promise of something new and completely different. These characters are at that moment of taking the long and daring plunge into real life, and they're all achingly aware of that.
That's an exciting time of life. Ah, yes, as Hermoine Gingold once sang, I remember it well. We lived in Manhattan on 122nd Street and later on Charles Street in the West Village before other events and opportunities took us away. A number of the intensely hopeful young talents that I've spotted here in Austin have made their way to that foreign wonderland that's all our own. Gwon brings his characters repeatedly to the Metropolitan Museum, subtly suggesting all the treasures of art in a city that's anything but ordinary.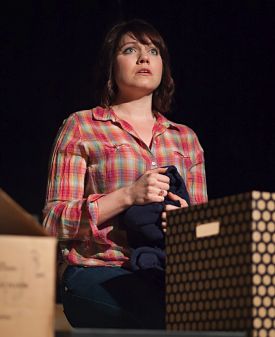 Penfold is working again with former St. Ed's faculty member Michael McKelvey with this one, and it shows in the sophisticated choice of script, the confident staging and the highly talented cast. Michael may have departed for a permanent teaching post a lot closer to Gotham, but he's anything but gone; his Doctuh Mistuh Productions is trolling for musical talent for the satire Silence, to be performed this summer.
Gwon neatly balances the two couples, whose paths cross but who never make acquaintance. Haley Smith and Matthew Redden are the serious couple, working through the uncertainties of living together when commitment is elusive. Sarah Marie Curry is Deb, a bright young woman in grad school for lack of anything more inspiring, and Joe Hartman is Warren, the would-be artist who can't find anything more remunerative to do than passing out flyers on the street.
We learn a lot about Deb and Warren before a lost-and-found notebook brings them awkwardly together in the Met before a Monet. Curry gives us a vivid portrait of the wise-cracking, exasperated Deb, and Hartman's Warren is a big, gentle dreamer. We're deeply satisfied at their eventual alliance, one that involves a lot of letting go, symbolized by papers fluttering away down through those fresh breezes of the canyons.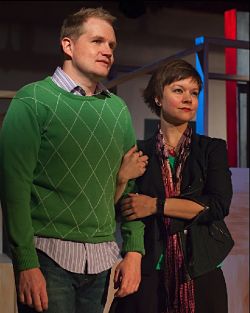 The story's not remarkable, although it's cleverly put together, and Gwon pulls a great big rabbit of previously undelivered exposition out of his hat in the concluding scenes.
One great pleasure of this production is Gwon's music and style. Dustin Struhall is the musical director, although to tell the truth, he's in fact a one-man orchestra on the upright piano in an alcove at center stage. Before the start on opening night he circulated through the audience at the Off Center, greeting, welcoming and generally entertaining the expectant crowd, and when the time came he carried his toy-cat metronome back to that not-quite-pit, carefully positioned it and then with a flourish of fingers he brought forth music that was bright, percussive and contemporary.
Each actor-singer appeared for an establishing scene, and we discovered that the tunes in this piece are established by the vocal lines, often surprising or fugitive, while the notes from Struhall's piano played percussion, counterpoint and commentary throughout. None of that familiar tedious 16-bar phrasing with intercalated choruses; one never quite knew where the musical lines were headed, and because the words were vital in establishing story, character and incident, one was listening intently, often losing track of where the music had been.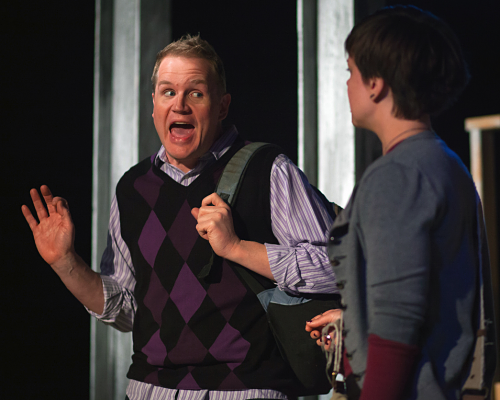 In his hipster garb and trilby hat Struhall was a virtual Pied Piper, magicking up this story from his recess at center stage. His assertive style gave the accompaniment drive but all too often the notes from that unmuffled piano drowned out entire passages of narrative. Haley Smith's earlier, reflective presentations suffered the most frequent losses. Curry's snappy delivery and forceful character fit the style comfortably, and the two men were generally able to defend their texts.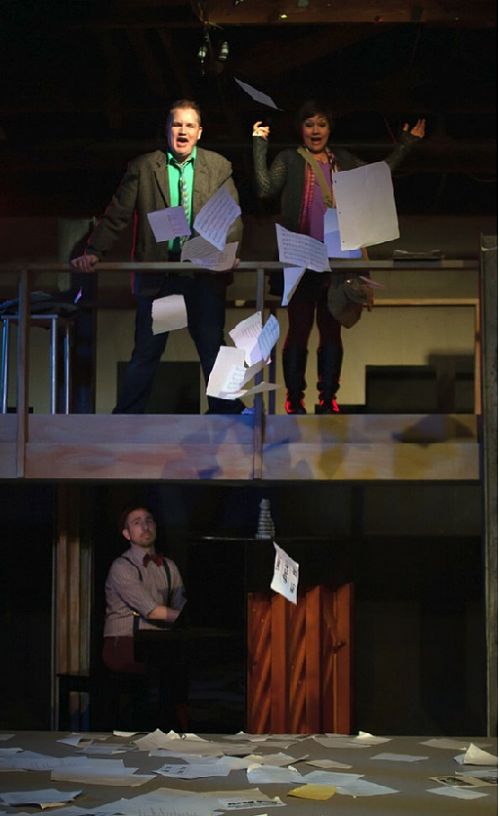 Designers Patrick and Holly Crowley made the Off Center look spacious -- no mean feat -- with their assemblage of platforms. Lighting by Sam Chesney was generally appropriate, except for a minor fumble or two, but someone should have warned the singers about the shadows that were cast by cables for the microphones suspended at stage center and stage left. From time to time as Matthew Redden was emoting in those spots, his face was oddly divided in two by those vertical slits of shadow.
Ordinary Days is a vigorous, sharp and entertaining ninety minutes of uninterrupted entertainment, a clever piece that touches the heart. With it, Penfold Theatre further cements its reputation for canny programming that might be termed high vocal art, if only it wasn't so deliciously entertaining.
---
Ordinary Days
by Adam Gwon
Penfold Theatre Company
March 21 - April 06, 2014
Off Center
2211-A Hidalgo Street
near Robert Martinez and E. 7th Street, behind Joe's Bakery
Austin, TX, 78702