Review: An Ideal Husband by City Theatre Company
by David Glen Robinson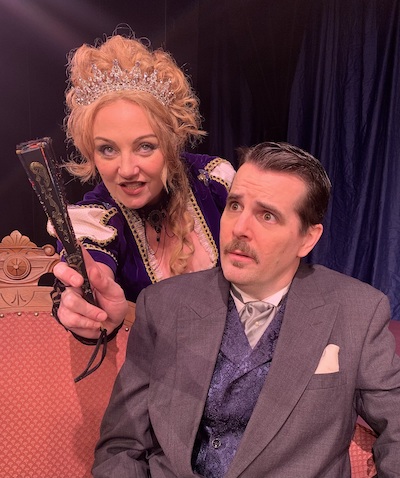 An Ideal Husband by Oscar Wilde comes to us in a time-warp from 1895. The City Theatre Company production at Trinity Street Playhouse in downtown Austin adheres closely to to the outrageous and incisive humor of Wilde. The company presents it all in the clipped, sneering tones of the English upper class. Such is the boldness not only of Wilde but of City Theatre as well. Cris Skinner directs the production in association with artistic director Andy Berkovsky. Skinner is also responsible for the solid lighting and sound designs. Sets and costumes were supervised by Berkovsky with costume assistance from Rosalie Oliveri and Karen Pavelka.
The play is an exemplar of romances and comedies of the High Victorian era with exquisite repartee and obligatory happy endings. It came arguably at the peak of Wilde's career, immediately after A Woman of No Importance, one of what Wilde and London producers called his "drawing room plays." While An Ideal Husband was in its long initial run, Wilde suffered his arrest for "gross indecency," the circumstance that was the pivot of his life and career.
An Ideal Husband was popular but not well received by critics. This itself reflects highly stratified British society. The expression "big words have small meanings" recurs with variations, spoken by lower-class characters and uneducated women Various characters discussed the concept. Contemporary critics , outside the play, didn't get it. This reviewer's love of irony is so great that he quotes here a portion of Wikipedia's collection of reviews of the play: "A.B. Walkley called the play 'a strepitous, polychromatic, scintillant affair, dexterous as a conjurer's trick of legerdemain, clever with a cleverness so excessive as to be almost monstrous and uncanny'. He found the plot unbelievable, and thought that although the play, 'by sheer cleverness, keeps one continually amused and interested,' Wilde's work was 'not only poor and sterile, but essentially vulgar.'" (Wikipedia "An Ideal Husband"). Look up "strepitous" for yourself.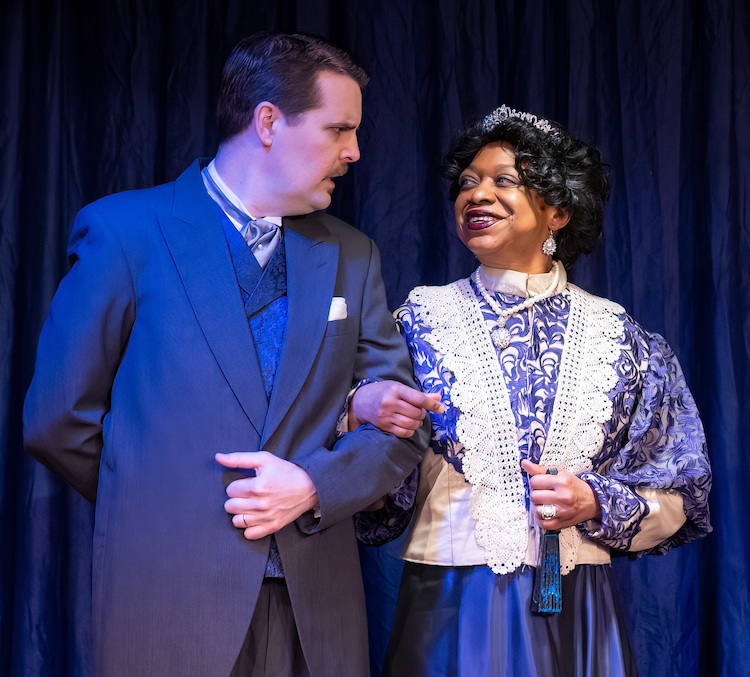 The play does not appear monstrous or vulgar to us 130 years later. Retro-projecting today's values and trends of gay pride, gender nonconformity, and continuing oppression of same, it seems like Wilde's wry look at both male and female romantic/sexual behavior and the institution of marriage contains calls for reform, always in favor of equality and forgiveness. In dense works in any form, statements in support of any perspective can be found, making the author's intent difficult to ascertain. An Ideal Husband is not that difficult; it is a strong statement in favor of love, honor, and commitment, the true meaning of those qualities, and the upper class's falling short of attaining or even comprehending those virtues.
This very long three-act play pushed three hours in length, including two much needed intermissions. The cast performed admirably. in The principals stayed in their English accents well, though with some weakening in the long stretches of the third act. Wikipedia reports that the play was originally produced with four acts, but careful reading of the synopsis shows that City Theatre grafted the fourth act onto the third and produced a play faithful to the original but taxing to the cast and audience.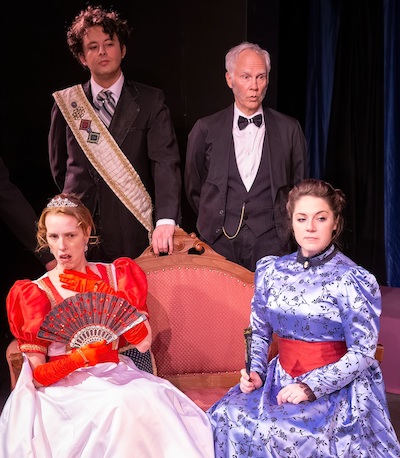 Altogether, the cast gave us lapidary work. Dawn Erin was deliciously villainous as Mrs Cheveley (rhymes with evilly). Her every line was crystal clear, and with Wilde's script she revealed the deepest ill-will of her demented mind. Watch every slight twitch and arch of eyebrows to perceive the gears turning in her head. Her delightfully evil performance garnered boos and hisses at the curtain call, truly an impressive credit.
The other principals did much of the heavy lifting of the play, keeping a tight grip on their accents but making it look easy as each delivered hundreds of lines of Wilde's clever repartee. Kudos to Shane Cullum, John Waters, Valencia Lee, and Bonnie Lambert. Valencia Lee as Lady Gertrude Chiltern served well as the heart, mind, and soul of the play, and never once was she deceived by Mrs. Cheveley.
There are no small roles, and the supporting cast approached their shorter scenes and dialogues with commitment and dedication. Miriam Rubin was an exception to brevity in her role as Lady Markby, an obvious husband-hater who gave a very long, droll dialogue on the pain of marriage and the perfidy of men. In this, Wilde rights the scales, reversing the telescope to give the female-dominated look at the abuses of men long before the emergence of feminism. The remaining highly successful supporting cast members were Steve Wright, Coltrane Conklin, Bill Newchurch, Mike Dellens, Mindy Rast-Keenan, Zac Weiss, and Susan Johnston Taylor. though this wasa play about the buttoned-down English, at least one of the younger cast members couldn't resist some undisciplined hijinks on stage. The leash needs to be tightened by about two chain links, and then the person's talent will emerge in abundance.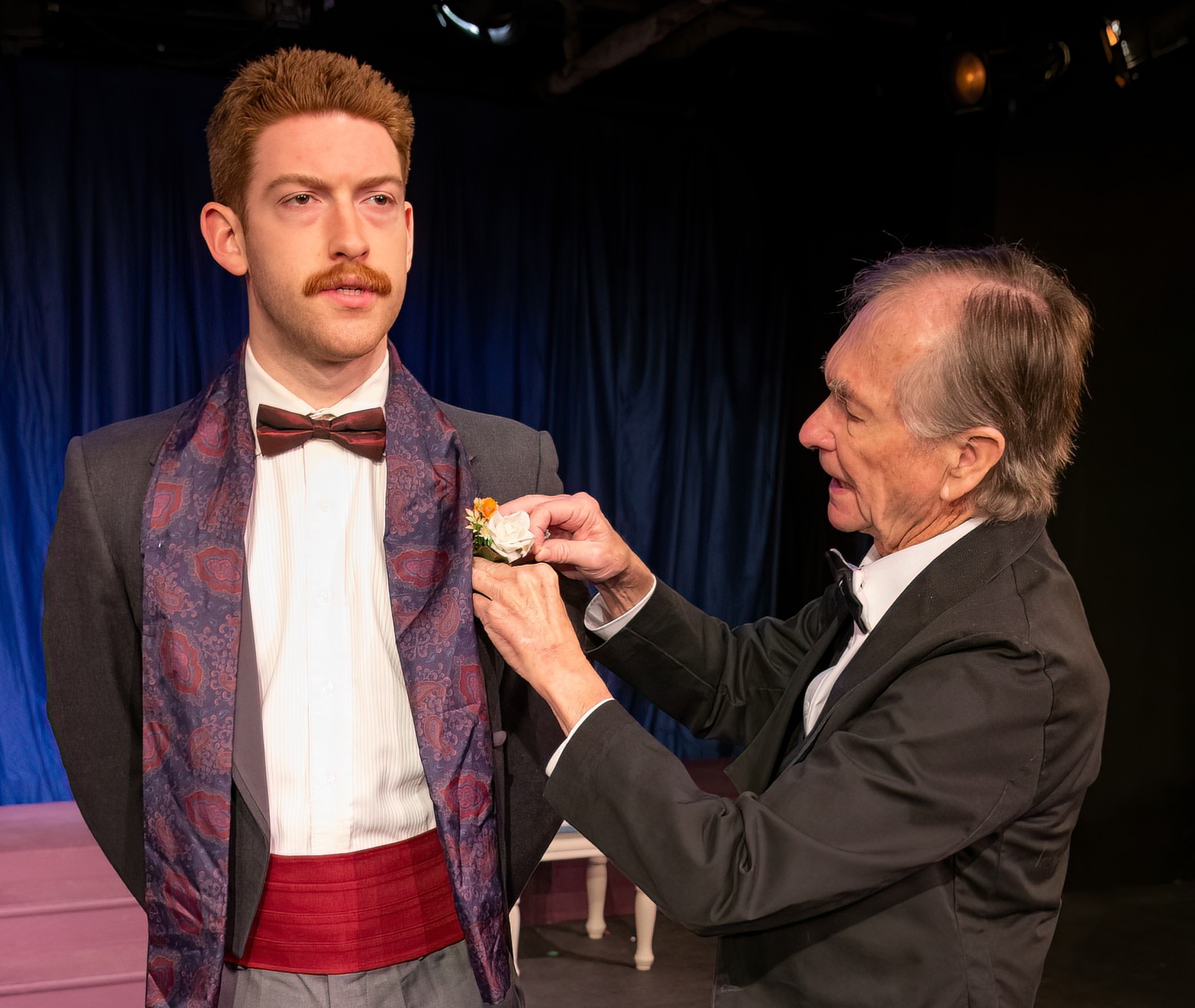 Into every play some rain must fall, but in An Ideal Husband it was like the light mists that gave us our rainfall in January. The costumes were quasi-period; the female characters were simply gorgeous in High Victorian fashions with flowers, nosegays, and styling and accessories featuring much jewelry essential to the plot. The men got there with morning coats, vests, capes, and sashes and badges of position and rank. Interestingly, there were few if any hats on the men, even though they all made exterior entrances and exits. Irregular! A few of the men's suits were of late 20th century cut. One of the principals was cursed with an ill-fitting morning coat that caused him to unbutton it every time he sat down, rebutton it every time he stood up. Perhaps that was an obscure Victorian sumptuary rule of etiquette, but I doubt it. Too, the set design featured Victorian-looks-like furniture pieces, a few pieces of ornamental statuary, a fireplace screen and tools, but no wall hangings, paintings, or fixtures. Of course, this made the visible set changes by the cast easier to accomplish. But remember: the Victorian interior design watch-phrase was "Too much is not enough!" One suspects that the production budget hit its limits at the walls of the stage, and that is a positive note. All the available resources were onstage.
In a brief entr'acte chat, artistic director Andy Berkovsky informed us about the struggle to mount full, in-person productions now, even with Covid on the wane. The balance between administration, resource development, and core artistic efforts is difficult to attain or keep. It seems akin to walking a tightrope in the dark. The success of An Ideal Husband in all its aspects gives us inspiration to embrace onrushing better days in the theatre community.
Oscar Wilde's An Ideal Husband runs until March 13, 2022 at the Trinity Street Playhouse in the First Baptist Church of Austin, on Trinity Street in downtown Austin. It is recommended for anyone fond of wit and Victorian theatre and well-produced live stage plays.
---
An Ideal Husband
by Oscar Wilde
City Theatre Company
Fridays-Sundays,
February 18 - March 13, 2022
unspecified in Austin
somewhere in Austin
to be announced
Austin, TX, 78700
Politics. Scandals. Romance, gone Wilde!
AN IDEAL HUSBAND by Oscar Wilde
The delightful and wickedly-witty comedy graces the Trinity Street Playhouse stage – a perfect theatre entertainment treat playing February 18th – March 13th, 2022.